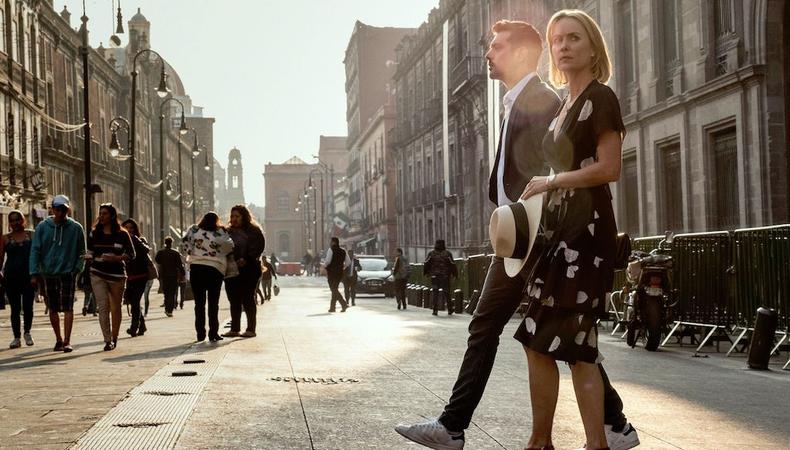 The following Notes From the Field essay was written by Radha Mitchell, who can currently be seen starring on Amazon's "The Romanoffs." (Her featured episode of the anthology series premieres Nov. 9.)
Whenever I'm offered a job, I'm always grateful and a little surprised at the persistence and longevity of this 20-some-year career that at this point seems to be driven by forces somewhat outside of myself. Surprised and sometimes tantalized by the Houdini prospect of escaping from my own mind and delving deep into someone else's psyche. Acting has introduced me to a multitude of perspectives in a multitude of worlds.
In the past, I felt myself drawn like an athlete to the intense competition of the Hollywood system, compelled by a kind of fear and excitement towards the unknown and the limits of my own capabilities. Coming alone from another country, was challenging and exhilarating; however, at a certain point the discipline of meetings, auditions, and feedback felt limiting as I felt my life becoming defined by the perimeters of an at times brutal and commercial culture. In all honesty, I've gained and lost and re-gained my passion for acting, and nowadays, I prefer to wait and see what comes my way while letting fate and personal discretion be a filter.
Acting at its worst is a vacuum for precious time spent waiting to work or (perhaps even worse) actually working with vain and unscrupulous people and telling stories that reflect and perpetuate the most predictable aspects of popular culture. Choosing what not to do can be as important as finding a good role in the process of forging a sustainable career. Of course there are times when you must make compromises in order to facilitate objectives in the great picture of one's life, but at the end of the day, you must consider what you actually want to spend your time doing regardless of the residual effect that it may have in the industry. And that's what you must do.
At its best, acting can be a magical exchange—a kind of fusion of self, text, the director's vision, and something else. That something else is a kind of "no mind" space which itself justifies all of the sacrifice it takes to get there. The more attuned the other players are to this, the better the game and the deeper the experience.
Acting is like life because acting is life. I once met an amazing mind in Thich Nhat Hanh (spiritual mentor and Nobel Peace Prize winner), and I asked him what his advice was on acting. He said, "Always play the hero. Never play the negative character," to which I responded, "Why? Isn't it cathartic to play whatever is inside, including one's own darkness?" To which he replied, "No. You will just rehearse your own negativity and it will become stronger inside you." Over time, I've come to understand this better. Although there may be a certain kind of truth in darkness, I can affirm that playing in the light does leave you feeling light. Playing courage does leave you feeling courageous. And playing love does open you up in a kind of general sense to life.
The character matters and so does the story. Find a story that brings meaning to your own experience. If you know that's what you're looking for, these projects have a way of finding you. If it means something to you, chances are it may connect with an audience. And hopefully it will do so over time. Magic happens! How does it happen? You can never really know. If you are lucky, you get a good script and hope for the best.
Here are five of the best tips I've gotten from some fantastic people along the way:
"Just drink the coffee."—Ally Sheedy ("High Art") and Mathew Weiner ("The Romanoffs")
"No matter what you've planned, play the scene without intellectualizing the arc of the character. Be with what comes up."—Penny Allen, acting coach and actor ("Life Dates")
"Let the scene go when it's over. Always be moving forward."—Denzel Washington ("Man on Fire")
"Be prepared to take responsibility for the text when it's underwritten or crudely expressed."—Catlin Adams, acting coach
"Just say the lines."
As for my best piece of advice? Respect everyone you work with, whether you like their ideas or not. Acting is a collaborative craft, and collaboration is so much easier when you truly respect the effort and talents that have brought everyone in room.