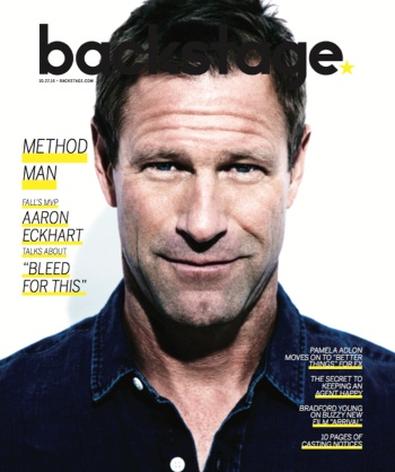 Aaron Eckhart doesn't shy away from misgivings about his acting abilities. He relishes them.
In the months leading up to the performance that would leave him unrecognizable, he prepared alongside top boxing trainers and fighters, studying their techniques and strategies. Their track records meant any skepticism was warranted, he says.
"Nobody really believed that I was going to be able to do this part," he says of his casting as trainer Kevin Rooney in the upcoming Vinny Pazienza biopic "Bleed for This." "When I talked to the old trainers in Vegas, the fighter guys and the promoters, when I told them I was doing Kevin Rooney, they gave me time, but they didn't have any belief in their eyes.
"But that's the fun about being an actor," he continues. "Whether you're playing a Marine or if you're playing this [or] that, actors know they can get to places because of their experience and their technique. We can transform if we're willing to go to those places." Looking at Eckhart's handsome features and lean, 6-foot frame, it's evident why some might've felt he was miscast to play an overweight, middle-aged boxing trainer past his prime. But the actor's commitment to the role sparked a complete transformation.
To star in the against-all-odds success story opposite Miles Teller as the world-title-holding champion Paz, Eckhart put on 40 pounds, shaved his head to appear balding, and began a meticulous study of the man who trained Mike Tyson before he aided in one of the greatest comebacks in the history of the sport.
At the start of his now 20-year acting career—he initially came to New York City with $1,300 in his pocket and no contacts—Eckhart admits the doubts of those who knew Rooney would've thrown him off his game. But that was before he started studying at the William Esper Studio between waiter-bartender shifts at famed French brasserie Les Halles, landed a Miller Lite commercial, moved to Los Angeles, and grabbed Hollywood's attention. His first major film came in 1997 with Neil LaBute's "In the Company of Men," which was shot in under two weeks and funded with money from the car accident settlement of one of LaBute's friends; he followed it up with "Erin Brockovich," "Thank You for Smoking," and his blockbuster breakthrough playing Harvey Dent (aka Two-Face) in "The Dark Knight."
Check Out Our Interview With William Esper
These days, lack of faith fuels him.
"I have such a technique and a strategy now for my process, and I've done it so many times that I know what I can do," he says of his nearly 40 acting credits. "That's not to say that I'm not scared when I take a movie, or [ask myself], 'How am I going to do this?' But it's almost fun for me now to take disbelief and go, 'You guys, it's going to be OK. I am going to do this!' "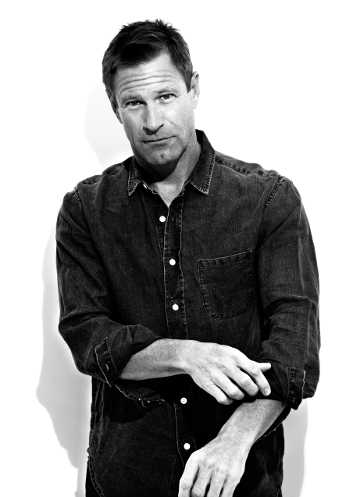 Based on a true story, "Bleed for This" follows the roller coaster boxing career of the "Pazmanian Devil" in the months before and after a car crash that left him with a broken neck and a medical diagnosis that questioned his ability to walk again, let alone fight. Hoping to heal enough to step back into the ring, Paz defies his doctor's judgment and undergoes surgery to drill a halo brace into his skull. Before he's even fully recovered, Paz is training in the secrecy of his basement and enlists Eckhart's character in the effort. Rooney himself is down and out, caught in a gambling- and booze-fueled tailspin in the aftermath of a debacle with Tyson that cost him the prized fighter.
"That's the glory of the story, is that Vinny just lost, [too].... It's Shakespearean," explains Eckhart. "He still has his self-belief, but nobody else [believes], where you can't do anything else but fight. Here you've got your own promoter telling you you should hang it up. That's what drove him to Kevin."
Set in the late '80s, the well-known figures at the center of "Bleed for This" meant Eckhart had to do extensive research for a believable performance. Nailing Rooney's pinched voice and Staten Island accent and cadence was the first step for the actor, who says he kept tissues up his nose for the duration of the 29-day shoot.
"I felt like [the voice] was the thing that I worked on the hardest. I remember being in Rhode Island. It was in the wintertime. It was cold. I was living in a high-rise building. I had a balcony about a foot wide. I would open the door, get out on the balcony, scream in the howling winter wind, while smoking a cigar, in his voice. I'd just be out there going, 'I'm gonna bet Vinny Pazienza is the best fighter in the world. Vinny Pazienza, he could take you,' " he recalls, jumping out of his baritone to capture Rooney's nasal sound. "I would just be screaming. I would do it for hours and hours and hours. I had to do it in my sleep. 'Vinny Pazienza, he's the best fighter in the world. He's got the punch. He's a fighter. Come to us. Yeah. Bring it on.' "
Eckhart says YouTube was his best friend—as it should be for any actor, he notes—when it came to building Rooney. He watched fights and interviews on repeat before visiting Las Vegas to watch top-tier trainer Freddie Roach prep Manny Pacquiao for a fight. The experience gave him a psychological and physical picture of the process, which translated to confidence on set, both with his director and his co-star Teller. The two had worked together on 2010's "Rabbit Hole," and their history opened the door for a necessary and quick connection.
"It's incumbent upon an actor to, as soon as you meet your co-stars, start working your psychological hocus-pocus on them," Eckhart says. "It never has to be said. As soon as you meet them, you start becoming your character with them. For example, let's say we're in fight training on this movie or whatever. I'm always encouraging Miles. I'm always doing what a trainer does." Touching him on his back for reassurance, not letting anybody "sweat him down but me," and speaking to him in Rooney's voice were all part of the practice.
According to director Ben Younger, Eckhart stayed in character for much of the time while on set.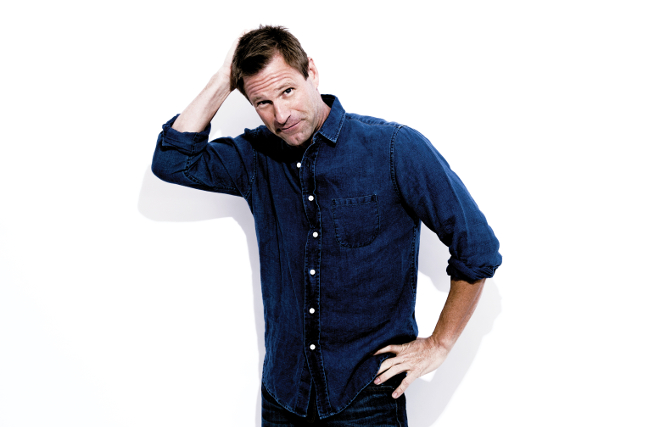 "I'd describe his process as immersive and committed, and you just have to get used to someone walking around at lunchtime talking like Kevin Rooney," he says with a laugh. "[As a director], you don't have to make a change [when working with an immersive actor], you just have to be receptive and appreciative." Younger also insisted Eckhart put on the weight for the film instead of using a fat suit. "A fat suit is not the Aaron Eckhart way," he says.
Despite it being the third time he's gained weight for a part, Eckhart says the experience of putting his body through the paces, although not pleasant, helps him get into character, mentally. The less you have to think about acting while doing it, the better, he says. It's why he's clipped clothespins on his body under his shirts for previous roles. "Put rocks in your shoe or whatever. Anything that will give you any edge where you don't have to think."
Finding his own path to characters has been part of what's made Eckhart successful. This year sees him starring in three films in addition to "Bleed for This," including "Sully," where he plays opposite Tom Hanks. And each role, from a president to a co-pilot, has required Eckhart to tap into a different part of his training—a challenge he welcomes.
"I've always been an actor who didn't want to rely on looks, physique, or anything like that. I've always wanted to have solid training, do good work, be in control of my craft. That's a lifetime deal."
---
In the Driver's Seat
Eckhart likely wouldn't be where he is today if he hadn't taken a job driving vans in Utah.
"One time, I was driving a van full of people [at the Sundance Film Festival]," he recalls, "and there was a woman sitting in the front seat with me, and we were talking. I told her I was going to school and that I planned to move to New York afterward."
The woman turned out to be Donna DeSeta, a commercial casting director out of Manhattan.
"As she was leaving the van, she said, 'Hey, look,' and she handed me her card. She goes, 'If you get to New York, give me a call.' "
When he arrived in NYC, he did, and DeSeta called him in. "Auditioning is such a difficult, foreign, unnatural situation that I was never good at it, never had any confidence," he says. But the new actor managed to land a commercial gig that ended up making him "literally tens of thousands of dollars," and allowed him to continue pursuing his art. It was a break that came out of a bit of good fortune and a lot of autonomy in regard to directing his career path.
"So the moral of the story is talk," he says. "Do what you can. Put yourself in the right place."
And keep the business card.
Looking to take your prefered acting technique to the next level? Check out our film audition listings!
Grooming for Aaron Eckhart by Amy Komorowski