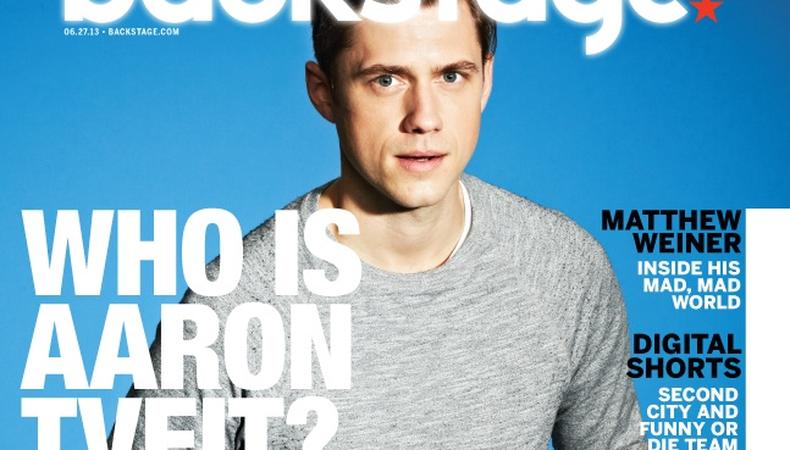 The Broadway hunk hits the small screen in USA Network's "Graceland," and he chatted with Backstage about the transition from stage to screen and what he's learning along the way. Pick up a copy of the latest issue on newsstands on Thursday, and check out a sneak peek of the story below!
---
On Auditioning and Typecasting
Aaron Tveit might be the quintessential golden boy, but the idea of being typecast as the gleaming leading man doesn't faze him.
"Typecasting is an interesting thing because, in a way, if you're good at something, you're going to work at that thing," he says. "In other ways, you constantly have to change people's opinion of you as one thing, especially if you want to play different roles. You have to shatter that image sometimes. I've had to do it before with stage roles, to get roles. I'm drawn to kind of darker, misfit things. I would like to, especially in film, play against type and do some heavier stuff. I'm intrigued by projects that deal with problematic people and things."
And he's fully prepared to show casting directors that side in auditions.
"I like auditioning! A lot of people hate it, but I like it," he says. "Especially like right now, I'm not shooting a show so you get to act. You get to do that stuff, kind of treat everyone as 'All right, throw the paint against the wall and see what I can do with this and what people say.' I think it's a great mental workout because you have to ready something, learn something fast. It's good to stay on your toes and keep sharp if you're auditioning."
That doesn't mean his auditions are always perfect. "Once I was auditioning for a play, and I was reading a scene with another actress, who was a friend of mine," he says. "In the middle of our reading, the director says, 'Stop—what are you doing? Do something else.' I just remember being absolutely mortified. Needless to say, I did not get the role."