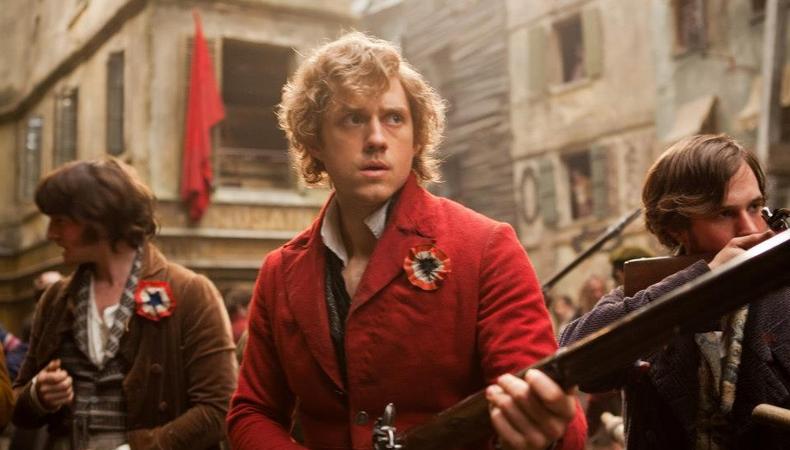 Aaron Tveit has been a successful working actor for many years on Broadway in shows like "Next to Normal" and "Catch Me If You Can" and on television in prominent guest arcs on series like "Gossip Girl." But on Christmas day, the world will start to recognize him when he makes his studio film debut in "Les Misérables."
But for him, it's just another day on the job.
"I feel like I've been working really hard for a long time so in a way it feels the same," he says modestly. "I was so thrilled that they cast somebody from the theater community in the film. I felt very proud of that."
Tveit plays the freedom-loving Enjolras who leads the Student Revolution in 19th-century France. He spent months preparing for the role, working with his voice teacher and reading Victor Hugo's novel—he even tucked the page from the book that detailed his character's journey in his script. However, nothing could prepare him for his iconic death scene.
"It's the first time I've ever been shot in something," says Tveit, who falls backwards and hangs from a window in one of the film's most memorable shots. "Hanging upside down and all the blood rushing to my head and trying to keep my eyes open with blood streaming down my face was quite an experience. It's incredible. I can't believe that's going to be on film forever. It doesn't hold back, and I think that's another thing that's great about this film, is this world is so fully realized you can almost imagine yourself in it. It's so visceral."
When you auditioned for the film, did you initially audition for Enjolras?
Aaron Tveit: I sent in a tape for Marius. I put "Empty Chairs at Empty Tables" and "In My Life" on tape. I've never done "Les Miz" in New York. I was too young by the time it closed on Broadway, and I was doing something else when the revival happened. When I went in for Tom, they wanted me to prepare all the Enjolras material and read for Enjolras. It was actually, I have to say, my naïveté. It's funny, once I got more and more familiar with the material and when I read the novel, I was like, "Wow this is a really, really great role," and I felt very much better suited for it."
How did your theater experience and training help you on this film?
Tveit: A lot of stuff that I've done in television and film, you do much smaller takes. But the way that Tom shot this, we literally were shooting five- and six-minute sections, like whole songs. Because of that, you kind of had to always be in the moment and always be in character. You kind of had to be fully living in this world for the whole length of the takes. Coming from a background of being onstage, you're onstage for two and a half hours and you're in it for the whole time no matter what you're doing. Even if you don't have a line, you have to stay in it. I think I definitely used a lot of that background that I personally had to help me focus while we were shooting.
What's more difficult: a two-show day on Broadway or a day of shooting for "Les Miz"?
Tveit: That's a toss up. I think it still goes back to two Broadway shows in a day, though, I got to say. Because at least on set of "Les Miz," there was some downtime… Now I don't want to sell the "Les Miz" shooting short because that really was almost as grueling as a marathon... Being onstage is just a feeling that you cannot duplicate anywhere else because the energy that the audience is giving you forces you to give more energy. It's such an output and exchange of energy. You can't do that anywhere else.
What did you learn working with actors like Hugh Jackman and Russell Crowe on the film?
Tveit: I still think that I can't really grasp the sum of what I learned from these people… I sat at the playback cameras, and I just watched these two unbelievable film actors shoot this scene. And I remember sitting there watching it and the work that they were doing, and I almost had tears in my eyes watching. These two men, they're amazing and they give so much of themselves. I got the sense the whole time we were shooting that we were doing something really special, but watching them do that, I was like, "Wow, this is something else."
You're currently shooting the series "Graceland" for the USA Network. Can you share a little about the project?
Tveit: It's about a group of undercover agents from the FBI. It's not a cop show. I think on the outset, people are going to think that it's a procedural cop show. It's really not. It's really character-driven, and it's going to be darker than stuff on USA a little bit. I'm really excited about it. My character is great and complicated. It's going to be really thrilling. I can't wait for people to see this too.
Now that you're a big famous film and TV actor, is Broadway going to lose you?
Tveit: Never. No. Never ever. I've been really lucky the last three or four years that I've been able to work on Broadway, work in television, and films. I just really want to be able to continue to do that. This is the first time where I'm not in the development of a new musical project. I literally have this feeling, and I say to my manager a lot, I dream sometimes of what my next musical project is going to be. Whatever it is, it's going to be such an amazing feeling to come back to that… I'm never ever going away. As long as they'll have me, I'll be there.