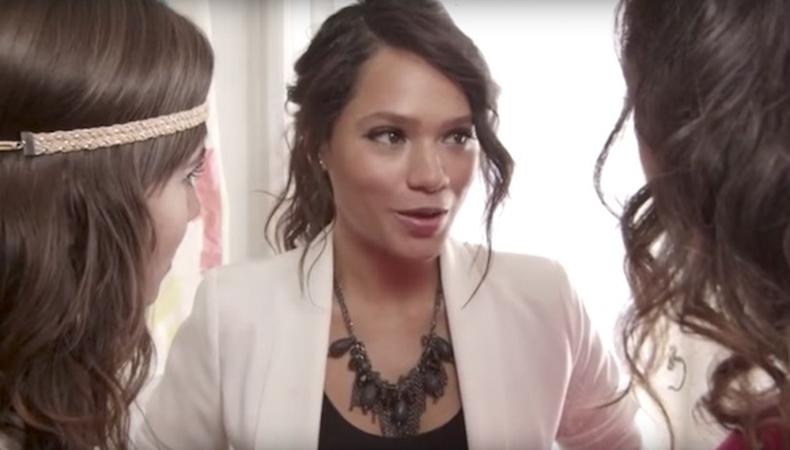 While on safari in South Africa, Sabrina Texidor found out she had been selected as the winner of this year's "ABC Discovers," the network's nationwide talent competition that grants one lucky actor a one-year talent deal (not to mention a massive platform). But before striking network gold, Texidor was cutting her teeth on the New York acting scene and going to open calls, most of which she found through Backstage. Texidor hopped on the phone from Los Angeles, where she now resides, to weigh the two coasts, discuss the awesome opportunity she now has with ABC, and reveal how Backstage was her lifeline at the start of her career.
How did you first hear about 'ABC Discovers'?
"Since I've been in Los Angeles, which is coming up on six years now, I have heard about the 'ABC Discovers' showcase. It was one of those things where, when you're getting to know other actor friends, it just comes up in conversation. It's been my goal to be a part of it since the second I arrived to L.A., so I would submit every year. This just happened to be my lucky year, I guess!"
What was your submission process like this year?
"Every year, I had an idea of the timeline, when it would be time to submit. This particular year, I was travelling a lot all over the world so I lost track of the deadline. In my acting class, actually, one of the actors mentioned something in regards to the showcase and I thought, 'Oh man!' I had four or five days left to submit, and I went ahead and submitted. I submitted my first tape and then I went to South Africa to celebrate my birthday and then completely forgot that I submitted. I feel like as an actor you have to train yourself to do that, to do what you can and then you have to let it go completely.
"When I was in South Africa, I had no service, but then I randomly received an email from ABC letting me know i was a potential finalist but that I had to submit a second audition tape. I thought, 'How am I going to pull this off in South Africa?' The internet was horrendous but my boyfriend and I buckled down and I pulled it together and sent it off. It was a very unique process! And then on the flight back, they [asked] if I was available just to possibly take a call. So on layovers I was available and I figured if i even received a call it would just be to get to know all the finalists but that's when I found out I won and I couldn't believe it. I had to ask them 10 times to repeat it."
What is your history with Backstage?
"I went to college in New York, I went to Fordham. And after school, I was really focused and was training out there but I didn't have any representation or anything like that, so Backstage was what I used to find auditions. It's what I used to get references for headshot photographers, classes. I read so many articles and was so inspired by other actors being interviewed or articles about how to get an agent, or how to best present yourself in auditions. It was really the only thing I had helping me, guiding me alongside teachers and classes in New York. And when I heard [about doing this interview], I called my mom and said, 'I'm going to be talking to Backstage!' It is so surreal because I admire everything you guys do.
READ: 5 Reasons to Join Backstage Immediately
What about Backstage kept you coming back?
"It was two things: first, the legitimacy. The more you feel like you're gaining any traction in New York as an actor, everyone just turns to Backstage. When I was really green in New York, everyone around me was a bit more seasoned and was like, 'Definitely turn to Backstage.' When I did start using it, it was just so easy and clear; here are the auditions, here's what's going on. It was so user-friendly, especially when I just didn't know anything. I'm really grateful and Backstage has a really special place in my heart."
Tell us about the 'Rent' audition you found through Backstage.
"When 'Rent' auditions came back to New York, I found out about them through Backstage and I went in simply wanting to be in the ensemble. I would've been an usher, honestly. I went and waited all day, as we all did, and we were these theater nerds singing 'Rent' songs for hours. They actually called me back for Mimi, and I was so thrilled. I got, like, four callbacks and I was so green and such a baby but it was so exciting! I remember Bernard Telsey and going in and it was terrifying. After that didn't work out I had a moment where I thought, 'I'm going to go try my luck out in L.A.'
What are your thoughts on the L.A. vs. New York paradigm?
"There's such a pride in New York and such a sense of camaraderie. The main difference is, in New York, using publications like Backstage and talking to other actors, you can kind of just waltz into an audition like what happened to me. I just walked into this audition for 'Rent' and ended up meeting Bernard Telsey and going in a couple of times for this huge role on Broadway. That doesn't really happen in L.A. You have to either build relationships with casting directors or someone at a network or you have to have representation to be able to even walk onto a lot. I think that can be very jarring when you come out here. In New York, there is the sense of, if you're talented and ready, you should try it out and go to auditions. You can't really do that in L.A.
How should actors decide whether to try New York or L.A.?
"Ultimately, when you're ready and you feel like it's your time, you have to do it. I think it's great to start in New York and then come out West because in New York, you really understand that it's vital to have thick skin. New York prepares you for that. There's a different energy there so when you come to L.A., you can hit the ground running and you start making friends and you find out about opportunities and maybe there are showcases like 'ABC Discovers,' and you're ready for them because you trained in New York. It's just a matter of being ready and the timing aligning for you. It's an interesting transition but if I can do it, anyone can do it."
What advice do you have for other actors hoping to break in?
"Honestly, the main advice I have is train. Train and be ready because regardless of how talented you may be—maybe you're outstanding—but I think that it's really important and really special to be a part of a class and have a sense of community and support and continue to read material and really understand how to break down text. Overall, you'll start to realize the same scenes and the same archetypes and relationships tend to come up time and time again whether it's onstage or on television or on film, so I would say training is really important."
How can actors endure when times are tough?
"I meditate and I try to really just take care of myself. It's important to check in with yourself and have a strong sense of self and really develop your intuition because it helps both with characters and bringing a character to life, but also knowing when it is time to make the move if you're thinking about coming out West, or if you're ready to take these leaps. That only comes from a strong sense of self. It's understanding that this is in fact a craft and it takes time. Know that this takes time. If it happens overnight for you, awesome, but I think we all want longevity and we all want to really make a difference and inspire the way we've been inspired by great works of art—but ultimately, it takes time. So don't be discouraged if you are reaching a particular age or people around you are starting to book things and you're not. Everything happens for you when it needs to happen."
Ready to get cast yourself? Check out Backstage's casting calls!