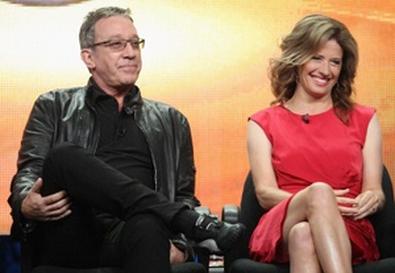 Tim Allen and Nancy Travis will be two of the only original cast members left standing when the ABC sitcom "Last Man Standing" returns for its second season this fall on ABC. Two characters from the first season have already been replaced and now a third role is being recast, EW.com reported.

In "Last Man Standing," Allen stars as Mike Baxter, who struggles to maintain his masculinity as the father of three daughters. Travis co-stars as his wife, Vanessa. But a family unit comprised of their daughter, her baby, and the baby's daddy is being retooled. The cast overhaul is reportedly a result of new showrunner Tim Doyle ("Rules of Engagement") taking control in June.

Amanda Fuller ("Grey's Anatomy") will take over the role of Mike's oldest daughter Kristin, a character that was previously played by Alexandra Krosney. Krosney was let go in June for "creative reasons," TVLine reported.

Child actor Flynn Morrison has been cast as Kristin's son Boyd, effectively aging the character from toddler to 5-year-old. (Recasting child roles is not uncommon. "Modern Family" recast the role of Lily in 2011 because producers wanted to age the character in time for the show's third season.)

And for a new recurring role, the casting directors are currently seeking a male actor to play Boyd's father, Ryan. According to EW.com, "Doyle plans to find an actor who will not only recur but represent a potential foil to Mike." Pop star Nick Jonas guest starred as the deadbeat dad in one episode last season.

Molly Ephraim and Kaitlyn Dever are expected to continue in their roles as the Baxters' two younger daughters in season two.

"Last Man Standing" returns in a new time slot when it moves to Fridays beginning Nov. 2.
Inspired by this post? Check out our audition listings and be sure to check out our advice videos!