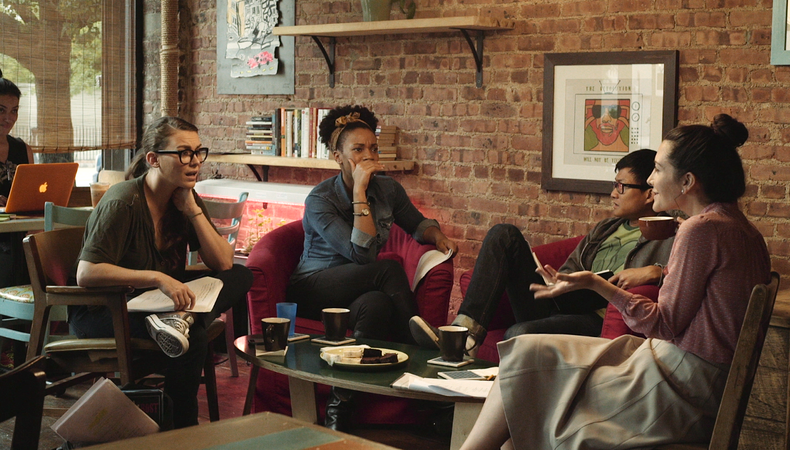 Sisters Kim Spurlock and Mai Spurlock Sykes have been working together since the former was a student in NYU's graduate film school program. Spurlock Sykes would travel up from Philadelphia to crew on her sister's short films, and after she finished the program, graduating to features seemed the next logical step. But finding funding was difficult, Spurlock Sykes had kids, and their work inevitably slowed.
"It seemed like we were waiting for permission or something," Spurlock says. "But we thought maybe we could give ourselves permission."
The sisters created "Livin' the Dream," a series centered on Kit Scanlon (Laura Campbell), a film school superstar who has made little of herself since her academic days. "You know those people who peaked in high school?" Kit asks her friends. "I don't want to be one of those people who peaked in film school." So she decides to take matters into her own hands by cashing out her 401(k) and returning to her student stomping grounds.
The Web series is an extension of the shorts the co-creators were already accustomed to making, without the high costs of feature films. "I pitched Mai the idea: Wouldn't it be funny to write about me and my friends?" Spurlock says of where the narrative began. "These women are so talented but they're having trouble getting their films made, or maybe aren't [getting them made] as fast as their male counterparts."
Having their project be driven by female protagonists who refused to wait for a greenlight was important for the creators. "[Web series are] the filmmakers' way of leaning in," Spurlock says. "We have the means in our hands—let's do it."
Spurlock Sykes wrote the script while her sister gathered her NYU friends to start filming the series. They worked with co-producer Byron Beane, a talent and literary manager and former casting assistant, who brought in Kristen Paladino to cast the project, using dozens of actors. But they had yet to find their lead. Enter Campbell. "She gave us choices," Spurlock says about why she landed the role. "She was so authentic."
"It's tricky. So often in film and TV, you look at a female character as, 'Do I like or not like her?' But with a male character, it's more of a blank slate," Spurlock Sykes adds. "[In the series], we have a female character who's making some unwise decisions. She's a kind person, but she's not nice. We didn't want this wide-eyed female stumbling through life."
It was also important for the pair to cast a viable Asian male love interest, who they found in Meng Ai, who plays Jonah. "It's a buyer's market for diversity casting, unfortunately," Spurlock says. Spurlock Sykes adds, "We tried to be as aware of [diverse casting] as we could."
The two have seen the beginnings of a positive shift both in the types of actors being cast and in content creators across the board. "I don't know what will change faster," notes Spurlock, "more women getting to make their own projects or [casting] more minorities."
Like this story? See more of our Now Streaming articles here!