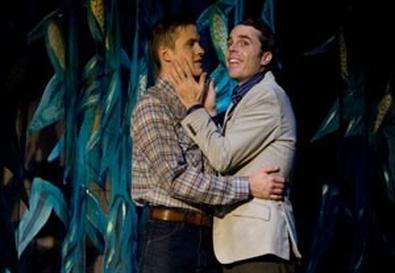 Identity politics and wild comedy collide with exciting results in Aaron Loeb's crazy quilt of a play, "Abraham Lincoln's Big, Gay Dance Party."
When an elementary schoolteacher rewrites the Christmas pageant to include a scene featuring Honest Abe explaining his "special friendship" with Joshua Speed, all hell breaks loose in Menard County, Ill., Lincoln's home before he moved to Springfield, as the teacher is fired and brought to trial for distributing material harmful to minors. A right-wing former congressman, an African-American female candidate for governor, a Pulitzer-winning gay reporter, a Cuban photojournalist, and numerous other operatives, commentators, flacks, flakes, and ordinary citizens have a stake in the outcome. Loeb makes sure no one is a complete villain or hero. He also combines sharp satire with poignant insight into our deeply divided land.
As if that weren't enough, he throws us a couple of startling curveballs. He lets the audience decide the order of the three acts and includes enough pop-culture references to keep Trivial Pursuit enthusiasts busy for a month. I especially loved the "Law & Order" musical stings that punctuate the courtroom scenes.
Chris Smith's staging is tight and makes effective use of Bill English's unit set, which allows a bakery to transform into a cornfield with a minimum of fuss. Kimberly Richards and Tom Segal's choreography cleverly quotes showbiz clichés from Fosse to disco. The seven-member cast remembers they are playing real people and not political caricatures, making for a doubly entertaining laugh fest.
Presented by BlueRare Productions, the San Francisco Playhouse, and Playground as part of the New York International Fringe Festivalat Here Arts Center, 145 Sixth Ave
.,
NYC
.
Aug. 18
–
29. Remaining performances
:
Sat
.,
Aug. 22, noon
;
Sun
.,
Aug. 23, 3:45 p.m
.;
Sat
.,
Aug. 29, 7:15 p.m
.
(
866
)
468-7619 or www.fringenyc.org
.
Casting by Annie Stuart
.