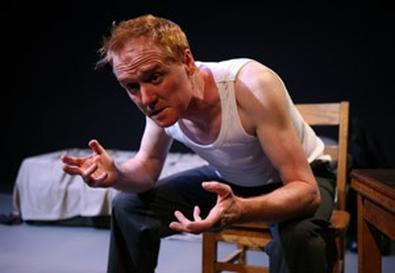 Rarely, if ever, has listening to a man describe his life's work as he gets dressed been as horrifyingly entertaining as it is in "Absolution," writer-actor Owen O'Neill's one-man play currently running at 59E59 Theaters as part of the First Irish Theatre Festival. That's because the man in question is a serial killer who specializes in bringing to justice priests who prey on children. Over the course of 70 unnerving minutes, O'Neill relates in grisly but fascinating detail how his character has killed four monstrous clergymen, making us his confessors and, to some degree, his accomplices. It is a measure of the play's subversive success and O'Neill's inherent likability that we root for this man, who is unnamed until the very end, even as we are appalled by his violence.
Blood-spattered drama is no rarity. "Absolution" follows in the line of "Richard III" and "Halloween" in tapping into our sublimated relish of mayhem and our not-so-sublimated desire for brutal revenge. However, O'Neill is after bigger game than mere sensationalism. He doesn't stint on describing the damage done to the priests' victims, especially one boy named Nathan, or the damage the killer does to himself. In the play's best and most disturbing scene, the man visits a former girlfriend, and as he sits in her kitchen reciting a poem, he notices that she is frightened of him. In an instant he realizes that the cost of his "calling" is his common humanity. It is a superb dramatization of the moment of self-awareness, and it hits the man and the audience like a freight train.
O'Neill, a noted standup comic from Northern Ireland, is a marvelous performer. He holds us rapt by scaring us to death at one moment and making us laugh guiltily at another. He and director Rachel O'Riordan create a crackling theatrical experience in which nothing said or done is wasted. In some ways, "Absolution" is like a mystery tale; part of the fun in watching it is looking out for the clues to the man's identity that O'Neill sprinkles here and there. There was a delicious collective gasp when that moment finally arrived during the performance I attended.
The appropriately stark but uncredited set design consists of a bed, a table, and a sink. Michael O'Connor, the only designer credited, creates lighting effects as spare and subtle as the play.
First presented at the 2008 Edinburgh Festival, "Absolution" has been brought to the First Irish Theatre Festival by Gúna Nua Theatre Company. It's not a great play; it's barely a play at all, having no traditional conflict or dramatic arc. But it is white-knuckle theater, and New York should welcome its arrival.
Presented by Gúna Nua Theatre Company as part of the First Irish Theatre Festival at 59E59 Theaters, 59 E. 59th St., NYC. Sept. 12–Oct. 23. Tue. and Wed., 7:30 p.m.; Thu. and Fri., 8:30 p.m.; Sat., 2:30 and 8:30 p.m.; Sun., 3:30 and 7:30 p.m. (212) 279-4200 or www.ticketcentral.com.