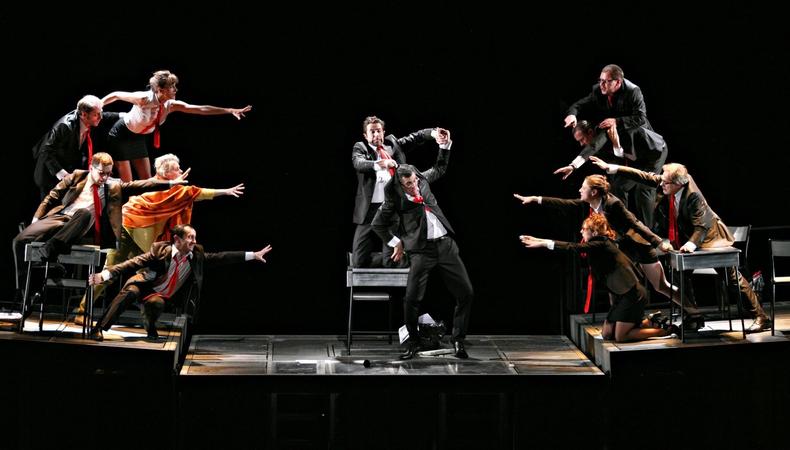 Eugene Ionesco's 1959 absurdist masterpiece has been performed over the years as both a high comedy and a dark tragedy. In Emmanuel Demarcy-Mota's viscerally charged new staging, the two tones combine to often spellbinding effect, creating a production that's both emotionally compelling and intellectually gripping in its New York premiere.
Ionesco's inspiration for this horrific yet comedic look at how the populace of a small town transforms, almost overnight, into a herd of rhinoceroses stems from Hitler's rise to power in Germany. As the piece slyly explores the mass hysteria that can allow a totalitarian regime to come to power, it also examines the reasons individuals find themselves resisting change, not for any logical or intellectual reason but simply because their intuition tells them that what they see happening is wrong.
Such is the case for Bérenger (Serge Maggiani), a publishing house clerk and the play's hero who becomes the lone man standing by the end of the show's 105-minute, intermission-free runtime. Maggiani is enormously appealing in the role, blending milquetoast naiveté with nervous intensity. Even during an opening monologue that Demarcy-Mota has needlessly added to the show (taking an excerpt from Ionesco's only novel, "The Solitary"), Maggiani's wide-eyed, moderately edgy performance charms.
Alongside Maggiani, the production boasts a host of terrifically conceived turns, notably Hugues Quester as Bérenger's best friend, Jean. Quester brings a deftly light aggressiveness to the show's first scene, in which Jean rebukes Bérenger for the latter's inability to conform to some of society's (and Jean's) most basic norms. And later, when Jean transforms into one of the thick-skinned beasts rampaging through the town, Quester's physical and vocal work is superb as he simultaneously resists and gives in to his metamorphosis, evoking nervous laughter and chills at the same time.
Pascal Vuillemot as Bérenger's boss and Philippe Demarle and Jauris Casanova, as two of his co-workers, also deliver spirited performances that spark with comic and dramatic flair. Yet while Céline Carrère brings sweetness to her turn as Daisy, another of Bérenger's officemates and also his love interest, she fails to convince during the show's final moments, while he witnesses yet another friend succumb to the allure of the pachyderms.
Demarcy-Mota's tautly choreographed production, which is performed in French with English supertitles, takes on an almost sensual feel thanks to its physical details. Yves Collet's scenic design is an ever-shifting world that keeps the characters (and audience) off balance, and his lighting evokes a sense of huge beasts charging through crowds while it also dehumanizes the performers in exciting, unexpected ways. When these elements are combined with Jefferson Lembeye's original music—which mimicks throbbing African tribal rhythms and also pulses with the sort of eeriness generally reserved for slasher movies—the effect is spine-tingling.
Presented by Brooklyn Academy of Music and Théâtre de la Ville at the BAM Howard Gilman Opera House, 30 Lafayette Ave., Brooklyn, NY. Oct. 4–6. (718) 636-4100 or www.BAM.org.
Critic's Score: A-