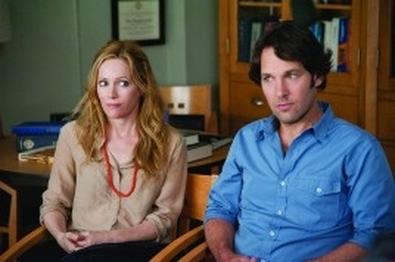 Think of "This is 40" as the American version of "Amour." Unable or unwilling to contemplate mortality, American filmmakers and audiences are far more comfortable keeping things light with some not-very-deep thoughts about middle age, and "This Is 40" happily complies. What elevates the latest Judd Apatow film is its depiction of a married couple, itself just as real, idiosyncratic, and vivid as the husband and wife depicted in "Amour."
As played by Leslie Mann and Paul Rudd, Debbie and Pete are freshly 40, the parents of two daughters, and they only hate each other maybe a third of the time. There are many screaming matches between Debbie (a health nut who smokes in rubber gloves and a turban to hide the smell) and Pete (who devours cupcakes with the same neediness with which Debbie inhales smoke), but the fights aren't the usual, movie-married-life battles. No one cheats in "This Is 40," no one has a terminal disease, and even the looming threat of bankruptcy is neither overly dramatized nor easily dismissed. What Apatow has created (just in time for the holidays!) is a warts-and-all look at marriage that reveals both the ugly erosion of boundaries and the multiple levels of feeling that can let a person simultaneously love someone and plot his or her gruesome murder.
"This Is 40" is helped immensely by Mann and Rudd's performances. Both actors have a knack for staying likable even as they behave abominably. Pete and Debbie are constantly letting each other down, but even when one of them writes off their marriage has devolving into a "business relationship," we are never in serious doubt as to whether or not they will survive this latest crisis. Debbie and Pete are too weird, too minutely complementary in their quirks to ever really consider divorce. And Apatow doesn't skimp on showing them at their best, most memorably during a pot-cookie-fueled weekend getaway.
Where the movie falters is in its all-encompassing forgiveness of Pete and Debbie's mistakes. After Debbie verbally abuses a classmate of her daughter's after suspecting him of being a bully, Pete yells at the boy's mother, but neither Pete nor Debbie ever suffers any repercussions for their actions because they're beautiful and thin, and the boy and his mother aren't. The mother is, however, played by Melissa McCarthy, improvising mercilessly and almost rescuing that plot strand from the shoals of "Gee, being middle class, pretty, and white is awesome!"
Even that misstep can be shrugged off when the rest of the movie is so pitch-perfect in depicting married life as something other than a fat man-skinny wife comedy or a melodramatic series of tragedies. "This Is 40" is too smart to settle for either extreme, and we're the luckier for it.
Critic's Score: A-
Directed by Judd Apatow
Casting by Allison Jones
Starring Paul Rudd, Leslie Mann, Albert Brooks