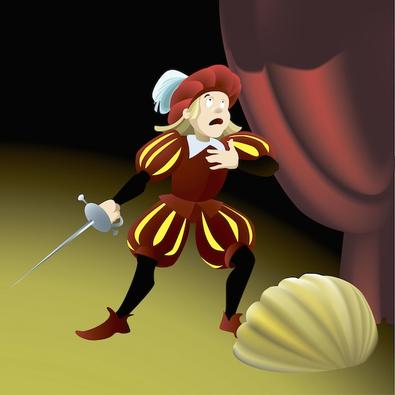 Need a little inspiration? Our Backstage Experts are full of amazing advice to help move your career forward, and we wouldn't want you to miss one drop of it. Here are five tips to keep in mind during the week ahead!
Choose a specific point of concentration.
"Camera actors must have the ability to think actively. So much is communicated physically and vocally on the stage that could be communicated with a closeup in a film. One tool I use when coaching to help actors achieve this is to choose a specific point of concentration to follow during the take. There are many that we teach at the studio, but one we frequently use comes from Viola Spolin's Preoccupation games: While doing an activity, be totally preoccupied with an off-screen event and follow your flights of thought from it, using your inner energy to springboard from one thought to the next, irrespective of the scene's text." —Rob Adler
Act with your heart.
"What are the emotions that the shock and disbelief bring up in your heart? Sadness, shock, anger, defeat, rage, shame? Notice how they all exist together and enrich one another. Sit with all of them and let them pierce your heart. Feel the feelings overtake the thoughts. If all of the emotions that come up are identified and truly felt, you'll make choices that are rich with honest emotional life. You won't have to act the choices, because you'll be living in the felt sense of the choices. If you lead with the heart and not the head, you'll bring real humanity and depth to every role you go out on, from the simplest one liner to the most complex 12-page scene." —Craig Wallace
Try comedy for a more memorable performance.
"A well-written comedy scene stands on its own better than a dramatic scene, provided of course that you're good with comedy. One problem with a dramatic scene is that the audience watching it hasn't invested in all that has led up to the scene being performed in the same way that they would if they were actually seeing the entire play. As far as comedy "standing on its own better" goes, think about how people flock to comedy clubs to watch someone make them laugh for a bit. 'Stand-up drama clubs' are not in vogue, and never will be." —Brian O'Neil
Play around with your cues.
"Comedy has a buzz to it. If you aren't getting your laughs, try just picking up your cues. Almost feel like you are overlapping your cues and it will put new life into the scene. Never let the audience catch up to you! Obviously, there are places where you need a beat or a bit of business but, in general with comedy, pick up your cues." —Cathryn Hartt
Know your values.
"What drives you? Three core values our team shares at Voices.com are innovation, excellence, and integrity. Identifying what means the most to you, for example education, health, security, or growth, will help you to focus as you evaluate new opportunities. What you value determines where you should spend your time and effort. Let's say healthy living is one of your values. Every step along the way, you'll be looking at opportunities through the lens of how a certain activity or choice will impact your health. Similarly, if you place value on authenticity, take care to only audition for those roles that best reflect your brand and career objectives." —Stephanie Ciccarelli
Like this advice? Check out more from our Backstage Experts!