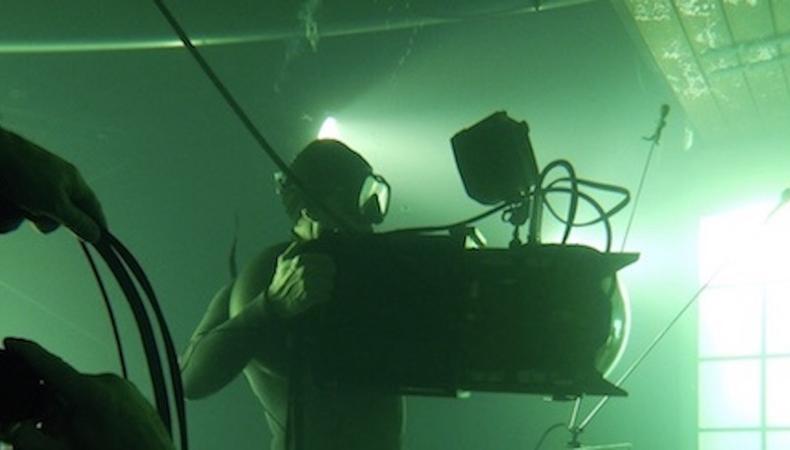 As the underwater cinematographer on "Deadpool 2" and a number of other big-budget projects (including "Batman v Superman: Dawn of Justice" and Netflix's "Lost in Space"), Ian Seabrook has worked with the likes of Ryan Reynolds and Charlize Theron—while they're entirely submerged, that is. Here are his tips for how actors can still act beneath the sea, why shooting underwater is a director's dream come true, and the crucial skill one must master in order to get into underwater cinematography.
What does underwater cinematography entail?
The same rules apply [as regular cinematography], they're just augmented. The chief difficulty is communication, because it's obviously difficult to communicate underwater. We use an underwater speaker with the director on the surface; they watch the monitor, see the shot and direct the actors who can also hear.... It's a one-way system whereby the director talks and no one can talk back—the director's fantasy!
READ: The 1 Thing Cinematographers Need From Actors
How closely do you work with actors while shooting underwater?
Actors often come to the training part late, or they've read the script and there's an underwater part and they kind of skip over it or think, I'll get to that on the day. Everybody says they've done this, but when they're in the water, they're not comfortable. There is a safety diver attached to that talent, and that's supposed to be a very tight bond because the actor is looking at that person or for them when they get in trouble. It makes the most sense for them to look for one person. I typically try to wear a different color mask or a beanie so they can see me because everybody looks the same underwater.
How do you develop trust with an actor while shooting underwater?
Because actors know that I have the camera, they'll often ask me, "Did that look OK? Did you believe that?" I'm used to working with actors, so having an ability to keep them relaxed and have the confidence in what they're doing and confidence that the information you're giving them is good feedback and not just a pat on the back establishes a bond with them. I usually try to give them descriptive feedback so they know I'm paying attention.
What are your tips for actors who will be shooting a scene underwater?
As far as actors are concerned, there are a whole bunch of things to consider: they're afraid of the water, they don't want to hold their breath, they've got an ear infection—on top of getting the shot. Actors who can go underwater and forget all of that stuff and still perform and still act are quite rare, indeed. They can't concentrate, they don't feel comfortable, and then the acting is [secondary]: "I'm just trying to not drown." But [they must still] be acting within the scene and keeping with what their character is going through.
What should actors do to prepare ahead of shooting underwater?
Just be truthful in your ability. It's easy to say, "Oh, yeah I can do it," but it's a different discipline and there are guidelines that have to be in place. In my experience, sometimes they don't want to get retrained or they don't want a safety diver who they don't know to take them down and watch them dive and watch how they are in the water. The majority of the time, actors will say, "Forget it, it'll happen on the day." So I would say just be open to the experience of the people who are in the water.
How did you get into this specific cinematography niche?
I was a diver first. I was a still photographer, then I was a diver. And then when I got into the film industry, I got into the camera department. I always wanted to be an underwater documentary cameraman. It seems a bit odd to pinpoint that job, which there is no training for and there are very few people doing. I started out as an assistant and then I started shooting. Each project got bigger and bigger, or the scope of the projects expanded. I've done a lot of people trapped in cars; that tends to be the principal script sequence that people like to write.
What should prospective underwater cinematographers know?
As an underwater cinematographer, you have to wear more than one hat. You can't just point the camera and say, "Well, that's my whole job." You have to watch the actor and notice when they're starting to get uncomfortable when no one else does. You have to manipulate the lighting equipment and grip equipment yourself. It's no different than cinematography on land, but you have fewer people in the water so you have to do things by yourself sometimes—most times.
Looking to get cast? Apply to casting calls on Backstage.