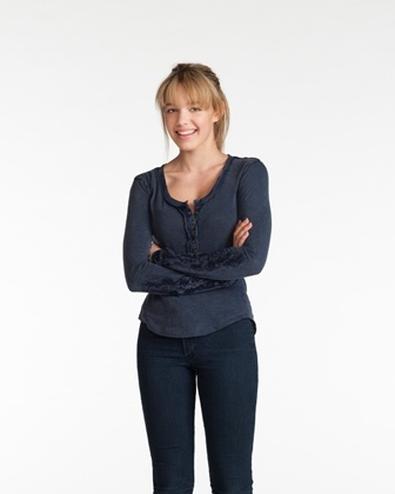 She may be young, but Sadie Calvano holds her own with co-stars Allison Janney and Anna Faris on the new Chuck Lorre sitcom "Mom." Calvano started her career in musical theater, and now she's discovering that filming a sitcom in front of a live studio audience is the perfect combination of her stage and screen work. "There's some magic that comes to performing in front of people that is so difficult to explain, but so, so apparent in every single time that it happens," she says.
The enthusiastic actor shares the secrets she's learned for navigating the unique challenges a young actor faces in the industry while maintaining excited about the work.
Love what you do.
Calvano has always been active, but when she hit fourth grade, keeping up with gymnastics, acting, and school got to be too much. She decided to focus full time on gymnastics, but soon realized that she wasn't happy. "I really missed the people at the theater, and I really felt like I wasn't being fulfilled and that I was really craving my art," she says. "So I finished out the season, and I cleaned out my locker and finally convinced my mom to do a summer of auditions." Her mother was initially hesitant to have her enter the film world because of all the stories she'd heard about child actors, but Calvano was determined and convinced her mom to let her try it for a summer. "I booked one of my first auditions and fell in love with the business. My mom saw how happy I was and couldn't help but support it," she says. Calvano has a lot of work with juggling her studies and the first season of "Mom." "Even if I finish work at 8 o'clock, I still have to go home and finish whatever homework I have to do," she says, "But because I love what I'm doing, I enjoy it and I'm motivated to continue working."
Think of auditioning as an opportunity to play.
Since she's been acting from a young age, Calvano has had a lot of practice with auditioning. With multiple audiences in a short time span for "Mom," Calvano kept her cool, even when she was surprised to be joined by Anna Faris for one of her auditions. For Calvano, it all comes down to mindset. She says she tends to get herself in trouble if she thinks of it as an audition, so she looks at it as an opportunity to take a break from her schedule and go play with new material. "If you think of it just as play and something exciting, then I don't think it's such a scary thing," she says. She's noticed that her agents and managers even tend to avoid calling them "auditions," opting for "meetings" or "appointments" instead.
Keep it edgy.
One of the things Calvano loves about "Mom" is the strong female cast and the edgy nature of the show. In fact, on top of dealing with alcoholism, the show also plans on tackling teen pregnancy. A recent episode revealed that Calvano's character, Violet, will soon be a mom. Calvano feels Violet is easy to relate to. "My mom and I are super, super close, and even I can relate to that teenage angst," says Calvano. "Underneath her dry and sarcastic, dismissive tone is really a girl that's pretty wounded and really in need of some love, because her mom has just really failed to act as a parent for lot of years."
Listen.
It seems obvious, but Calvano has seen the results of really listening to other actors. "If I can figure out the main points of what I want to accomplish and what I want the other person to feel after I'm speaking and then really just listen to the words that they're saying and trust in that, I will be exactly where I need to be," she says.
Stay grounded.
Calvano is quick to compliment the established actors she's working with and says seeing how funny and grounded they are in person has been inspiring. "I really looked up to Anna and Allison's careers before I met them," she says. "If nothing else, I definitely think they taught me a lot about gratitude and staying humble and being kind to those that you're working with, and how much that will pay off for you."
Training builds relationships.
With her musical theater background, Calvano values the importance of training. Calvano's mother grew up in New York and attended Stagedoor Manor, and after hearing stories about her mother's time there, Calvano wanted to go for herself. Besides providing training and fun, Stagedoor opened the door for building working relationships with other alumni, as well as making connections with other young actors. "Stagedoor is such a special place, so I think it really brings people together," Calvano says. And when she first met Jon Cryer, she had an instant bond with him because they were both Stagedoor alumni.
Don't be afraid to ask for help.
For the most part, trusting your gut will work. "Your instincts will be correct, 9 times out 10, if you trust that and commit and roll with it," she says. But if it's not working and you don't know what to do, it's also okay to ask for help. "It's okay to turn to a director or an actor that you really trust and say, 'Hey, what do you think about this? Because I'm having a little bit of an issue. I don't really know where to go with it.' And that collaboration can be a really beautiful thing," she says.