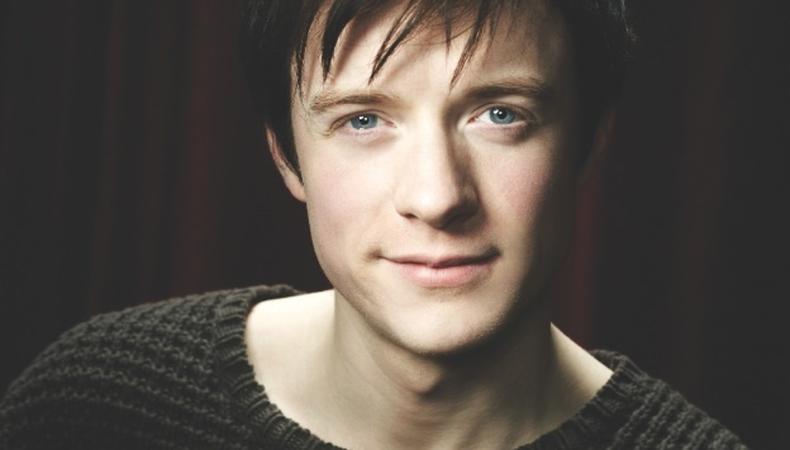 Getting work as an actor is never easy. But with "Pippin," British actor Matthew James Thomas had to win not only the title role but also the right to work in the U.S.
"It's a classic American icon of musical theater, and here I am, 'I hope I can say my r's correctly,' you know?" Thomas says. Everything worked out just fine, and Thomas is thrilled to star in "Pippin," which is currently in previews on Broadway and officially opens April 25 at the Music Box Theater.
"I'm the luckiest Brit in America!" says Thomas, who can't get enough of the New York energy. Thomas made his Broadway debut as the Peter Parker/Spider-Man alternate in "Spider-Man: Turn Off the Dark."
We sat down with Thomas for this week's cover story, and he shares his secrets to acting success.
Have Fun
Thomas was a child actor and grew up in theaters and on sets. His earliest memories are from appearing in "Oliver!" on the West End. "There's lots of blurry pieces to some very significant memories of just running around this big, empty, old theater, being a terror and having a lot of fun, just tearing the walls down," he says. Once Thomas started working in TV, he found fun in other aspects of the business. "One of my favorite things was drinking the wine," he remembers. "They'd give you grape juice. I remember just acting getting drunk on all these sets."
Don't Let Bullies Stop You
It may be hard to believe now, but Thomas was bullied in school. However, he didn't let it affect his career, and he ended up finding a haven in Sylvia Young Theatre School for his training as a young actor. "Like everybody gets bullied, I got bullied too," Thomas says. "It was getting really difficult and things were getting a little extreme in my school when I was a kid…So my parents found this place and I went to London…They have working television actors and people from all sorts of other conservatories teaching at this school so Monday through Wednesday, we would study academics, and Thursday, Friday it would be everything from acting, dancing, singing, and you could choose which would you push so I pushed acting. It was very family, very small. Everybody knows everybody."
Be Cautious
Good news can quickly turn bad, and Thomas has learned to be cautiously optimistic about jobs and opportunities. "I have this thing whenever I get that phone call, I get this initial rush of yes, which is amazing, and then all of sudden, I'm like, 'But wait, is it going to happen?' Instantly. Even now, I'm still like, I can't believe it. I still can't believe it. I never really believe it until I'm onstage performing, and even the next day and the next day, same as 'Spider-Man.' I was always like, 'This is amazing.' It could go away in a flash. I like to keep myself prepared just in case. Maybe it makes me insane. No, it does make me insane. But whatever."
Lose Yourself in the Role
"I forget everything when I'm on stage," Thomas says. "In this company, with these actors, I'm given such an incredible experience to play. They're all so present and all so real. I'm just bouncing around with them. So I forget the initial pressure because watching them just have fun and that's what Pippin's job to do. That's what I'm supposed to do, stand on the stage and not have a clue, which is fun. At least when I'm in other productions and I'm standing on stage and not having a clue, it's not supposed to be that way. I'm supposed to not have a clue so everything's fine!"
Support the Community
Thomas is thankful to have been welcomed into the Broadway community, and he recognizes the importance of encouraging his peers. "In auditions, you're not up against anyone else, you're both going in for the role, and it's like whoever's right for it will get it," he says. "It's simple. It's not like, 'Oh I won!' There's never that element. It is very supportive. The five guys who all went in for Pippin, I know them all now, and I've got mutual friends with all of them and I love them. I have friendship with some of them. I know when they say, 'Good luck,' it means good luck, not 'Boy I wish I got the role.' And I say the same."
Find a Safe Place to Work
"One of the things I have recently been working on with myself is feeling safe to do anything that I want to do," says Thomas. "When you get into a production, there are a lot of things you have to hit to make the show work – like my cues or a cue for another person or making sure you don't mess up the beat, and you can let all of that get in the way. At 19 or 20, I didn't pay any attention to that at all, but over the last two years, I started paying attention to everything, which really was bad. It really started to affecting me in not so positive ways… I can push a lot of boundaries with this role…It's a great platform for me. It's completely opposite from 'Spider-Man.' 'Spider-Man' if you're not in your place, there's a huge safety issue. And it was a different challenge keeping it present and feeling un-physically restricted…With this show, that's an ability that the canvas creates for me and everybody else."