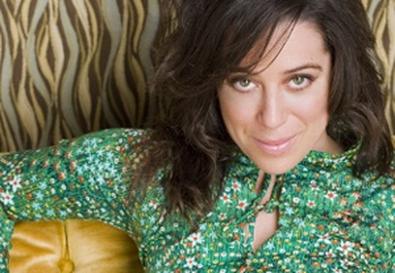 Sheri Sanders has figured something out about the relationship of rock musicals to rock music that she claims few others guiding rock-musical aspirants these days have wised up to. The 37-year-old aggressively dedicated spark plug has reached her plateau by studying with compulsive care the music she's loved since she was a child listening to rock alongside her mother, who elaborated on favorite radio cuts with personal stories.
Sanders has not only steeped herself in rock as it has evolved over the last seven decades; she has also grounded herself in the music's historical context. As a result, she has developed a $400 four-class course called "Rock the Audition" that she offers at least a dozen times annually. In each session, she instructs no more than 10 students, while regarding herself as "a member of the class, but I'm the one that's leading—I'm in the trenches with them."
Sanders is also a performer, and her acting résumé lists the Encores! staging of "Hair," "Caligula" at New World Stages (both in New York), and three different productions of "The Full Monty," but she also does a fair amount of acting in her classes. That's when she demonstrates what she's after from students looking to land rock-show assignments. She certainly did a good deal of emoting during the four-hour class I attended. As it began, she gave a 60-minute lecture, an "anthropological" talk about style and time period, complete with note-making on a long sheet of paper she'd hastily taped to a wall.
"It's not a part of what they know," she says of her students and the history recounted. "They don't know to bring it in" to their work. She also comments that it's not the kind of background they're given in even the best musical theater programs at most colleges and conservatories. So before she's finished, her makeshift bulletin board is chockablock with distinguishing features of the 1950s, '60s, '70s, '80s, '90s, and the just-concluded '00s, all of which can be seen in the myriad rock musicals now increasingly filling theaters locally, nationally, and internationally.
While it's clear that Sanders knows her stuff, she doesn't merely scribble the information as students take dictation. She draws information from them. When the '70s come up, she asks for memorable personalities and events, eliciting responses such as "Studio 54." She immediately discusses how people behaved there and how that behavior was indicative of the period—the use of drugs, for instance. "What does that do to the body?" Sanders asks, and then unleashes some illustrative body English. "Who knows these are things we have to think about?" she asks, and laughs one of her frequent raucous laughs.
Insisting that "you always want to include yourself as a part of the equation" when auditioning with a rock song for a rock musical, she stresses that coming in with a selection that isn't culled from the right period instantly signals that you haven't done your homework about the show, haven't mastered the look and the moves—thereby jeopardizing callback hopes.
The Kinsey Scale
Midway through her talk, Sanders brings up what she refers to as "the Kinsey scale," a concept she's cribbed from Alfred Kinsey and his famous mid–20th century reports "Sexual Behavior in the Human Male" and "Sexual Behavior in the Human Female." Drawing the top end of an oblong on her increasingly cluttered chart, she says, "I believe we can treat rock songs as we treat sexuality."
She explains that the original Kinsey scale ranges from total heterosexuality at one end to total homosexuality at the other. Hers ranges from uptight to uncontrolled. She insists that posture and movement for rock-song auditions can be charted between those extremes according to the decade and the point within it. More illustration follows, which is supplemented later when the students are individually asked to match a decade's affect with the tempo and style of the song they're doing.
In Sanders' first class, she talks about dealing briefly and authoritatively with accompanists in a friendly manner. She also emphasizes that rock songs rarely have a dramatic arc or tell an actable story and therefore must be shaped for auditions. In the third and fourth weeks, she continues working on vocal styling and further elaborates on period and that uptight-to-uncontrolled Kinsey scale. She also discusses the need to create theatrically effective arrangements for rock songs. Because historically most rock artists have had no reason to keep theater presentations uppermost in mind, they rarely exist.
She especially devotes time to outlining the poetry in songs, which she says are "most of the time not literal or linear." One artist she favors recalling is Laura Nyro, because "she incorporated rock, blues, soul, Motown, doo-wop." Sanders imparts to the class her belief that in auditions and on stage, the singer "must not only interpret what the artist meant, but what it means to you. You can't tell us; you have to feel it."
Working on a book about her technique and preparing to teach her methods at Syracuse University and the Paper Mill Playhouse in upcoming months, Sanders says she aims to be what she considers a rare commodity: "I want to lead by example. I want to be the teacher that always acts."