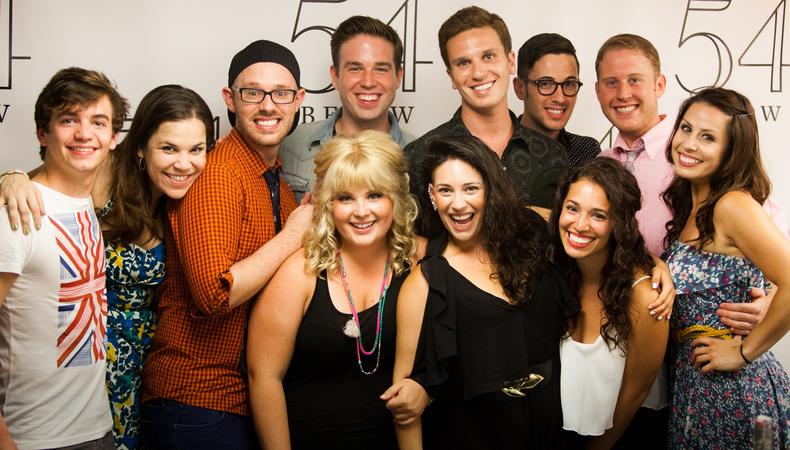 The illustrious cabaret venue 54 Below has hosted such stars at Patti LuPone, Aaron Tveit, Matthew Morrison, Sherie Rene Scott, and Norbert Leo Butz, and on Monday, nine acting students got to add their names to the talent roster.
"It's a huge deal!" says Stefanie Miller. "Norbert Leo Butz and Steve Kazee were in the dressing room with us upstairs and Steve ended up staying and watching our show!"
As part of Actor Therapy, a master class run by composer/lyricist Ryan Scott Oliver and "Wicked's" Lindsay Mendez, the students each performed two numbers to showcase their work. In addition to Miller, participanted included Melissa Castillo, Bo Clark, Nick Cox, Risa Louise Dorken, Alaina Fragoso, Michael Gioia, Matthew Silva, and Noah Zachary.
"Performing in venues like these, it changes people a little bit. It helps you grow," Oliver told Backstage, adding that both he and Mendez have strong professional relationships with the venue that led to what he hopes will be the first of many concerts. "Performing at a venue like this is a completely different experience than performing onstage as a character in a show, and it's also a different experience than performing at Don't Tell Mama or the Duplex, where it's more casual. There is a little bit of distance emotionally from the audience. You definitely feel a brighter glare of the lights."
Oliver and Mendez started Actor Therapy in September 2012, and just completed their sixth five-week session. The class sprang out of many requests that Mendez, who has starred on Broadway in "Godspell" and "Grease" and Off-Broadway in the critically acclaimed "Dogfight," received to teach master classes and Oliver's own experience running classes.
"I had worked with young people for a really long time, but in New York, I felt like no one would take me seriously as an audition coach because I'm not a professional actor," Oliver explains.
The class focuses on song interpretation and career building. Each week finds students, of which there are 11–15 per session, bring in a song they want to work on. The only stipulation Oliver says is that the students must know what their larger goal is in performing that song and why they want to take the class.
Miller, who has enrolled in five of the six sessions, decided to quit a consuming job as a result of the class and start taking her acting career more seriously.
"I quit my job without a plan," she says. "I went to an audition the morning I quit the job. Within four days, I had booked both shows. If that's not a testament to just jump and see what happens, I don't know what is."
The class also invites special guests each week. Past guests have included Tony-nominated composing duo Benj Pasek and Justin Paul, casting director Michael Cassara, and director Michael Greif. While the class is not explicitly a showcase, casting directors have called students in to audition after observing them in class. Miller added that she was called in to audition for Cassara.
The seventh session starts in the fall, and there are still spots available. Potential special guests are slated to include "Matilda" star Lesli Margherita, Tony-winner Steve Kazee, actor Ben Crawford, composer/lyricist Drew Gaspirini, and more.
"If I wasn't a composer, I would want to be an agent because I'm so passionate about other people's careers," says Oliver. "I think there's so much laziness, confusion, and fear associated with the performing arts. You have to find a certain amount of numbness in the insanity that is this thing."
And Miller advises actors to "do it."
"It's the perfect combination of ass kicking and love and support and cuddling that you could ever need," she says.