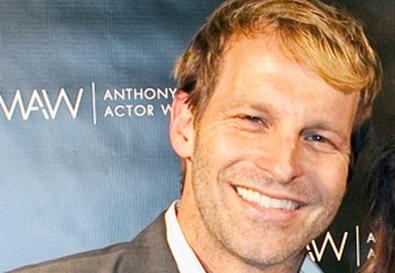 Anthony Meindl is quite the multihyphenate. He's an award-winning writer (whose first feature screenplay, "The Wonder Girls," was the grand-prize-winning feature screenplay at the Slamdance Film Festival in 2007), a director who just finished his first feature film, "Birds of a Feather," a producer, an actor, and the artistic director of Anthony Meindl's Actor Workshop in Los Angeles and New York. As a teacher, he is credited with launching the careers of actors such as Cory Monteith ("Glee"), Trevor Donovan and Ryan Rottman ("90210"), and Allison Miller ("Terra Nova"), while student Shailene Woodley was recently nominated for a Golden Globe Award for "The Descendants." Now he can add author to his resume with the release of his first book, "At Left Brain Turn Right: An Uncommon Path to Shutting Up Your Inner Critic, Giving Fear the Finger, and Having an Amazing Life."

In class, Meindl often focuses on helping his students push past the obstacles they create for themselves to allow them to tap into their full potential. Over the years, while working with people in different aspects of the entertainment industry, Meindl realized all creative people, not just actors, deal with similar challenges that block their creativity. Discovering this, he became passionate about teaching the practical applications he uses with actors to help a wider range of people. So in 2004, he began what would become "At Left Brain Turn Right."
"I wanted to write a book that would change the way we think about creativity and our potential and help people get out of their own way. Not just as actors but as human beings," Meindl says. "I feel like it's time to change the conversations we are having about acting." The book aims to help individuals evolve by facing their resistance, thereby accessing more parts of themselves in their work and their daily life. This awareness, he says, is important even if you're not an actor. "Sure, my teachings are designed for artists, but I think there's an artist in each of us," he says. "The Zen science of it all is that we really all can be more artistic in our lives, and it doesn't have to be expressed through a specific medium. You can be artistic, meaning fully present and expressed, as a bank teller. Or standing in line at the DMV."

In his book he includes weekly "homework" exercises such as turning off your phone (gasp!), spending five minutes each morning sitting in silence, and acting on gut instincts, no matter how outlandish. "We're so not present to our lives and what's going on," he says. "We miss moments. These exercises are designed to help fix that."

Meindl believes creative people often have a problem with rejection stunting their progress. "I teach that every no brings you closer to a yes," he says. "The challenge people face in life is we personalize the noes. We make that reflective of our talent or how we look or that we're not special enough or we suck. But none of it is personal. You have to keep forging forward, but that's where people get stuck. They give up. They stop. But if you keep moving forward, I've found it to be a life truism that things start to go your way."

After years of studying Eastern philosophies, Meindl has a lot of viewpoints on life and how to live it, although he says firmly that he still has a lot to learn. "The best teachers teach what they most need to keep learning," he says. "I don't teach from the position that I have anything figured out or solved. I've been studying from the East for a long time now, and for me the truths are the same in all teachings -- be a beginner. If we could just keep coming back to the beginner's mind, which is that you have an open mind, a pure mind, then you're receptive to what it is you most need to get next."