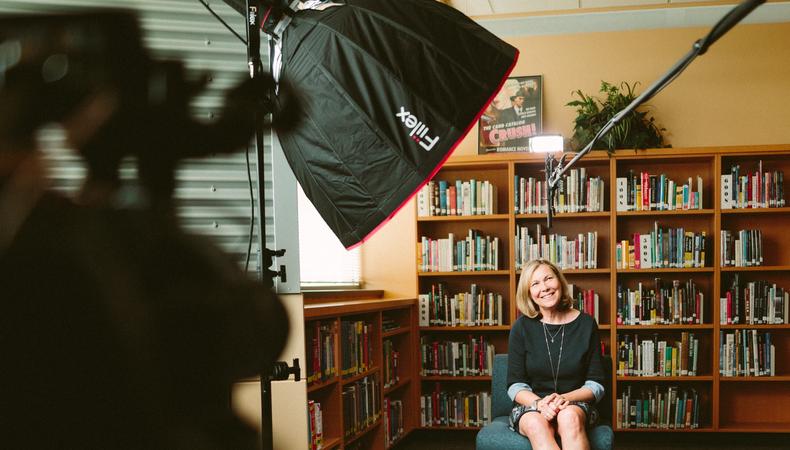 The four major components of acting for television you should always keep in mind.
Auditioning
Always read with the reader, not the camera. When reading with the reader, being off-book is important so the material can come alive. We want to "see" your thoughts, feelings, and connection to what is happening in the scene. Television is a visual medium: we have to believe what we're seeing on-screen. The way we do that is by seeing what's going on in your thought process—we want to see your wheels turning. We have to believe these are your words, not something you are just reading from sides. Therefore, your choices need to be more internalized than they are in theatre. We want to see how you are thinking and feeling instead of you pushing with your facial reactions.
Your choices need to be more internalized than they are in theater. We want to see how you are thinking and feeling instead of you pushing with your facial reactions.
Callbacks
During callbacks, there are usually a few people in the room: casting director, director, writer or producer. It depends on the project, but always be prepared to have an audience when you enter. Do not change what you did from your original audition—that's why you're being called back! Sometimes you will be given direction by the director in the room so remember that they often test you to see if you can take direction.
READ: 5 Steps to Acting on Television
On Set
Once you've booked the role, you are usually sent the script. Don't be surprised if you show up to set and there are changes to your scene. Be sure to read your scene once you have arrived on set to avoid any miscommunication with director, writer, etc.
Next, proceed to bring the same performance to set that you did in the callback. We don't want you to work on the performance or make changes until the director has an opportunity to see you perform with the other actors in the environment of the scene.
Build
Don't "give it your all" in the wide shot—it's an establishing shot. For example, if you have a heavy crying scene, save it for your close-up shots as this is when the performance will count. I cannot tell you how many times I have heard an actor say, "I gave it my all in the wide shot, and could not get there in my close-up shots."
Overall, be prepared to take direction on the fly. Understand that your lines may change on a dime. Internalize your thoughts and emotions for a smaller medium. Build your performance toward your close up.
Melonie "Mel" Mack has worked in entertainment in NYC and L.A. for 17+ years. Mel began teaching 10 years ago, helping actors find comedic timing within scripts. Mel studied with some of the best teachers in the business: Lesly Kahn of Lesly Kahn & Company, John Rosenfeld of John Rosenfeld Studios, & Billy O'Leary of The Actor's Path. Mel's national commercial credits include Verizon, Nutella, Toyota, Bud Lite, Pampers, Visa, and Ikea, among hundreds of others. Mel has worked with renowned artists Damian Lewis, Jamie Chung, Eva Longoria, and Madonna, to name a few.
Mel owns and operates Mel Mack Acting Studio (MMAS), offering education programming, ranging from classes and workshops to career coaching and advice sessions. Mel cultivates a community of talent that she develops and often refers to casting directors and projects when they are a good fit. Mel also runs a Casting Support business, running casting sessions that position her in the room. As Mel is behind the table, supporting directors and clients who make casting decisions, she has invaluable insight about what works for actors and what doesn't.
Check out Backstage's TV audition listings!
The views expressed in this article are solely that of the individual(s) providing them,
and do not necessarily reflect the opinions of Backstage or its staff.