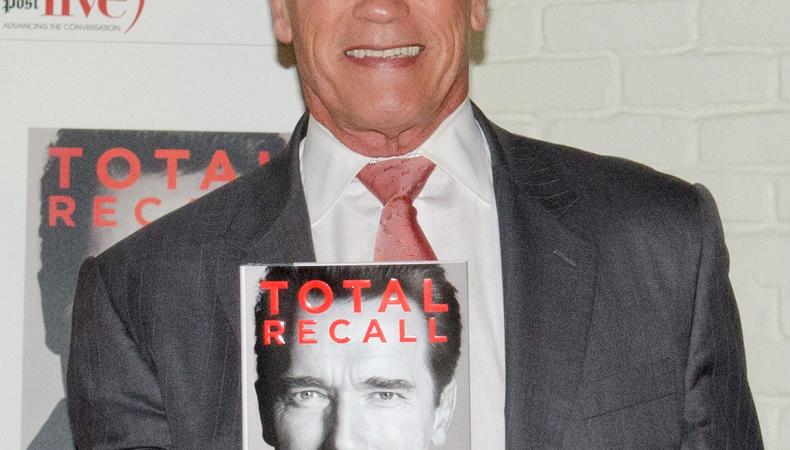 Arnold Schwarzenegger released his memoir "Total Recall: My Unbelievably True Life Story" this week, which details everything from his growing up with seven cats in Thal, Austria, to his plans to make "Triplets" with Eddie Murphy and Danny DeVito to his disastrous first meeting with the late producer Dino De Laurentiis.
Like any good memoir, the 646-page book also has a few surprising revelations, including a few detailing Schwarzenegger's acting technique. The star of "Predator" and "Last Action Hero" isn't thought of as a master of the craft. But to get from the bodybuilding stage to the studio set took training and determination. Here's what Schwarzenegger has to offer actors looking to walk in his footsteps.
On staying in character
"If I'd had acting experience, it would have been a lot better," Schwarzenegger writes about his time on "Hercules in New York," his first movie.
"The producers hired me an acting coach and a dialogue coach, but two weeks with them couldn't make up for my lack of English and lack of experience."
In one scene with Ernest Graves, a soap opera actor who was playing Zeus, Schwarzenegger started cracking up. "He really got into it, and that was funny to me," he writes. "But, of course, you're not supposed to laugh on the set. You're supposed to help the other performers and really buy into what they say. That's the whole concept of being supportive.
"When you're not on camera, and the camera is behind your shoulder, you stay in character, act your part, giving it everything you have in order to draw the best out of the actor who is being filmed.
"That is so important, but I had no clue. When something struck me as funny, I just laughed."
On agents
One day in Hollywood, Schwarzenegger met Jack Gilardi, who was O.J. Simpson's agent at the time. Gilardi told Schwarzenegger he could get him bit parts in movies, but the bodybuilding star didn't like the sound of that. "I wanted an agent who would pound on the table on my behalf," he recalls.
He subsequently met with two top agents. They didn't buy him as a movie star. "These big agencies don't really have the time or the desire to groom someone and nurture him to the top," he writes.
But Schwarzenegger was determined. "Why should I give up my goal because a couple of Hollywood agents turned me down?"
After "The Terminator" and "Conan the Barbarian," he writes, "I broke through: the things that the agents said would be a detriment and make it impossible for me to get a job, all of a sudden made me an action hero."
On getting the parts you want
Schwarzenegger was never short on confidence and says he never took on roles he didn't believe in. "You could argue that, no matter what the part, being in front of a camera was always good practice. But I felt that I was born to be a leading man. I had to be on the posters, I had to be the one carrying the movie," he recalls. "Of course I realized that this sounded crazy to everybody but me. But I believed that the only way you become a leading man is by treating yourself like a leading man and working your ass off. If you don't believe in yourself, then how will anyone else believe in you?"
On the challenges of being an actor and tapping into emotions
While filming the movie "Stay Hungry" in the 1970s, director Bob Rafelson warned Schwarzenegger about the challenges of being an actor.
"In this world, I wasn't number one in the universe," Schwarzenegger recalls Rafelson telling him. "I was just another aspiring actor.
"[Rafelson] was right. I had to surrender my pride and tell myself, 'Okay, you're starting again. You're nothing here. You're just a beginner. You're a little punk around these other actors."
Schwarzenegger learned that in acting, "you look for the sense memories that would serve as additional keys. To do that, you have to strip away the calluses. It takes a lot of work.
"I'd remember the flowers I picked for my mother for Mother's Day, which would remind me of being at home, being part of the family. Or I'd tap into my anger at Joe Weider for reneging on a promise to pay for something. Or I'd go think back to when my father didn't believe in me and said, 'Why don't you do something useful? Go chop some wood.'"
He continues: "To live your life as an actor, you can't be afraid of something stirring up your emotions. You have to take the risk. Sometimes you'll be confused, sometimes you'll cry, but that will make you a better actor."
Criticism is harder to take, he adds. "In acting you take criticism so much more personally. You get upset. But every job has its downside."
On meeting other actors
After doing "Stay Hungry," Schwarzenegger started hanging out with Jack Nicholson and Warren Beatty, whom he calls the Mulholland Drive crowd.
"But I was also learning that born actors are always a little artsy and strange," he says about their meeting.
"You can identify the type. When you hang out with businessmen, they act like businessmen. Politicians act like politicians. These guys were entertainers, and they acted like entertainers. They were Hollywood. It was a different thing."
"Total Recall: My Unbelievably True Life Story" (Simon & Schuster) is out now.