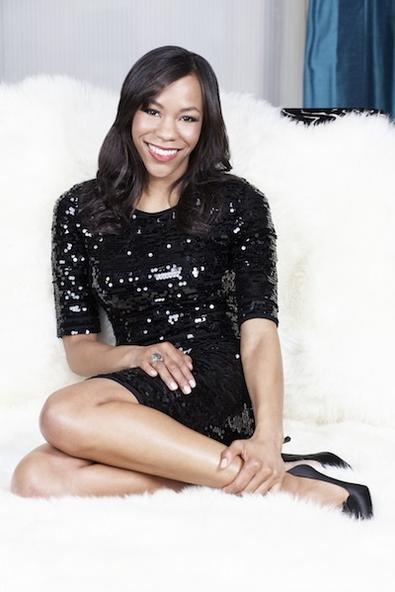 In 2011, Nikki M. James won the Tony Award for best featured actress in a musical for the role of Nabulungi in "The Book of Mormon." She is still performing the show eight times a week and loving it. Pursuing projects on the side helps keep things fresh after two-and-a-half years of performing in the same show. She shot a film, "Lucky Stiff," last summer and will be making her cabaret debut at 54 Below on June 23 and 24. "['The Book of Mormon'] is the best job I've had in my entire life, and probably will ever have, but I want to sing without an accent for a minute," James says. "I want to tell my personal stories and let people get to know me a little bit."
James had been performing in benefits and concerts and fell in love with the idea of sharing a little bit of herself with the audience. At the same time, she has seen many shows at 54 Below, such as Patti LuPone and Leslie Uggams, and was inspired by the space. "I love the idea that 54 Below is really dedicated to giving Broadway performers a venue," she says. She describes her cabaret show as an evening of mini-confessions. She will tell embarrassing and sweet stories and the music will be a mix of pop and musical theater. For example, she'll be singing a medley of early '90s girl pop, which she calls "'90s Mixtape" and a Bon Jovi song because he's from her home state of New Jersey. She'll also be singing songs from previous shows she's done, such as one from "Bernarda Alba" and "Home" from "The Wiz." James spoke to Backstage about putting together her first cabaret.
Just Keep Breathing
"Through the process of doing this cabaret, I've really a learned a lot about myself," says James. "I've learned about things I'm terrified of. Getting up there and being myself is actually scarier than one would think." To deal with making herself that vulnerable, she reminds herself to keep breathing. "I just focus on how accomplished I will feel when I'm finished. I know that I will be more nervous on Sunday at 9:25 than I have been since probably the time I was sitting in the audience before the Tony Awards, but at the same time, the fact that I'm nervous and scared makes me know that this is the thing that I have to do next," James says. "I didn't pursue this life, this craft, being an actor, being an artist because I want to do things that are safe. I didn't sign on to be in 'The Book of Mormon' because I was nervous about taking risks. So I am totally nervous and I'll probably take a bunch of deep breaths and maybe do some meditation, but I also think that some of the best things that have ever happened to me in my life are things that I was terrified of before I did them."
Collaborate
James's friend—award-winning cabaret artist Amy Wolk—is directing and has been a huge help to James, not only in terms of shaping the evening, but also as a support system. "She has been spearheading this endeavor and calling me and keeping me on task and keeping my spirits up and encouraging me," James says. "I have a lot of people who are rooting for me and that makes me feel really great about it."
Don't Worry About What You Can't Control.
James feels pressure to sell tickets and be worthy of the title Tony Award winner, but she knows that she worked hard and that will come through. "My only job is to be proud of the work that I'm doing and feel like things are living up to my own standards and the rest is in someone else's hands. I can't control that," she says.
Choose a Set List Carefully
James spent two weeks writing down songs she loved that she had either sung before or always wanted to sing. The list was about four pages long, so she and Wolk narrowed it down to the songs that most supported the narrative. For example, she will be singing "Times Like This" by Ahrens and Flaherty from her upcoming film "Lucky Stiff." "I knew I wanted to do it because that's a song that's about what might be coming for me in my future. And I'm singing a little bit of a Whitney Houston song 'Greatest Love of All,' which is the very first song I ever sang in front of people when I was 5 years old," James says. "The evening is about my past and my future." From the initial list, there were many songs that didn't make the cut, but now she has enough to write a second show.
Be Authentic
Everything that James says during her 54 Below show was written by her. "A lot of people who do cabaret hire people to write their patter. I really wanted this to come from my heart, so good bad or otherwise the only person who wrote anything that I say on stage on Sunday and Monday night is me," she says. "So I have only myself to blame if no one laughs at the jokes. I really wanted this to feel like it came from my heart and I think it does. It'll be 100 percent Nikki!"