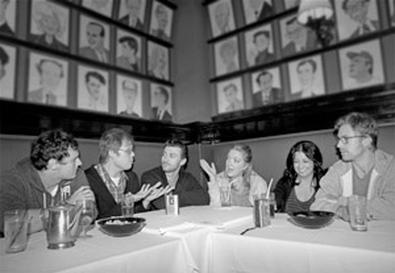 The cast of "Bloody Bloody Andrew Jackson"—a wild rock musical written and directed by Alex Timbers, with music and lyrics by Michael Friedman—doesn't think the show's move from Off-Broadway's Public Theater to Broadway's Bernard B. Jacobs Theatre will be a problem, despite the different demographics of those two audiences. Depicting the contradictory life of our seventh president (1829–37) and the populism that put him in office, the satiric musical is filled with contemporary resonance. The actors contend that young theatergoers will continue to respond to the pop-cultural allusions, while the older crowd, with perhaps a greater sense of history, will enjoy the historical references. Indeed, the six actors who spoke with Back Stage at Sardi's—Benjamin Walker (Andrew Jackson), Maria Elena Ramirez (his wife, Rachel), Kristine Nielsen (the Storyteller), and Jeff Hiller, Lucas Near-Verbrugghe, and Bryce Pinkham (who each plays multiple roles)—think the audience mix will make for an exciting dynamic. They may have their work cut out for them, but so far they're having a hell of a good time.

Back Stage:
How has the show—and your performances—changed in the move from Off-Broadway to Broadway?
Jeff Hiller:
I don't know that it's changed. A tweak here and there, but the goal was to keep the same feel it had in the Off-Broadway run.
Benjamin Walker:
There are 700 more seats on Broadway. It's natural that if we're in a larger space, we'll play it bigger.
Lucas Near-Verbrugghe:
What's been fun in this version is our focus. Because we now have a balcony to play to, it gives us a sense of talking to "the people." We can play to the cheap seats. That adds another dimension.
Back Stage:
What are the challenges in doing political satire?

Near-Verbrugghe:
To tap into the essence of the characters and story and find their most empirical form. Satire works when we're doing something true and recognizable. This play is most successful when we are able to present what's uniquely American, showing a brutal side of ourselves and also making the audience laugh because it's done in such an outrageous and exaggerated way.
Bryce Pinkham:
The challenge in doing political satire is to take ourselves seriously but not too seriously. We're all treading a fine line between taking it seriously enough so it doesn't come off as campy and ridiculous comedy, but also making fun of it enough so that it's enjoyable. It's a fun show which has its moments that force an audience to consider two different sides of an American hero, who is on our $20 bills and is responsible for the decimation of the Indian population. There is a dual side in everything in the show, both in the performing of it and in the questions it raises. A theater piece is most successful to me when the audience leaves debating: Was he a hero or a genocidal murderer? I don't have the answer, but the fact that we debate it makes the piece successful.

Back Stage:
How concerned were you with historical accuracy, and how does that inform your performances?

Maria Elena Ramirez:
We process the information and take a lot of liberties. But as actors, we always have to be working from a place of truth.

Walker:
I read a few books about Andrew Jackson, but it's important to remember we're doing a musical, not a documentary. Otherwise we'd have a 10-hour play, and one that's potentially boring. We're picking highlights of his life. We're playing fast and loose with history, but in a productive way. We're trying to create what it might have felt like to be an American at that time.
Near-Verbrugghe
: Based on people's responses, I feel this play is more about being an American now than it is about trying to paint a picture of what it was to be an American then.
Hiller:
It's universal. It's not just about 2010. We did the show at the Newman and another theater at the Public the year before, and also in L.A. and a workshop before that. When we were doing the workshop, Bush was in office, and it felt like we were talking about Bush. Then when we did it at the Public the first time, Obama had just been elected, and it felt like it was about Obama. We didn't Tea Party it up.

Back Stage
: It's not lambasting Andrew Jackson and by extension populism?

Walker
: Andrew Jackson was a rock star, a man of the people and for the people. He was the first president born in a log cabin. Before him, a bunch of aristocrats ran the country for the betterment of themselves. He was the first to campaign in a way that we take for granted. If he were alive today, he'd be all over Twitter. Is he good or bad? That's a dead-end road. It's not our job to answer those questions.
Hiller
: Some people leave the show saying how cool Andrew Jackson is. We've had some controversy from Native Americans who feel we're praising Andrew Jackson. This show is not one that says, "Here is our belief and we're going to change your mind."
Walker
: It's not a sermon; it's a play.
Near-Verbrugghe
: That's where it's successful as political theater. It's not trying to cram an agenda down your throat. This is not just a bleeding-heart sermon that says all right-wingers are idiots. It presents an issue without saying which side is better. When you leave the theater, you're ready to talk about it. That's what political theater should do. It should send you into the world with more questions than answers.

Kristine Nielsen:
I've always felt our job as actors is to change the world for the better. I got into the business because I wanted to make an impact. I believe this kind of theater makes people think and reflect, and that's a powerful thing to be part of.
Back Stage:
Do you think political theater changes anyone's mind or is it preaching to the converted?

Nielsen:
"The Normal Heart" changed Ed Koch's mind. There was suddenly a lot more funding for AIDS.
Pinkham:
When I left David Hare's play "Stuff Happens," I cared much more about the next election than I had when I came into the theater.
Near-Verbrugghe:
I never left a show feeling I had to go vote for some guy, but I've had my views broadened. I saw Dan Hoyle's "Tings Dey Happen," which deals with Nigerian oil politics, which has had a lasting effect and put something on my radar. "Reasons to Be Pretty" is an extremely political play. People were yelling back at the stage and couples were having intense discussions. It stirred things up.
Walker:
The point is not to change anyone's mind. But when a woman said to me, "Now I will Google Andrew Jackson," I thought, "My job is done." The goal is to invigorate someone to ask questions, and if that person has had a wonderful time and heard some amazing music, mission accomplished.
Back Stage:
Have you ever turned down a role because it or the project was politically offensive?
Hiller:
I turned down a commercial once. It was a voiceover for an issue I did not agree with. But it was nonunion and paid little, so that made it easier.
Back Stage:
What do you hope this play leads to for you?
Walker:
Health insurance as long as possible. But seriously, to work with people who I can learn from every day and make me better.
Hiller:
When I did the workshop, I had no idea it would lead to Broadway. It's already given me more than I ever dreamed of.
Pinkham:
I'd love to give you an adult actor's answer, but at the first preview, when 1,200 people erupted, the little kid in me said, "I'm good. That's it." I'll always have that moment.
Nielsen:
I hope this leads to more work. I'd also like to see a lot more of this kind of theater done, endorsed, and valued.
Ramirez:
All of the above. But I'm in a special position because I'm not usually cast in a romantic part. I'm usually the character actor. And I'm obviously more ethnic than others at this table. But Alex Timbers and Michael Friedman were able to think outside the box. I'd like others to look beyond the obvious choice too.
Near-Verbrugghe:
It'll be the beginning of my career as a historical re-enactor. I feel so comfortable in these clothes and wool. I do well with wool. It's so exciting to be in a new play that's part of your generation and a reflection of who we are today and get paid to do so. It's a dream. I want more of that. And please, historical re-enactments.
"Bloody Bloody Andrew Jackson" is in previews at the Bernard B. Jacobs Theatre, 242 W. 45th St., NYC. Tickets: (212) 239-6200 or (800) 432-7250. www.bloody
bloodyandrewjackson.com.