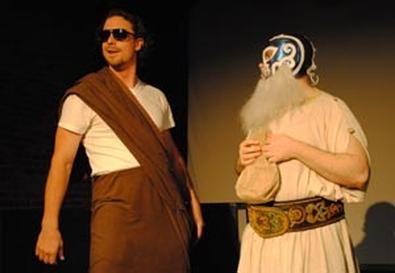 If a tree falls in the forest and no one is there to hear it, does it make a sound? Well, does it? These existential questions of existence, religion, and capitalism fill "Action Philosophers!," and despite serious ideas, the work makes its themes both comedic and accessible in a fresh way. Based on Fred Van Lente and Ryan Dunlavey's comic books, the work, adapted for the stage by playwright Crystal Skillman, puts the funny in philosophy.
The show creates caricatures of six major philosophers—Plato, Ayn Rand, Bodhidharma, René Descartes, Friedrich Nietzsche, Karl Marx—and the performance unfolds in approximately 10-minute skits about each figure's life. C.L. Weatherstone kicks the show off as Plato, whose catchphrase "Plato smash!" nicely fits his fighter image. Complete with blue face mask, Weatherstone's ensemble is one of many attractive costume designs by Meryl Pressman and Holly Rihn. To accommodate the "smash" element, there is an air mattress of sorts hidden behind one of two black blocks, and the actors use this pad for many comic falls. While this could have been gimmicky, it's used sparingly and effectively.
The highlight of the six performances is Kelley Rae O'Donnell's Ayn Rand. (She also got the most applause whenever she mentioned Rand's books "The Fountainhead" and "Atlas Shrugged.") O'Donnell accentuates Rand's quirks with isolated robotic movements and a hilarious Russian accent, and she stands her ground as the only female figure. Other entertaining performances are Neimah Djourabchi's Bodhidharma, with his ironically intense stare, as the Zen patriarch, and Ryan Andes' René Descartes, complete with botched French accent. Andes begins his segment offstage in a blackout, comically highlighting Descartes' inner conflict about existence. "I think, therefore I am," Andes cries as he enters the stage, with the kitschy light bulb hanging above his head turning on for his entrance. While entertaining as Nietzsche and Marx, Benjamin Ellis Fine and Joseph Mathers strive in supporting roles during the other actors' portions. Mathers' cross-toting, Disneyland-going Jesus and portrayal of Ayn Rand's Hollywood husband, Frank O'Connor, are two memorable bits.
John Hurley's direction is the weakest element; some of the blocking is haphazard and sloppy. However, this unrehearsed feel also lends a relaxed air to the show. The show's pacing stumbles a tad, and the transitions between vignettes are not always as smooth as they could be.
Skillman's adept writing lends the show an inherent self-awareness, and the moments of metadrama prove Skillman's own breadth of knowledge about the subject matter. "Even this play is subjective and cannot be trusted," Djourabchi reflects as Bodhidharma. This review is subjective too, and you ultimately get to make the decision whether to go or not to go.
Presented by Impetuous Theater Group and the Brick Theater as part of the Comic Book Theater Festival at the Brick Theater, 575 Metropolitan Ave,, Brooklyn, N.Y. June 23–July 1. Remaining performance: Fri., July 1, 7 p.m. (212) 352-3101, (866) 811-4111, www.theatermania.com, or www.bricktheater.com.