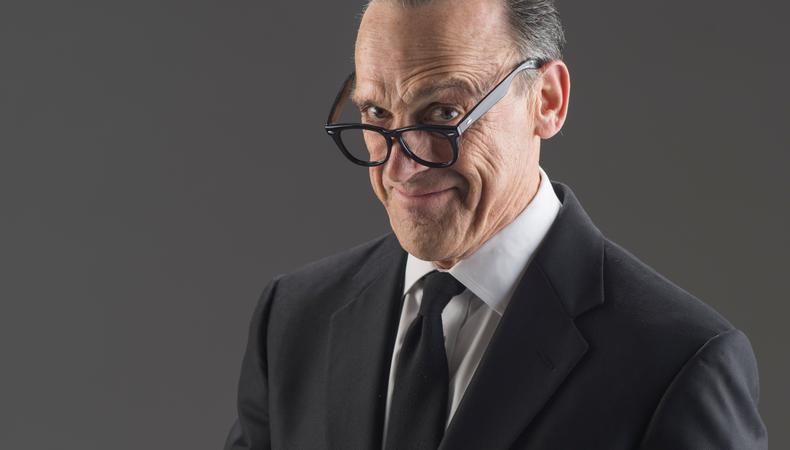 Theatrical Outfit artistic director Tom Key is commemorating two decades as the head of one of Atlanta's most significant theaters—and four decades as one of the city's most celebrated performers.
As the artistic leader of Atlanta's second oldest continually-operating professional theater and the centerpiece of D.W. Jacobs' "R. Buckminster Fuller: The History (and Mystery) of the Universe," a solo show based on the life of the famous visionary, Key is having a big moment. The production, directed by David De Vries and running Oct 1–25 as part of the Outfit's 2015–16 Season of Courage, is a mesmerizing multimedia biography of the 20th-century Renaissance man. Key shares with Backstage his passion for acting, his story, and inspiration that can apply to actors of all ages and at all stages.
How did you decide to act? What drew you to it?
When I was 14, a downtown Birmingham community theater, where I'd performed in my first play, took a trip to New York City for Broadway, Off-Broadway, opera and ballet. My parents gave that to me as a Christmas trip and it changed my life. Ten years later on my first day in New York, I went to the information booth in Times Square and asked where actors audition. They sent me to Variety, who sent me to Actors Equity, and the receptionist there told me about Backstage! In two weeks, I got my first job from a Backstage audition notice at a dinner theater singing El Gallo in "The Fantasticks," and basically kept at it over the next four decades.
How did you end up at Theatrical Outfit?
In 1995, after being back in Atlanta permanently for ten years, I had the sense of what kind of a new theater company could possibly make an addition to the Atlanta theater community. So I formed a non-profit company and at Kenny Leon's invitation, co-produced and directed an enlarged production of "Cotton Patch Gospel" with a full gospel choir at the Alliance [Theatre]. In the middle of that run, the Outfit called to say they were on a search for a new artistic director and invited me to apply. In our discussion over the next several months, it seemed like just the right opportunity to join with our common experiences, intentions and hopes to create a new way to serve the community.
Did you ever think you would end up being with Theatrical Outfit for 20 years?
No, I thought I'd do this for three, and maybe, just maybe, for five years. My father passed on this belief to me that if I have something to contribute, then there will be a place for me in any industry. So for the first 20 years of my career, that was as an actor, director, and playwright. And the next 20 years was doing that with the Outfit.... I'll work as an artist until the end. It might be reciting monologues in a wheelchair for my fellow nursing home friends! But being an artist is my vocation.
Why a show about R. Buckminster Fuller? Do you identify with him in any respect?
Because he clearly identifies for us the peril to the future of the human species, and then, as a man of faith and science, instructs and inspires us as to how we can and must make the world work for all of humanity. And he does it all with a kind of show-biz-mad-scientist-genius-big-hearted charm. What I experience performing him feels almost like flying, flying on winds of thrilling thought and huge compassion. I hope the audience will be caught up in that same sort of transformation.
Give us a sense of this season's offerings.
It's our Season of Courage with three musicals, a regional premiere and a world premiere. This year you'll see a stand for racial equality ("Memphis"), [nominated for a Suzi Bass Award for outstanding direction of a musical], speaking truth counter to the global collective ("R. Buckminster Fuller"), a young girl overcoming the tyranny of an orphanage ("A Little Princess"), a soldier creating something more powerful than a weapon to protect his son ("Moxie") and a mother trusting the destiny of her daughter to the love of a young man halfway around the world ("The Light in the Piazza"). In these times, I really feel watching these characters make the choices they do will make our spines stiffen and our hearts more brave.
What advice do you have for actors in general, or for actors trying to work with Theatrical Outfit?
For actors in general, I pass on what my father passed on to me. If you view your gift as a way to make a contribution, then you will discover a wonderful career—challenging, terrifying, painful, glorious, meaningful, incomprehensible and in a word, wonderful. For actors breaking into TO, I'd go to our website and read what our brilliant casting director, Clifton Guterman, has written. Then when you audition, instead of saying to yourself "I hope I get this job," try "Great! I get a chance to act!"
Inspired by this post? Check out our Atlanta audition listings!