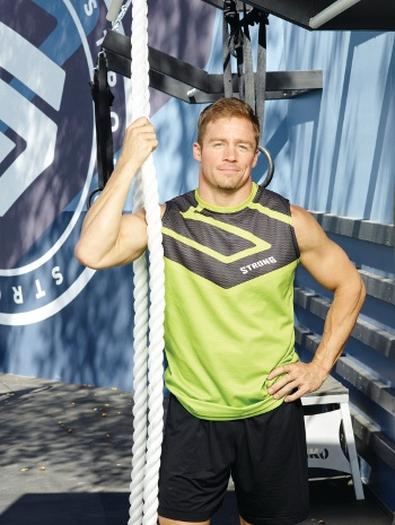 Dan Wells has spent his career making actors look good—literally. The personal trainer, who owns L.A.'s CrossFit Horsepower gyms, is getting in front of the camera for NBC's "Strong," a reality show produced by Sylvester Stallone where trainers team up with contestants to transform their bodies. It premieres April 13. Wells isn't the only onscreen personality in the family. His son, Jadon, played Dexter's son on the popular Showtime series "Dexter."
How did you become a personal trainer?
I always liked sports and fitness as a kid. What drew me to it was I could take my destiny into my own hands. There was an easy through line of hard work where I could improve me and my game. I could control everything, from how I looked to my confidence. From there, I realized how I could profoundly change people's lives.
How did you start training actors and public figures?
They're no different from anyone else—I just happen to be in the right neighborhood. But through their transformations, more people can be inspired. Someone can accomplish the most amazing things in the world, but if they're doing it in a forest in the middle of Canada, they can't inspire anyone else.
You're all about inspiration.
You want to know your time on Earth was for a good reason. My dad died of a heart attack at age 52—smoked, drank, didn't eat well, didn't exercise. That was a major turning point in my life. There's a part of me that feels like me being inspired and passing on that information almost makes his life more valuable.
How is your method different from other trainers'?
I want to change a person into their greatest physical being and bring out their inner athlete. I do that by using precise technique to teach them functional movements, stuff our ancestors have been doing for tens of thousands of years. Not only does it have an impact physically, but you can see the difference in the way folks carry themselves; there's a sense of confidence. The actor has to be comfortable in his or her own skin. They have to start with a blank slate, unburdened by insecurities.
Why did you decide to go on "Strong"?
I have two great gyms and three great kids that take up my time, but it was everything I'm good at—plus, it was fun. Obstacles are right up my alley, and it'll be great for my kids to see. As an actor, when you go into an audition, you see 75 of you in the room. You have to come at the entertainment industry from all angles. I spent a lifetime gathering my skill sets on camera, but I also have an MBA, so there's a lot of cross-branding opportunity. It's absolutely important to diversify. Casting departments don't want an actor who can play the guy. They want the guy.
Like this post? Check out more of our Inside Jobs!