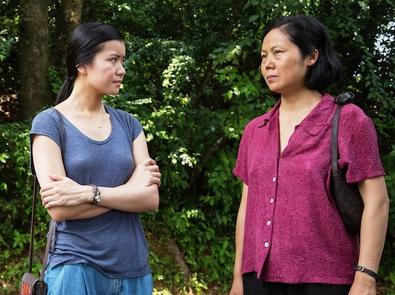 When up-and-coming actor Mardy Ma flew from Los Angeles to Beijing with her 8-month-old daughter for an audition, she arrived with no expectations. She had no agent, she was up against a lot of competition for the role of Li Ying in Sundance TV's latest mini-series, "One Child," and she had never booked a TV role.
"I just wanted to audition," she says. "I thought I'll have some fun in Beijing and then come back. I knew if I didn't go I definitely wouldn't get the part, but if I did, I might."
Making her television debut, Ma is heartbreaking as a mother who, because of China's one child policy, was forced to give her daughter Mei (played by "Harry Potter" alum Katie Leung) up for adoption. When a Chinese journalist (Linh-Dan Pham) contacts Mei on her mother's behalf, the two are reunited, but under unfortunate circumstances: Li Ying's son Ajun (Sebastian So) has been arrested and sentenced to death for a crime he didn't commit. In hopes of utilizing Mei's adopted British pedigree to alter the verdict, they convince her to return to her birth country to try and save her brother.
The mini-series is epic in scale, tackling issues of government corruption, prostitution, China's one child policy, and poverty, while remaining intimate in focus honing in on one family's struggle to rise above it all.
On growing up in the culture she was portraying.
"I was born and grew up in China so I definitely know so much about it," Ma says. "The director [John Alexander] and the writer [Guy Hibbert] were really open to my suggestions and opinions and I put a lot of my own stuff into the character that wasn't in the script, like the dialect. I speak Chinese in the film so actually the dialect she uses is a local dialect—it's not Mandarin. It was about being a woman from a countryside and they're not able to speak perfect Mandarin so in the film, I was speaking the local dialect Henan dialect, where she's from."
The actor fully committed herself to portraying the typical countryside woman who she says are usually so busy working "they don't have time to care for themselves," and goes on to mention how she refused to wear a bra for the film as she felt it better illustrated the type of woman Li Ying is.
On preparing to play Li Ying.
"I watched a documentary called 'Last Train Home,' [a film that sheds light on the massive migration of hundred of thousands of Chinese workers from all over the country who are all at once trying to get home to celebrate the New Year with their families], to see how the farmers act—the way they laugh and cry," she explains. "When [Li Ying] cries, even the way she wipes her tears is different."
Ma was surprised at how deeply she could immerse herself in the character of the grieving mother as well as how easy it was to shift gears once the camera stopped rolling.
Shifting gears seems to be in Ma's blood as her career runs the gamut from owning her own restaurant to real estate to becoming the international sales and marketing executive for the Goddard Group—responsible for Universal Studios and Islands of Adventure. So it's not surprising when Ma says she was able to crack jokes in between takes before launching into playing the somber mother.
On what she hopes audiences take away from "One Child."
"Regarding the one child policy, I would really want to give China a break for that," she says. "I think we had to make that decision at that period of time because China only has so much land and resources. If we didn't make that one child policy we'd be starving and the economy wouldn't be like how it is."
Ma says the idea of having a son is so rooted in Chinese culture, going back to dynastic emperors who could only be male. Speaking from the point of view of her character, a country woman, she says she can sympathize with parents who would prefer a male around the farm to help with the necessary manual labor.
On getting to play Li Ying.
"I was so lucky to get the part," she admits. "I don't even have an agent! The casting call came from someone I met six years ago. I was doing it to stand in for Lucy Liu, but the casting director remembered me, so now I hope in the last part of my life I can be a working actress," says the actor who's currently on the market for an agent. "The first half [of my life] I was busy doing business and making money so it's time for me to do something I really enjoy."
"One Child" airs in two parts on Sundance TV, Dec. 5 and 6 at 9 p.m. EST.