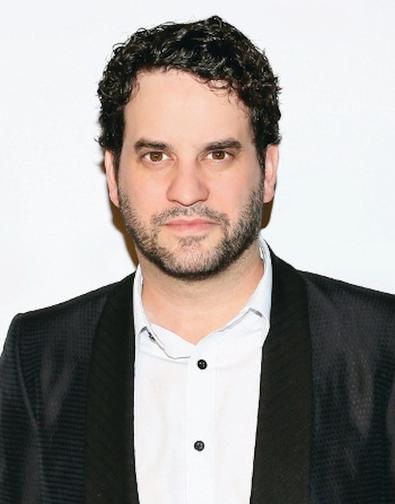 In another edition of Backstage's Facebook Live series, we sat down with New York–based actor and Marvel's "The Punisher" series regular Michael Nathanson to chat about his top on-set tips, how improv has helped his career, and how to go about choosing where to live when pursuing acting. Check out his advice below, and visit backstage.com to watch the full conversation!
On being a working actor in New York City.
An NYC native, Nathanson left the Big Apple to study theater at Northwestern University before deciding to return to the East Coast as opposed to Los Angeles. Why? "Living on either coast shouldn't be such a big decision anymore because so much of the work has come back to New York," he said. "There are so many great casting directors—there's still more stuff in L.A. for TV and film—but if you want to do theater and TV and film, New York is great. Chicago's also a great TV and theater town."
Check out our Chicago casting listings!
On the benefit of having improv skills.
For an environment that's constantly shifting, being able to "roll with the punches" is a useful skill to have, said Nathanson. "I go back to my improv days for so much of my technique or the things I bring to the set, to a moment, to a scene…. You have to create that scenario when you're on that tightrope on a film set. [Improv] allows you to stay on your toes because things are constantly changing on set; lines are being rewritten, cut, and added; you'll work with a different director here, different director there, depending on what it is, and so having that sort of spontaneous craft has helped a lot."
On choosing the right acting school.
The process of choosing an acting school or class has never been an easy one, but Nathanson offered some places to start: "You have to decide first of all, are you interested in theater? Are you a singer or a dancer? What motivates you and gets you excited? Do you want to do classical acting? Shakespeare Theater in D.C. has a great program. The New School in New York has an acting program that's getting a lot of buzz and is getting better and better. You just have to decide where you want to be in five years. Do you want to be doing theater? Do you want to be doing TV and film? And go from there. Training is important; it's not everything, it's not all about technique and training, but in the long run, if you want to do this as a career, you've got to have some training. Forget what it looks like on a résumé—it'll translate into your work."
On not getting complacent.
"It's natural for an actor never to be satisfied. There's no such word as 'happy' as an actor because we're happy when we're working, and you can't always be working, so you have to find happiness and balance in other things," he said. "For me, it's never been about making so much money that I can do XYZ. It's about getting opportunities that give me more opportunities to work. And at some point, having enough credibility that I have some freedom and more choices in the kind of work I want to do."
READ: How to Choose & Apply to an Acting College Program
On his top on-set tips.
"When you get to a set, remember that time is money. Everybody else has a job to do and every job is important," advised Nathanson. "You never want to get too bogged down in a creative conversation with a director, with a writer, with a producer once the pieces are moving. If you have a question or need to figure out a moment or a line, try to figure out how to communicate that before the crew's coming in and lighting things, because they're burning money every minute…. [Understand] that you are part of a machine. It's not all about you, it's not all about the actors. [Crew members] are looking at you because it's their job to light you or to film you. Script supervisors and wardrobe and makeup, they're all looking at you because that's part of their job, which is just as important as your job. Be respectful and be quiet. And do good work. Your work should always speak for itself."
Visit our official Facebook page, facebook.com/backstage, for more conversations!
Looking for more information on how to become an actor? Check out the Backstage Guide for answers!