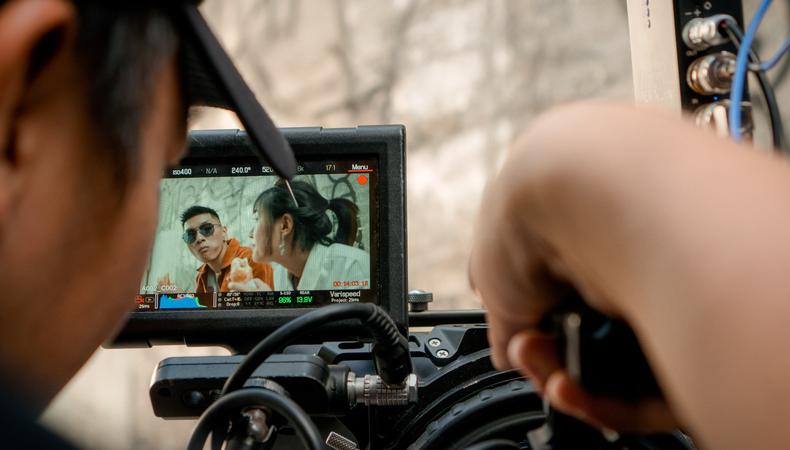 You might be wondering what it's like being on a set right now during COVID. Recently I worked on a video shoot. Initially, I thought about whether I would accept this direct booking as there were a number of safety questions I needed to be answered in order for me to feel comfortable and confirm the job. Ultimately, I moved forward with the booking. While on the job, I found that many things were similar while other things were very different when it came to being on set.
One of the first noticeable differences was when it came to food. When actors arrive on a film or video set, food is typically supplied to the cast and crew. Generally, there is a craft service table filled with drinks, food, and snacks. Bigger productions will also have a food truck where meals can be made to order or long tables filled with hot food. This is a SAG-AFTRA rule. To keep everyone safe, on my set, we had individually wrapped items. This way no one was sharing from the same serving bowls. We were all contacted ahead of time and placed our specific orders for coffee or tea. There were also water bottles separated on a long table so we were not all hanging out in the same spot and sticking our hands in the same cooler.
Everyone was given hand sanitizer to use throughout the day and while the crew set up, everyone wore masks. All of my lines were on a teleprompter so when I first arrived on set, I stayed away from most people and asked the person running the prompter to give me a few opportunities to run my lines. Before we began, there was this voice in the back of my head reminding me to be safe. It's easy to forget about reality while on sets. I had to be vigilant and always remember to take care of myself. I kept a safe distance from others, wore my mask, and didn't touch things on the set that weren't sanitized. There was a lot of additional energy used for this, which can be draining.
During the actual filming, masks were taken off but I was able to sit six feet away from the other two actors. In between takes my mask always went back on.
Then it was lunchtime. I typically don't like to eat much prior to shooting or in between scenes. I've found that eating large meals makes me fatigued. So, I brought some energy bars, fruit, and other snacks. Instead of sitting next to the other cast and crew, I stayed away from most of the others. I did talk with a few people, but I always kept my distance.
Even though these things were different, there were also a lot of things that remained similar to post-COVID sets like filling out my contract, getting into wardrobe, and continuing to study my lines. Having the director offer additional information to us while shooting (but now from a distance) felt the same as pre-COVID too. Once we actually began shooting, my mind went to its normal place during a scene. I no longer had any thoughts about viruses, safety, or anything else. I was just locked into the material.
After my last scene was shot, I said my goodbyes, filled out the additional paperwork, and told everyone how much I enjoyed working with them. This was my first time on a set since January. In my entire 34-year career, I never had to wait more than five months to be on a set. It was nice and exciting to be back.
In the end what I found was that acting is acting, no matter what's happening in the world. But, there was more pressure for me. I felt that I had to be careful of my surroundings. There was a constant radar going off in my head to make sure that I was being smart and safe. It would have been easy to just go with the flow and pretend that everything was normal. Whenever possible, I stayed away from others as much as I could. It was hard, but I'm taking COVID very seriously and will do whatever I can to stay safe on a set for me and my family.
While productions are slowly building up, this is the time to study, watch videos, prepare, and stay sharp. This will give you the opportunity to be ready when the massive amount of projects begin shooting again. What I learned from this experience was that before accepting an audition or a booking, I definitely have some questions to ask. I need to hear what the production is doing to protect my and everyone's safety. Knowing the location of the shoot is also a decision-maker for me. As of today, I most likely would not fly to a location. I just turned something down that was shooting in the Midwest. I live on the East Coast and I would not drive there either.
Honestly, it's a drag to have to deal with all of this, but our safety and the safety of our loved ones is something that all of us need to take into consideration before walking onto a set.
Looking for remote work? Backstage has got you covered! Click here for auditions you can do from home!
The views expressed in this article are solely that of the individual(s) providing them,
and do not necessarily reflect the opinions of Backstage or its staff.