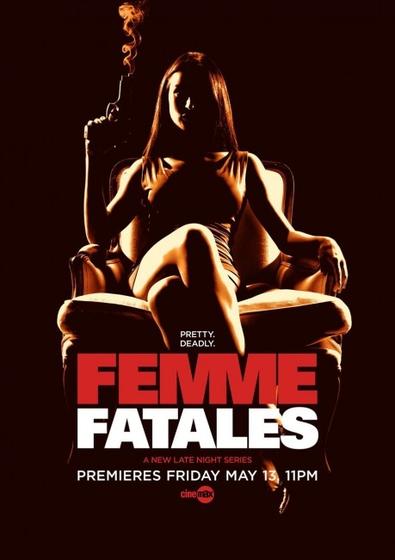 An actor who claims she was bullied into performing nude scenes and simulated sex scenes and was the victim of sexual harassment on the set of an episode of Cinemax's "Femme Fatales" has filed a lawsuit against Cinemax, Time Warner, HBO, and production company True Crime LLC, The Hollywood Reporter reported.

Identified only as Anne G., the actor alleges that on the first day of shooting last year, "she was blindsided with rewrite after rewrite which necessitated her character to simulate sexual intercourse and for her to appear nude but for pasties on her nipples and a sticker on her private parts." She had not been told that sex and nudity would be required when she auditioned, nor when she was hired under an AFTRA contract. She claims she had made it clear prior to production that she was not willing to engage in explicit sex or nude scenes, and never would have agreed to be cast in "soft-core porn."

"Multiple union rules and regulations were violated, including but not limited to the requirement to have a closed set when performers are required to be semi-nude or naked, the requirement to have fully functioning and properly fitted pasties over private parts, the requirement to provide the performer with the ability to be made aware of in writing and in sufficient detail to any script changes which require explicit nudity and depiction of sexual intercourse, and the obligation of Defendants to fully disclose in writing the extent to which they are requesting the performer to engage in nudity and sexual content, thus allowing the performer an opportunity to consent or not to consent," according to the complaint.

Anne G. also charges that she was forced to shoot graphic scenes "without the proper health and safety protections," and that director and executive producer Steve Kriozere and assistant director Joe Schwartz made "inappropriate sexual comments to her."

These factors combined to create "an intimidating, sexually hostile and offensive work environment," according to the suit. But when she complained and spoke up about feeling uncomfortable on set, she was allegedly threatened with a breach-of-contract lawsuit if she did not comply.

The lawsuit was filed Tuesday, Dec. 11, in Los Angeles Superior Court. It specifies that Anne G. performed in the eighth episode of Season 2 of the Cinemax After Dark series "Femme Fatales," titled "Jailbreak." (No one fitting the name "Anne G." is listed in the cast on the episode's IMDb page.)

No one from HBO, Cinemax, or True Crime LLC was able to provide comment to THR.

Read the full complaint here.