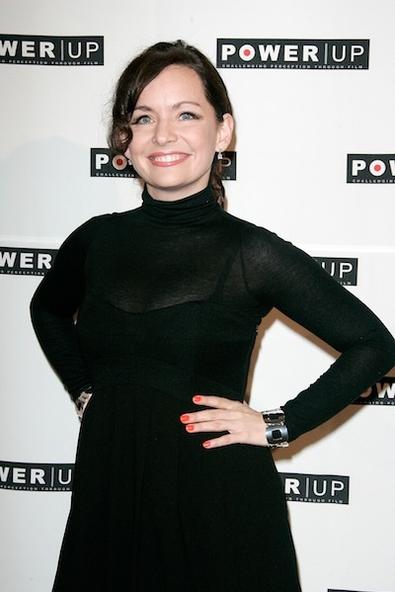 Long before Lena Dunham was making TV or Greta Gerwig was crowned indie screen queen, Guinevere Turner played a pivotal part in the early 1990s indie renaissance. Known for her role as Camile West in "Go Fish," the 1994 groundbreaking independent drama about the lives of a small group of lesbian pals, Turner was also allegedly the inspiration for Kevin Smith's main character in 1997's "Chasing Amy."
Over the years, Turner has worked both in front of and behind the camera as an actor, writer, producer, and director. Her credits include writing the screenplays for "American Psycho" and "The Notorious Bettie Page," and she's had more than 30 film and TV roles. This month, Turner launches her Indiegogo campaign to raise funds for her newest project, "Creeps," the tale of two friends in L.A. who attempt to detox together for a week in an effort to impress an ex-lover. Backstage talked to Turner about her indie past, her creative present, and what she hopes to accomplish with "Creeps" in the near future.
In your career you've worn many hats. Can you speak about your motivation for making that jump?
Well, actually, I've directed five short films, two of which premiered at Sundance. I made the leap around 2001 when the Seattle Film Festival invited me to participate in their Fly Filmmaking program, in which you have to make a short from start to finish in one week! It was exhilarating, and I was hooked, as a director. Now the big jump is to feature—and why not! It's the obvious next step.
You work pretty consistently within the industry, yet you find time to write and create your own projects. How do you transition from hectic set life to sitting down and creating your own material?
I love it! It's perfect that I can go back and forth between the two. It's always a relief to be alone and working again, and then I get lonely and it's awesome to go back to the chaos that is a set!
Your trajectory in film has been largely in independent works. What advantages do you think there are for actors working on a small project as opposed to a large-budget, studio film?
Theoretically, [independent film has] more interesting, daring roles, more freedom to explore. But really, any actor who says they wouldn't want to be in a studio movie is lying—the dough, the exposure! I wouldn't say no.
What advice do you have for actors like yourself who might want to start working behind the camera instead of in front of it?
Just do your homework, I suppose. I am always reading and watching movies and teaching myself, because I didn't go to film school and have much to learn.
Will you be acting in "Creeps"? If so, did you write one of the roles specifically for yourself, or did you choose a role to play after the script was written? And if you're not acting in "Creeps," how was that decision made?
No, I'm not acting in "Creeps." I acted in a couple of the shorts that I directed, and when I look at them now, all I can see is that my acting and my directing fall short in some moments, and I don't want to take that gamble with my first feature. But don't get me wrong—I will find a way to get myself in one scene, but that's it!
What career advice do you have for other actors, especially actors that are just starting out or are struggling to elevate their careers? Do you have any anecdotes from your own career that you'd like to share with Backstage's readers?
My biggest advice that I wish someone had told me was ask props to make the fake wine just yellow water, not grape juice! Because you will get sick drinking it take after take after take. In "American Psycho," I chug a glass of wine in one scene. Oh man I was soooooooo sick and wanted to die, but I didn't know I could have a say in what it was. So dumb, of course you can! And the director is my friend! And my other advice is to remember when you are auditioning that they are not only looking to see if you are right for the role, they are also looking to see that you are someone they would want to work with. So don't be a nightmare!
Crowdfunding is becoming increasingly popular as a resource for independent filmmakers. What would you say are the benefits of using a site such as Indiegogo to fund your project? Do you think if crowdfunding had existed during the time of "Go Fish," the development of your first DIY film would have been easier?
The most amazing benefit is that it raises awareness of your project while also raising you money! It is by its nature a publicity machine, which is very cool. It's so hard to imagine it existing in the "Go Fish" days. We didn't even have cell phones or e-mail! Much less twitter and Facebook! (How the heck did we make that movie?) Anyway, I am sure we would have used Indiegogo back then if it existed, but it's such an abstract "if."
Your longtime collaborator Christine Vachon has said that the difference in today's so-called "queer" cinema is the lack of a "sense of urgency" that earlier films like "Go Fish" possessed. In the early 1990s, LGBT filmmakers were struggling to get their stories out there as soon as possible. How do you think "Creeps," a film revolving around two modern gay characters, speaks to or disputes Vachon's thoughts on the genre today?
I think she's absolutely right, and that's a good thing! There are gay people all over TV now, something that was sooooo not the case in the early 90s. "Creeps" is special though because the gay characters are not particularly "nice" or "normal." They are kind of dicks, and they have crappy messy lives. That's something we haven't seen a lot of.
How do you go about acquiring cast and crew for a project such as "Creeps"? Is it a strictly friends-of-friends type situation or do you plan to hire crew and hold auditions?
We will most definitely get a casting director and hold auditions. I have people in mind for the leads and will try to get them on board, but there are many supporting roles to be cast!
Your list of swag for "Creeps" donors is impressive–including the opportunity for a pet to have a walk-on role, and the chance for writers to have their scripts reviewed. What do you think is the coolest perk?
I think that one is pretty cool! People love their pets and love to immortalize them. My producer Valeria Lopez came up with that one, and I jumped all over it. Hilarious. And there are several scenes with dogs in them.
I actually really enjoyed the stuffed animals that play Mona and Freddy in your campaign trailer. Do you think they will make an appearance in the actual film?
They kind of have to, don't you think? I will find some clever way to sneak them in.
"Creeps" is raising funds via Indiegogo through Nov. 30. To learn more, visit www.creepsthemovie.com. And keep an eye out for "Creeps" casting notices at www.backstage.com/creepsthemovie.