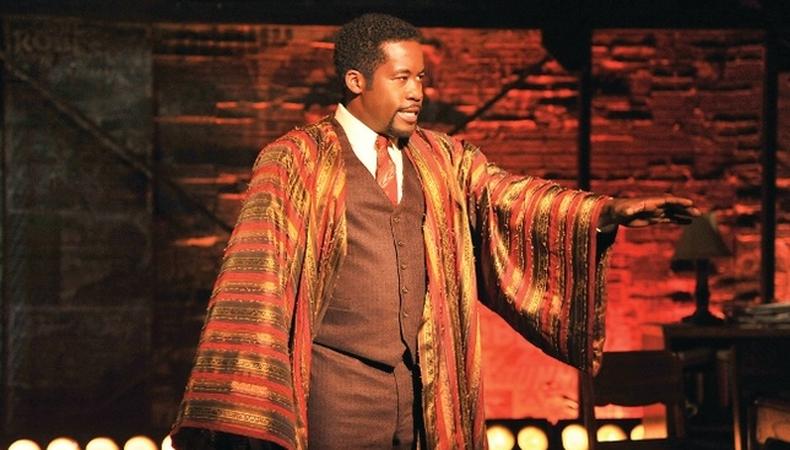 Are you an actor looking to write yourself onto the stage? Or perhaps a playwright who benefits from performing live? Either way, there's a lot to be learned from studying today's most productive multi-hyphenates of the stage. Below are eight theater artists who either perform their own words or are just really good at both writing and acting (including one who has Tonys for both!).
Lin-Manuel Miranda
Maybe you've heard of a little musical called "Hamilton"? The creator and star of Broadway's current biggest hit cut his teeth penning musicals and founding hip-hop comedy troupes at Wesleyan University, where he also first drafted the eventual Tony winner "In the Heights." Miranda's Puerto Rican ancestry and rap expertise makes him one of the most—if not the most—influential and game-changing theater artists working in 2015. The man's only getting started, and he's not going to waste his shot.
Lisa Kron
It's been just as big a year for Kron, one half of the first female team to win every writing category at the Tony Awards for the groundbreaking lesbian drama "Fun Home." She told Backstage in April that adapting Alison Bechdel's graphic memoir into a musical took an astonishing six years. Her experience writing and rewriting for the stage certainly benefits from her own career as an actor; Kron earned a Tony nomination for playing a version of herself in her autobiographical "Well."
Daniel Beaty
A solo theater artist and poet who has been showered with accolades, Beaty is best known for his one-person shows "Emergency," "Through the Night," and recently "The Tallest Tree in the Forest," a bio-drama of Paul Robeson. Beaty's approach to stagecraft combines slam poetry, political activism, music, movement, and graceful transformations between characters; any solo performer or actor-playwright would learn plenty from reading and speaking his work.
Cush Jumbo
She may not be American, but Jumbo is one of the most promising artists creating theater in America today. The English actor-writer has appeared on television, and wowed Broadway audiences last year opposite Hugh Jackman in "The River." But it was her Off-Broadway solo play "Josephine and I," based on the life of jazz singer Josephine Baker, that really made the theater community sit up and take notice.
Tracy Letts
Probably the most prolific mainstream actor-writer working today, Letts is also a master at compartmentalizing his career; unlike many other artists on this list, he doesn't write roles for himself. His magnum opus, "August: Osage County," took the theater world by storm in 2007, winning a Pulitzer and a Tony Award, while his most lauded stage performance was for a revival of Edward Albee's "Who's Afraid of Virginia Woolf?" earning him the Tony for lead actor. (He's also adapted three of his plays for the screen and starred on "Homeland." No big deal.)
Danai Gurira
Yes, Gurira is fierce as Michonne on AMC's "The Walking Dead," but that term could just as easily be applied to her plays. The Zimbabwean-American artist earned multiple awards for co-writing and co-starring in the Off-Broadway AIDS play "In the Continuum," and her new family drama "Familiar" premiered at Yale Repertory Theatre early this year. Expect to see her name crop up even more: Lupita Nyong'o will be starring in Gurira's highly anticipated "Eclipsed" at the Public beginning Sept. 29.
Halley Feiffer
Last year Feiffer gave Backstage readers advice on how to sit down and write a play: "Just go home and write the really dumb, bad version." The brain behind Atlantic Theater's twisted two-hander "I'm Gonna Pray For You So Hard" has been acting as long as she's been writing, appearing in "The Squid and the Whale," "Bored to Death," and starring in the film "He's Way More Famous Than You" and Web series "What's Your Emergency," both of which she also co-wrote.
Anna Deavere Smith
Last on this list (but first among solo theater artists) is Smith, best known for penning works such as "Fires in the Mirror" and "Twilight: Los Angeles, 1992," and for her performances on "The West Wing" and "Nurse Jackie." Widely credited as the creator of "documentary theater," a performance style that draws from real-life interviews and requires fierce stamina and versatility as an actor, Smith is a veritable master when it comes to creating one's own work for the stage. Bonus: Her book, "Letters to a Young Artist," is a must-read for artists from all walks of life.
Inspired by this post? Check out our theater audition listings!