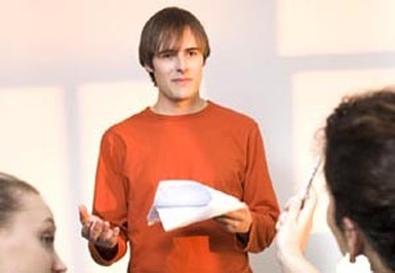 Hold! If you read last week's Part 1, charge forward below to Part 2.
If you didn't peruse last week's post
click here
and read Part 1. I'll be here waiting with a bag of Double Stuffed Oreos for when you get back (if I don't eat them all first). Go on... go back and read.
**************************
This has got to stop. Actors paying thieves for black-market breakdowns. Especially actors with representation.
Last week's Part 1
caused a stir. It also prompted a reader to send me an e-mail he received from a thief selling the black-market breakdowns. Attached to the e-mail was an example of the breakdowns. I couldn't f-ing believe it.
Disgusting
is the best I can say of the e-mail's contents.
Here was someone preying on actor vulnerability and profiting off of actors by committing a serious crime of fraud and theft. Actors who engage in buying these breakdowns are just as culpable and can be prosecuted as well. I immediately contacted Breakdown Services.
More than likely the person who was selling the illegal Breakdowns is/was an intern or an assistant at a talent agency. Agencies pay a subscription fee to receive the breakdowns. And Breakdown Services scrutinizes their subscribers. Joe-blow-off-the-street can't get a talent agency subscription from Breakdown Services.
Now, actors with talent representation who receive black-market breakdowns:
Stop it
. Beyond the illegality of the act; you're jeopardizing your relationship with your agent. For those with or without an agent who may be wondering how.... here we go;
The represented actor getting the illegal breakdowns often calls their agent and says, "I just saw on Breakdowns a role that I want to be submitted for..." The agent does one of two things (or both) rolls their eyes and reminds the actor, in a terse tone, that as an agent
they
too get the breakdowns and submit appropriate clients. After the call is ended, the agent usually mumbles to another agent in the office, "We need to drop that one."
When an actor phones an agent with the, "I just saw on Breakdowns..." call; immediately the agent is thinking, "This client doesn't trust me. Why should I be representing them?" Agents hate, repeat;
hate
clients who use this supposed proactive choice for career advancement. Often the client doesn't advance and they lose representation.
Agents talk to me often about this, including my partner who owns a talent agency. It's one of the surest ways for a client to stop being a client. If you're still not convinced think of it this way. Calling up your agent and telling them you saw a role on Breakdowns you think you're right for, is equal to one actor giving another actor performance notes. It's wrong. It's rude. It's not professional. And it needs to stop!
Trust that your agent is doing the best that they can for your interests. Stop engaging in activity that could bring serious charges against you and cost you money, time, reputation AND representation.
And finally: A reader asked me, "Is it effective for actors living beyond the metro areas of New York or LA to subscribe to Actor's Access?" (Breakdown Services subscription service to actors).
No.
Most of the auditions are in NY or LA. Auditions come quickly after they are announced. You need to be living in or near the area that the majority of auditions which are happening. Casting personnel don't want to bother with actors who submit themselves for an audition in NY or LA when the actor permanently resides in bum-fart Kansas. (No offense to Kansas, my finger just went for the "K" key and there were only two state options after that. I'll offend the blue-grass moonshiners another time).
So, wrap up here. Represented actors, stop using and paying for illegal breakdowns. Stop calling your agent with the, "I just saw on Breakdowns..." call. Unrepresented actors, I do not condone or suggest the use of illegal breakdowns. But if you do engage in that illicit behavior
read Part 1
.
But be warned, you are committing a crime.
Paul Russell's career as a casting director, director, acting teacher and former actor has spanned nearly thirty years. He has worked on projects for major film studios, television networks, and Broadway. He is the author of
ACTING: Make It Your Business – How to Avoid Mistakes and Achieve Success as a Working Actor
.
For more information, please visit www.PaulRussell.net.