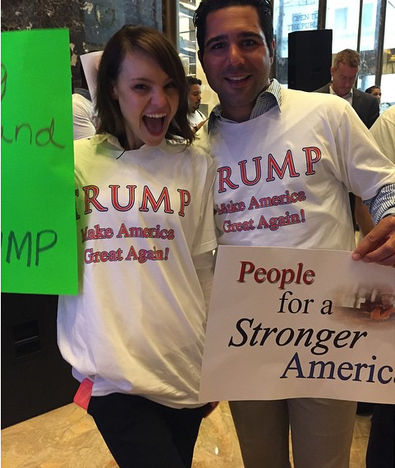 Background actors have all different shapes, sizes, and motivations; on Tuesday, June 16, those motives were $50 and Donald Trump.
The newly minted presidential candidate allegedly paid actors to appear at the announcement for his 2016 White House run, which happened in the lobby of Trump Towers.
The Hollywood Reporter obtained an email sent by Extra Mile Casting on June 12 asking for background actors to attend the televised event decked out in Pro-Trump t-shirts and carrying signs. A Mashable news editor photographed the "homemade" signs in the trash after the event concluded.
"We understand this is not a traditional 'background job,' " read the email, "but we believe acting comes in all forms and this is inclusive of that school of thought."
Suspicions began when an anti-Trump supporter clocked background actor Domenico Del Giacco and actor Courtney Klotz in an Instagram post (pictured above) of them in Trump gear and posted it on his blog; the photo and the account associated with it has since been deleted.
See the original article on The Hollywood Reporter.
Looking for acting opportunities and a great to way to work towards your union card? Check out our background acting gigs!