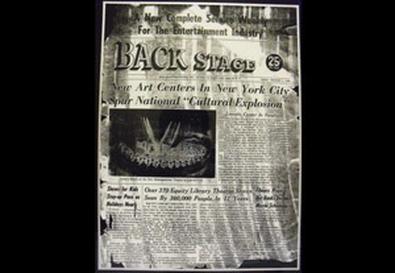 What began in a 9-by-12-foot furnished office on West 46th Street in Manhattan has become an institution for actors. The road from newspaper to multimedia publication was not always clear and easy, but—much like the aspiring and established performers who read it online every day and in print every week—Back Stage has met each challenge, has adapted to unexpected situations, and continues to grow.


1960s and 1970s
On Dec. 2, 1960, the first issue of Back Stage was published in New York City. It was a 16-page newspaper that cost 25 cents and offered "a new, complete service weekly for the entertainment industry." The cover of this inaugural issue had news regarding a new "theatre in the park" and plans for the new Lincoln Center for the Performing Arts.
Back Stage's founders, Ira Eaker and Allen Zwerdling, had been colleagues for years as advertising director and editor, respectively, at the casting newspaper Show Business. After leaving their posts, they decided to begin their own publication. They contributed $500 each, rented a small office, installed two telephone lines, and became incorporated.
On the day the first issue was published, eight inches of snow fell in New York. Every Thursday for the four weeks in December, the city suffered snowstorms, ice storms, and rainstorms that left the streets empty and many issues of Back Stage on the newsstands. Eaker stalled for time with bill collectors and advertisers.
Despite the owners' best efforts, Back Stage suffered hardship in its early years, when only Zwerdling and Eaker handled its writing, editing, ad sales, and production. The two regularly carried stacks of issues in their cars, just in case a newsstand needed more copies. Then, from December 1962 to March 1963, there was a newspaper strike in New York City. Zwerdling and Eaker took advantage of the lack of entertainment news and started publishing Amusement Guide, a weekly for the general public, listing Broadway and Off-Broadway shows, movies, television programs, and restaurants. The profits from the guide, which folded when the newspaper strike ended, were poured into Back Stage, and the formerly struggling trade publication was now in the black.
In January 1964, the television commercial industry was booming in New York and became a key source of advertising revenue for Back Stage, more so than the theater business. Commercial production companies and services placed ads for behind-the-scenes employees, such as editors and cameramen.
During the 1970s, the staff expanded, but Eaker and Zwerdling remained very hands-on, involved in every aspect of the operation. By late 1974, Back Stage had opened a West Coast office and eventually included coverage of New England, Florida, and Chicago as TV commercial production began to develop in those markets. As a result, the commercial section of the paper grew, and so did the theater section.
In 1977, Sherry Eaker, Eaker's daughter, joined the staff. She later became the editor-in-chief. Shortly after beginning her tenure, she saw the need to expand the theater department and focus more on features and reviews. With more freelance critics and feature writers contributing, she made sure that broader issues of concern to the acting community as well as Off- and Off-Off-Broadway productions were covered.
1980s
"One of my fellow cast members in an Off-Off-Broadway play I was in was a receptionist at Back Stage," remembers David Sheward, Back Stage's executive editor in New York, who joined the publication as a part-timer in 1983. His colleague told him that the newspaper needed someone to help type up and edit casting notices. An aspiring actor, Sheward thought, "That will be great; I'll have a head start."
"There were no fax machines, no Internet, and I rode to work in my horse and buggy," Sheward jokes. He notes that at that time much of the theater section consisted of casting notices. "We were the only game in town, really. The main selling point, the thing that drove us, was that we were the only ones that had casting notices. We were the only reliable source that you could pick up at a newspaper stand, and if you didn't have an agent, this was how you found out what was casting."
Sheward remembers the sometimes stressful schedule: "The deadline for taking casting notices was Tuesday, and the paper was out to the printers at noon on Wednesday. Of course, everyone waited until the last minute, so we would have to work very late on Tuesdays, sometimes until 2 or 3 in the morning, maybe even all night. Times Square was not the safest place back then, and I had to take the subway home to Brooklyn. Sometimes a bunch of us, after the paper had gone out on Wednesday, would have breakfast or brunch. We would be sitting in these diners among the actors and the tourists from the matinees, and you just felt you were all a part of the scene. It's a little bit different and more diverse and more spread out now."
On Jan. 20, 1984, the theater section became a separate insert, while the main paper contained news of the TV commercial production industry, which generated more advertising revenue for Back Stage. The casting section was placed upside down so readers could easily find it. Sherry Eaker recounts, "I hate to say it, but if you walked up Eighth or Ninth Avenue late Wednesday nights or early Thursday mornings, you'd find the outer shell of Back Stage"—the commercial production section—"in the trash cans. Most performers only wanted the theater section."
In 1985, Back Stage toasted its 25th anniversary with a black-tie gala attended by 1,400 entertainment industry insiders. A music video celebrating the publication was shown; it featured music composed, arranged, and performed by Lenny Hasbro, with lyrics by Shelly Isaacs. Celebrities such as Sandy Duncan, Robin Leach, Jerry Stiller, Sally Struthers, and New York City mayor Edward I. Koch participated in the video.
Billboard Publications Inc. bought Back Stage one year later. Zwerdling retired, but Ira Eaker stayed on until June 1989. Being part of a corporate entity had its advantages, though. Says Sherry Eaker, "We were able to move in directions we couldn't very easily before."
---
50th-Anniversary Timeline
Here's a timeline of the performing arts industry from "Back Stage's" beginnings in 1960 to present day.
---
1990s
The last 10 years of the 20th century were the dawn of the Information Age. The use of cell phones, personal computers, and the World Wide Web increased until they were part of everyday life. Back Stage was keeping up and changing with the times. In the early 1990s, it moved into the offices of Billboard Publications at 1515 Broadway. "Being right in the heart of Broadway seemed to be the perfect setting for us," says Eaker.
"We were on the floor right above MTV," remembers Sheward. " 'TRL' filmed downstairs. The day 'N Sync came to tape a show, the whole place shut down because there was a mob of people outside."
For the July 6, 1990, issue, the theater section became independent from the commercial section, selling separately on newsstands as Back Stage, "The Performing Arts Weekly." The commercial production section was spun off into a sister publication and took on a new name, Back Stage Shoot, eventually shortened to Shoot. Sherry Eaker became editor of Back Stage and used the additional pages to increase theater coverage, especially regionally, and added new monthly features. Steve Elish was named Back Stage's publisher.
Back Stage also purchased the New York–based publication Ross Reports, which published contact information for agents, managers, casting directors, production companies, and upcoming film and television projects. Its name was later changed to Call Sheet.
During the summer of 1990, Sherry Eaker and Elish visited the West Coast to get feedback from industry professionals about the concept of a Los Angeles–based version of the paper, to be called Back Stage West. In July 1993, a section called Back Stage West appeared as part of Back Stage. The first issue of Back Stage West as a separate publication came out on Feb. 10, 1994, with Rob Kendt as editor-in-chief.
"I remember it was a big day," says Kendt. "We tried to aim it toward professional actors, and we felt we'd get the newbies because they would want to know what the professional actors are doing." The new publication had one chief rival in the Los Angeles area: Drama-Logue. Founded in 1972, Drama-Logue dominated the market, printing mainly casting notices and theater reviews.
"We really filled an important niche to try to get whatever information wasn't on the breakdowns out to actors," says Kendt. Back Stage West differentiated itself from Drama-Logue by running advice columns and investigations. "When someone put in a fake casting notice or an ad that says 'acting teacher' but it was some guy who wanted to take your money, we made it our beat to cover those people and reveal them," he says. "Back Stage East pioneered most of the stuff that we were doing, but Los Angeles hadn't covered the actor's life and trade."
Back Stage West's other beat was the theater scene in L.A., because "many actors don't go there to do theater, but they do, just to get onstage and work on their craft," Kendt explains. "There are some really good ones." On Jan. 12, 1998, the first Back Stage Garland Awards, which annually honor excellence in Southern California theater, were presented.
That same year, Back Stage purchased Drama-Logue, allowing Back Stage West to become the main print resource for casting and the acting trade in Los Angeles. Despite this development, print was slowly losing ground to the Internet as the dominant medium for conveying news and other information.
"We were leaving a critical part of the acting world out," says Jamie Painter Young, Back Stage's current editor-in-chief, of the publication's coverage in the 1990s. She began working at Back Stage in 1995 as a part-time editorial assistant and worked her way up to her current position. Young has increased the scope of Back Stage's reporting by creating the television and film department.
"We hadn't been reaching out on a significant level to A-list actors in film and television," she explains. "I saw an opportunity for us to include them in a discussion about acting in the industry and their craft. Since then, it's not just A-list actors that we have participate with us. It's also all the great acting teachers, the top casting directors, directors, producers, agents, managers—it really opened up the scope of the people we include in Back Stage as sources." After developing the film and TV department, Back Stage launched its "Evening With" program, a free screening series in which actors in contention for Screen Actors Guild Awards and Academy Awards answer questions from readers.
Back Stage launched its website in 1997, but it was not smooth sailing from there. "We realized soon things have to be happening faster," says Kendt. In their casting and reporting, Back Stage East and West had to deliver "not just daily information, but also as-it-happened information."
At the time Kendt left Back Stage West, in 2003, readers could subscribe to a daily email containing casting news. Previously they could get that information only through their agents or weekly in print publications like Back Stage. By 1999, they could see it throughout the day online. Many competing casting websites have since sprung up. "Now we're not the only game in town," says Sheward, "but we have to be that much better."
2000s and 2010s
As the new century dawned, Back Stage embraced technological growth. In October 2005, the brand redesigned its online and print publications to better position itself in the digital age. BackStage.com began publishing more content on a daily basis, and subscribers were given access to more online casting resources. In addition, the sister publication Shoot and its website were sold to another company. Billboard Publications had been acquired by the Dutch company VNU, which was later renamed the Nielsen Company. Nielsen subsequently sold Back Stage and other publications, including The Hollywood Reporter and Billboard, to Prometheus Global Media.
Recently, Back Stage has sought "various ways to integrate the discoveries of the digital frontier into all aspects of the brand," says Jeff Black, Back Stage's publisher, especially because casting has become, in his opinion, "the most digital aspect of the entertainment landscape."
Over the last 10 years, actors have begun submitting auditions for film, TV, and theater via YouTube, MySpace, and Skype. This gives performers anywhere the chance to be considered for roles despite not physically being in the audition room. It also means that actors require a new set of technical skills, such as using a digital camera and editing. "Now you can't be an aspiring or middle-class actor without having digital savvy or acumen," says Black, "whether that's understanding how to compress video and upload it to YouTube or your own actor site or digitizing color headshots and résumés. You must know social-media tools, because that is really part of the day-to-day job of an actor."
Leading by example, Back Stage has been aggressive in employing social-media tools and encouraging its readers to do the same. It frequently updates its Facebook page and Twitter feed, which are, according to Black, two of the largest sources driving people to BackStage.com and converting them into subscribers. Social media "is a daily tool in how we communicate with actors," he says.
In a move appropriate to an era of significant developments in communication, on Oct. 24, 2008, Back Stage East and Back Stage West were merged into one national publication. The first cover headline was "Not a Pushover"—a reference to the actor on the cover, Chi McBride, but also representative of the attitude of Back Stage.
Black explains the reasoning behind a national edition: "Part of it you could say was listening to the actor. An actor in Los Angeles wants to know, and I would say needs to know, what's happening in New York, and vice versa—from a job perspective, from a business perspective, from every perspective." He adds, "We found a solution to deliver that online and in print. It educates our actors so they may understand the landscape of the acting and performing arts community."
On Oct. 3, 2011, Prometheus Global Media announced a partnership with a group of investors led by John Amato to help Back Stage continue to grow, with Amato as the publication's CEO and chairman.
Looking Forward
Back Stage has always used all the technological tools available to best serve its customers in the acting community. "That's really what's transpired in the last 50 years," says Black. "We've gone from a newspaper to a multimedia publication. We're not just a job place. We have the face-to-face interactions through events, the visceral touch of a newspaper, the immediacy of the Internet, and the convenience of mobile that allow us to adapt and deliver to our readers."
Though technology will continue to change the landscape of acting and daily life, Back Stage is not defined by technology, and therein lies the key to its longevity. It is and will always remain a resource through which actors can learn, teach, and develop. Young says she is most proud of the fact that she has seen Back Stage become regarded as an institution for all types of actors, whether they're just beginning or more experienced. Over the last 50 years and for the next 50, Back Stage has served and will continue to serve all actors.
Watch a slide show of "Back Stage's" covers through the years below.