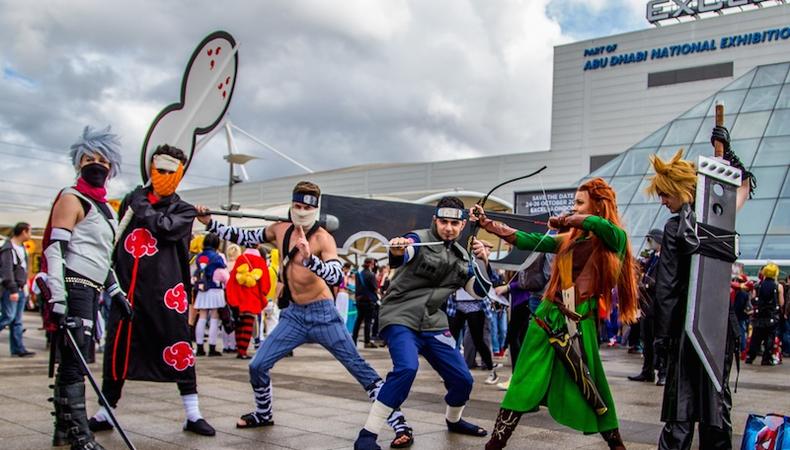 Nerd culture is on the rise, just look at the attendance figures from the last Comic-Con in San Diego. A big part of these public geek gatherings is cosplay — the art of dressing in costume outside of Halloween. It's actor-practioners say it has a surprising amount to teach performers.
For instance, cosplay offers a chance to play a new role in a setting where you'll get immediate feedback from a crowd. Jennifer Kretchmer, also known by her stage name Jennifer Segal, got hooked on cosplay after she attended her first San Diego Comic-Con. She's since dressed up as characters from World of Warcraft and "Silent Hill," in addition to Neil Gaiman's beloved comic book "Sandman."
Kretchmer says that part of cosplay is gaining an understanding of the character the same way she would for a theater or TV role. "I'm kind of interpreting in my head what they would do from an actor's perspective," she says.
There's also the inspiration that comes from piecing together odds and ends to create costumes. "I believe in building an external world for characters whenever I'm acting," she says. By putting on pieces of the costume, "you automatically feel that you're absorbing part of the character," she says.
It might sound like child's play, but for Kretchmer, cosplay has led to real acting work. In fact, she landed a gig in a Toyota campaign that sought cosplayers.
Other actor-cosplayers say the practice is important to learning all of the behind-the-scenes aspects of performance, including costumes and make up. "I think you gain a healthy respect for what goes into costume," says Xander Jeanneret, an actor and member of the L.A.-based improv troupe Dungeon Master.
Jeanneret, who appeared on season two of "King of the Nerds," also notes that cosplayers typically get stopped by people for photos at Comic-Con and other conventions. "The end goal for a lot of actors is to be in a position where you're interacting with fans and fans of yours," he says.
Posing for photos with strangers can help actors learn how to interact with crowds, he explains.
Related to cosplay is LARP, or live action role playing. These are large scale games where players dress in costumes, create characters and work through stories. "You're almost forbidden to break character," Jeanneret says of LARP. "It's a fantastic improv exercise."
This presents a great opportunity for actors honing their skills. "The choices you make surprise even yourself," he says.
Weapons specialist Tim Weske, who runs Swordplay LA and choreographs fights for film and TV, has worked with LARP weaponry. "They're almost like Nerf," he says.
Through LARP, adds Weske, performers "can learn the basics of acting by bringing it to the physical."
Want more L.A. news? Sign up for our Backstage L.A. newsletter!