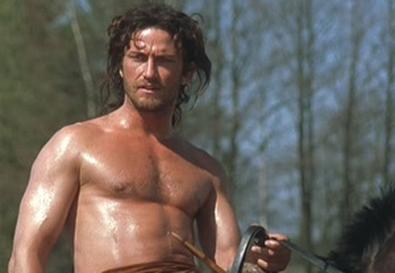 Robin Lippin on Gerard Butler
I was casting "Attila," the miniseries, and it was an extremely hard role. We had to find someone who could carry the mini and have charisma and yet be able to exude leadership and a barbaric quality. He also had to have an amazing body and good looks (it is TV, after all). Gerry had been referred by the CD in London, and I brought him in. I felt he had it all, but the executive at the time wasn't convinced. He wanted me to keep looking and told me to go to Crunch, the gym where all the hotties worked out. I wanted to die. I mean, this was a powerful role and needed an amazing actor. I think the exec was worried about his accent.
I fought really hard for him, and luckily the director and producers were behind him. I even offered to give back my salary if they weren't happy. (Okay, I was young and stupid at the time; never would make that offer again.) I also said, "This will be the last TV he ever does." Luckily, he was amazing in the role and brought the movie to life. Gerry's manager told him that I offered to give back my salary, and he wrote me the sweetest note after thanking me. There is such a reward in really believing in someone and having them deliver in such a successful way.
Robin Lippin is an independent casting director whose credits include series, pilots, and Web series. Along with Jeff Meshel, she is currently casting the CW series "Life Unexpected," which has been picked up for a second season.


Todd Thaler on John Turturro


John Turturro is an actor I knew I wanted to work with long before I actually did. John and I met as freshmen theater majors at the State University of New York at New Paltz. We had much in common. We were both born in Brooklyn and moved to Queens. We both lived on campus in Bouton Hall. In his room was this huge, poster-sized collage made of fan-magazine images of Brando, Pacino, De Niro, and Hoffman. From the outset it was obvious he was serious. His passion, intensity, and commitment to acting were fierce. After John graduated, he attended the Yale School of Drama, but not before winning over the affections of Robert De Niro and Martin Scorsese and landing a tiny part in "Raging Bull." This was a young actor with moxie and drive. He and a friend managed to convince the casting director to let them do an improv for "Marty" and "Bob" they had created from a chapter in Jake LaMotta's book. And on the basis of that improv, John got the part.
After grad school, more roles followed, including the title role in John Patrick Shanley's "Danny and the Deep Blue Sea," performed first at the O'Neill in '83, then Off-Broadway the following year, for which John won an Obie Award. He was the classic example of work begetting work, and that was very appealing to me as a casting director, who at that time was mostly casting extras for Woody Allen. Coincidentally, John got a small part in "Hannah and Her Sisters." He was a consummate professional, and others were noticing his talent. Spike Lee cast him in a host of movies, and so did the Coen brothers and Adam Sandler. Why all this repeat business? Because John is super smart, funny, caring, unpredictable, humble, a risk taker, and, most important, utterly, thoroughly, and completely serious about his craft.
I finally had the great good fortune to collaborate with him on all of his outings as an actor-director, on such projects as "Mac," "Illuminata," and "Romance & Cigarettes." As an actor and a director, his respect for everyone on the set makes working with him a dream. But then, that was no surprise. His "from day one" commitment to the kind of an actor he wanted to be and the kind of career he wanted to have was immediately awe-inspiring.
Todd Thaler launched his career as a casting director 26 years ago by overseeing background casting for Woody Allen, starting with "The Purple Rose of Cairo." As head of his own company, Todd Thaler Casting in New York, he has cast principals on such films as Ed Harris' "Pollock," Todd Field's "Little Children," Barbra Streisand's "The Mirror Has Two Faces," Wayne Wang's "Maid in Manhattan," Sidney Lumet's "Running on Empty," Irwin Winkler's "Tumbleweeds," and John Turturro's "Mac." His TV credits include Peter Berg's "Wonderland" and the NBC series "Ed," which earned him an Emmy nomination.
Deborah Aquila on Colin O' Donoghue
We get hundreds of submissions via email these days. Agents will tape actors in England or Ireland or Australia—you name it, every place on the map. We make it a point to review all of these tapes nightly. My casting partner Tricia Wood and I were recently scrolling through such footage, making our notes, when we came across this young actor named Colin O'Donoghue.
Everything stopped. We played his tape again and couldn't believe what we were watching. We passed it along to our director and producers, and they had the same reaction. His instincts were right on. His interpretation and analysis of the material were spot-on. It was heartfelt; every layer you could have was there.
As we found out, Colin is this wonderful Irish theater actor whom agent Ilene Feldman represents here in the States. As she says, he's a young Daniel Day-Lewis. Colin eventually flew out to audition in person, and we gave him notes in the room and the director gave him notes—but it all started with Colin. And he got the movie! It's called "The Rite," and he is now starring with Sir Anthony Hopkins. He had to go through many hoops and he auditioned three times, finally culminating in a most wonderful screen test with Hopkins, who is the most generous human being with young actors. They had great chemistry and are shooting as we speak. So you see, taping yourself and submitting it is worth the time.
Deborah Aquila began her casting career as an associate to Bonnie Timmermann after graduating from NYU's Tisch School of the Arts and the Stella Adler Conservatory. Her credits include "Sex, Lies and Videotape," "The Shawshank Redemption," "Primal Fear," "The Time Traveler's Wife," and the upcoming "Red." Deborah and Tricia Wood have been casting partners for the past 11 years, since her departure from Paramount Pictures as head of feature casting, a post she held for eight years. The recipient of multiple Artios nominations, she recently opened the Aquila Morong Studio for Actors along with Donna Morong.
Chris Game on Jorge Garcia and Jason Segel
I had the privilege of casting Jorge Garcia and Jason Segel in a 2005 film called "The Good Humor Man."
I had met Jorge on his first commercial, which was, I believe, a Sprite commercial, and then went on to cast him in many commercials. He was always a tremendous joy to work with in every sense of the word. His on-set attitude was always wonderful, his waiting-room attitude was always wonderful, and his auditions were always terrific. The thing about Jorge is oftentimes Jorge would come in for a gig that you think is not right for Jorge, and once he comes in, then everybody's thinking he's perfect.
Jason was someone I was aware of from "Freaks and Geeks" who I had to have for this little film I was casting. I really believed in him. I met him first at a reading at Anthony Edwards' house. Jason really wanted to be in this film, and he really did his homework.
Jorge and Jason were both very humble about it, and that really touched me. On the set, they would geek out on the entire soundtrack of "Les Misérables" and sing all of its songs together in these bleachers at some park or high school we were shooting at.
Not only are these two of the nicest and most talented actors I've ever met; they're also two of the smartest. I had a whole bunch of people come in to the "Good Humor Man" auditions, and many of them are stars now. And everybody who came in off-book for that project is now famous. And everybody who didn't was either some nobody or a friend of mine.
Working on "The Good Humor Man" was one of the greatest experiences of my life thanks to Jorge and Jason and writer-director Tenney Fairchild.

Chris Game has been casting commercials, music videos, and movies for more than a decade. His work includes three features—"The Good Humor Man," "The Uninvited," and the upcoming "Donner Pass"—as well as current ad campaigns for Swiffer and Chrysler. He is also an acting teacher and a founding member of and frequent director and actor with the Elephant Theatre Company in Los Angeles.
Catrine McGregor on David Stevens and John Freeman
Every casting director has a heralded group of what I call "hero" actors. These are the actors that will never disappoint—that take their craft as seriously as we take the casting process. They are prepared, creative, think outside the box, and bring more to the role than the writer ever saw. They are on time and they are sober. These are the actors that we know will always make us—the casting directors—shine.
Over the years, David Stevens has been one of those actors. I have cast him in L.A., Utah, Idaho, and North Carolina. And if I do projects in Nigeria or Bangladesh, I'm sure he'll be cast there too. It amazes me that David is not represented by one of the big three and does not have a six-figure quote. He is a brilliant, consistent chameleon of an actor. His work transcends the script, and he can draw performances out of the actors around him that they will often never again be able to match.
I recently cast a splendidly written and directed Western, "For Robbing the Dead," the brainchild of writer-director Tom Russell and produced by his wife, Courtney Russell. As with all directors and producers, the goal of the powers that be on this film was to attach recognizable names to facilitate theatrical distribution. Like many, if not all, casting directors, when I read a script there are times when I picture a certain actor in a certain role, and that instinct is usually right on target. It disturbed me that I saw only David Stevens and a completely unknown actor, John Freeman, in the two intense lead roles. David has some nice credits, but John, in his 40s and a working cowboy in Idaho, had none. This would be a hard sell. The first two actors Tom Russell saw at callbacks were David and John, reading a poignant scene together. After the first read-through, Tom looked down the long table, past several casting assistants, at me, with a knowing "I hate you/I love you" look. Though we did read other people for those two roles, David and John had really been cast after the first read.
John has neither the experience nor the training that David has, but he has an intrinsic "actor's intelligence" that is truly one in a million. He manages to tap into something within him that makes every word that comes out of his mouth real and compelling. The true test of his magnetism came when he volunteered to read with other actors at callbacks. Though John was truly throwing away many of the lines, the entire casting panel caught itself watching John instead of the auditioning actor. Margot Kidder, Barry Corbin, Rance Howard, and John Gries, who all acted opposite him in "For Robbing the Dead," were amazed at the power of his work. John was told early on that he had landed the role, but until the deal memo was signed, he was sure that Viggo Mortensen would get ahold of this wonderful script and hit him out of the ballpark. With all due respect, even Viggo could not bring to the table what John did in terms of honesty.
Catrine McGregor is a member of CSA and has 30-plus years in the film and TV industry. She is the author of "Acting Across America." She has been nominated for and won several industry awards, including a Codie Award for her contributions as producer to the popular "Tex Murphy" interactive games. She also teaches seminars around the country, sharing her audition technique.
Robin Lippin on Frankie Como
I went to see a play, "Gotta Sing for Your Supper," and saw a really funny New York actor in it named Frankie Como. He was a short, fast-talking, funny Italian guy who was extremely likable. I was casting the series "Baby Boom" at the time, and when I came on they were replacing the actor who played the James Spader role in the movie version. We looked at a lot of actors and even tested Don Cheadle at the time. After I saw the play, I asked the producer if she was willing to just read someone who was so different from how the role was written. If she loved him, maybe she could refigure the role. I brought Frankie in and he became the new series regular. That was really rewarding, and the producer had fun with changing the role to fit his strengths and personality. It was a lucky day for me when I saw that play. I also put one of the other actors in a commercial, and another one I cast in something else. I so appreciate when writer-producers are willing to take a chance and veer away from what was written on the page to achieve something unexpected yet successful in the long run.
Claire Simon on Christian Stolte
It is so hard to come up with only one name of a favorite actor here in Chicago. There are so many fabulous, hard-working, nondivalike actors in Chicago that it is hard to choose. I guess if I had a gun to my head and had to pick one actor that I love, it would be Chris Stolte. He is one of those actors who surprise you every time he comes in. He does his homework, comes in prepared, and then kills with a wonderful, unique take on the character. Not only do I feel proud to have Chris walk into the room to audition with producers and directors (because I know he's going to make me look good), but also the choices he makes are exciting and interesting and what set a great actor apart from a good one. Doesn't matter if it's a juicy role or a couple lines. Not only do I love his acting, but also he's a wonderful man. Kind, calm, mature, the kind of guy you like having around. I don't know how the other casting directors feel, but preparation is 50 percent and the energy you bring in the room is the other. Chris has both. And we love him.

A casting director for 14 years, Claire Simon has cast television, film, and regional theater. She won an Artios Award for her work on "Prison Break." Simon is currently working on the feature film "Contagion," directed by Steven Soderbergh, and the Fox series "Ride-Along," created by Shawn Ryan.
Jami Rudofsky on Nick Thurston
I met Nick Thurston last summer when I was casting a Web series for CW called "The Lake," which Jason Priestley was directing. I pre-read the world, because I always like finding new talent. This kid walked into my office and read. There's a feeling you get sometimes. It's rare; I've gotten it a few times in my life, where I'm just blown away by an actor and I know that there's something so special about this person. The last time I had this feeling was when this kid came in to read for me when I was still an assistant and I was helping a friend with an independent feature. I had already prejudged him—some blond kid who played Young Hercules. Then he read for me, and I have almost never to this day seen a better audition. That was Ryan Gosling.
I felt the same thing for Nick when he walked into my room. It's just a feeling that you get. Nick ended up getting cast, and now any project I get I try to get him in on, because I know if I don't catch him now, he's going to be a big huge star and then I'm never going to be able to get him in again.
Another time, when I was casting "Gilmore Girls," we met this kid right out of college, and I thought, "There's something about him. Oh my God." It was that same feeling. And we called one of our favorite agents and said, "You've really got to meet with this kid." The next thing we know, within a month he booked "The Princess Diaries 2." That was Chris Pine, who happens to still be with the same agent. So there are a handful of people that you feel that for. It's a feeling that sticks with you. When you find that as a casting director, it's special. People like to say, "Well, I discovered so-and-so." I don't call it discovering someone. I call it finding a treasure.

Jami Rudofsky cast seven seasons of "Gilmore Girls." Since then, she has cast a pilot for Cedric the Entertainer. More recently, she has cast independent projects including "Shades of Ray" and "The Assistants," which recently won the Vail Film Festival Audience Award; "Hirokin;" "Guido;" and "Somewhere Slow." Rudofsky is proud to be the resident casting director for Celebration Theatre in West Hollywood.
Cathy Reinking on Michael Emerson
I gave Michael Emerson his very first on-camera job. I had just seen him in the play "Gross Indecency: The Three Trials of Oscar Wilde," by Moisés Kaufman, at the Mark Taper in 1998, and of course I fell in love. I'm certain any other casting director who saw him in that play felt the same way I did. He was incredible. I went backstage and pretty much fell at his feet and vowed I would bring him in for the very next role that came up. Well, the role was that of an opera lover and friend to Nathan Lane's character in the very short-lived sitcom "Encore, Encore." It was a pretty small guest role, but the ever-gracious Michael came in for it and booked it. I believe the role was cut in the final edit. Man, that was a long time ago. I have of course followed Michael's career from that day forward and am beyond thrilled by his huge success. I'm so glad he found his niche, as his days as a sitcom star were not to be.
Cathy Reinking, CSA, has been a casting director since the early 1990s, working on "Frasier," "Arrested Development," "According to Jim," and many other shows, pilots, and films. She served as NBC's manager of casting and holds a degree in theater arts from UCLA. She recently published the book "How to Book Acting Jobs in TV and Film: A Conversation With a Veteran Casting Director on Mastering the Audition Room and Much More."
Ellen Chenoweth on Michael Stuhlbarg
Michael is somebody that I had been following for a long time and had tried for a number of different things. I knew of him and I had seen him in a lot of things, but I think I first realized his true genius when I saw him in "Pillowman" on Broadway and he played Billy Crudup's mentally challenged brother and was brilliant. I started having him in for everything, and I would make him do a regular audition and then I would make him do that audition as the guy in "Pillowman," including when I was working briefly on the "John Adams" HBO miniseries. I had him in to read for John Adams, and then I made him do it like the "Pillowman" guy.
He's one of the most inventive, transformative actors I know. I had him in for a part in George Clooney's movie "Leatherheads." It was a World War I veteran, and Michael decided that the guy had lost an arm in the war, and he came in with an improvised uniform with one of his arms pinned behind his back and an empty sleeve hanging down. He didn't get that part. I had him in for "Duplicity" to play a Russian guy, and he came in with a perfect Russian accent. I mean, he really does his homework, and I think probably a lot of what's fun for him is the preparation and the research and the work. We would have used him in that, except then he got cast as Hamlet in Central Park, which was a big thing for him. So it was great fun to finally be able to cast him, as the lead in the Coen brothers' "A Serious Man."
Clint Eastwood, Barry Levinson, George Clooney, and the Coen brothers have repeatedly tapped Ellen Chenoweth to cast their films. Her extensive credits include "Diner," "Terms of Endearment," "The Natural," "Bugsy," "A Bronx Tale," "Affliction," "O Brother, Where Art Thou?," "Meet the Parents," "Good Night, and Good Luck," "Michael Clayton," and "No Country for Old Men," for which she won an Artios Award. Reported by Simi Horwitz, Sarah Kuhn, Dany Margolies, Jamie Painter Young, Jenelle Riley, David Sheward, Tamara Tamzoke, and Janelle Tipton