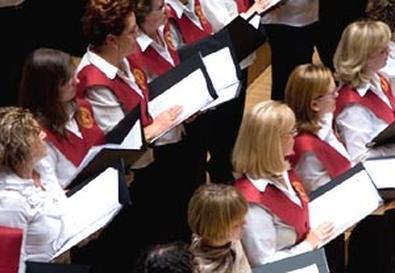 "To simply stand still and let your voice be the sole communicator in a song is wonderful," says New York actor
Ronn Burton
, "and it fuels a different part of my creative spirit."
For many actors, the grind of auditioning allows them very little time for actual performing. So many have found a satisfying alternative: singing in choirs.
"It's a different outlet, creatively, to sing together with a group of people whose sole focus is the music, rather than in a musical where one is usually dancing and acting as well," says Burton, who recently did a show with the
Clurman Singers
, a high-caliber, New York City–based ensemble of about 80 singers.
For
Melissa Blue
, singing in the
Virginia Symphony Orchestra Chorus
the last three years, where she is often performing for thousands of people during a concert weekend, has fueled her creative spirit as well as tested her "musical chops."
"It's more than just standing there and singing," said Blue of her choir's upcoming performances of
Leonard Bernstein's "Mass.
" "It's actually acting and singing and there's a stage director who is going to be involved. It's almost like I get to be in a musical: a very, very big-scale musical."
For Burton, singing has helped to steel his performing nerves.
"I've sang in choirs almost my entire life, so it has definitely helped in terms of my level of comfort onstage," he said. "I can't think of a time I ever had stage fright because I've been used to performing from a young age."
For many, choir singing has a spiritual as well as creative dimension.
Frank Stevens has done his fare share of flashy musicals as an actor in Port Huron, Michigan. But when he performs with the choir at Holy Redeemer Evangelical Lutheran, a small church with about 120 members, his performance is a bit more subdued.
On Good Friday, under very dark lighting, he sang a solo version of "Were You There When They Crucified My Lord." Like acting on stage, the performance required him to use his physicality to bring life to the solemn song. "I engage the audience with the rhythms and patterns and color of my voice and my facial expression only," he said.
The experience was meaningful for Stevens. "God gave us our talents to use for Him and for our own enjoyment and benefit," he said. "Singing in choir strengthens my faith, which helps me keep my life in balance. I think that's necessary for any professional performer, to keep his life in balance."
While choirs offer food for the spirit, they can also offer practical boosts to one's career.
Blue says she enjoys the communal nature of the chorus, which gives her a chance to get out of the house and interact with members, many of whom are TV producers, actors, and even lawyers. Conversation is often casual but occasionally business related.
"The television producer might say 'Hey, we're doing a segment on such and such,'" Blue said. "'Are you available to come out? I know that you're an actor and you can speak well in public.'"
Burton says he's made some great connections through the group. "Many of the choir members are professional singers and performers, so it's also a great networking opportunity."
Such potential business opportunities aren't only available to those in large professional choirs.
Through his church network Stevens heard about a singing contest to raise funds for a local domestic abuse shelter. He entered, performing "Desperado" and "Unchain My Heart" in a crowded restaurant. Stevens was voted best male vocalist, winning a small cash prize and several hours of recording time in a professional studio.
Fittingly, he plans to record both "Unchain My Heart" and a song by Wayne Austin, "When God's People Pray." He also convinced the restaurant owner to consider paying him and a few others to perform a variety revue there.
While many choir gigs are unpaid, some offer modest to good pay.
After a rigorous audition last year, Blue became a core member of the VSO Chorus, and uses the money to supplement her acting career. "In order to be an actor these days, you have to be able to diversify what you do. If you're just trying to make money only [by] acting, you might find yourself short on money."
The VSO Chorus pays her a different amount depending on the scope of a concert. "For a shorter rehearsal period and a smaller concert time, you could get paid anywhere from $300-$400." For larger concerts, like the upcoming three-night gig of Bernstein's "Mass," she estimates she'll make closer to $1,000. But that includes weekly two-and-a-half-hour rehearsals for the weeks leading up to a concert, then almost nightly rehearsals in the week prior to the actual performances.
Of course, actors can't support themselves full-time on these fees. However, Blue believes if you keep your mind open, you might discover new opportunities for yourself.
A performer "might discover that singing in choir might lead to a love for opera, or they might discover that they want to be a symphony singer who travels around singing with different symphonies," she said. "They might not even know they like to do it until they give it a shot."