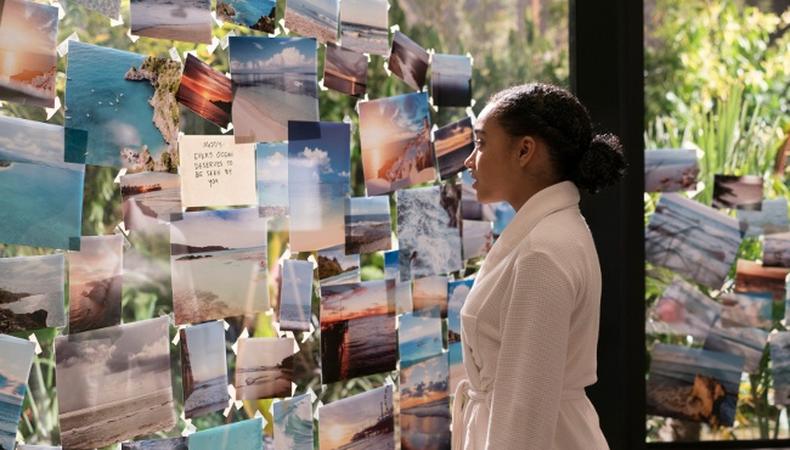 For "Everything, Everything," the film based on the bestselling young adult romance novel by Nicola Yoon, production designer Charisse Cardenas created the restrained world of a teen girl whose allergies prevent her from going outside.
On mounting the physical obstacles of 'Everything, Everything.'
"What we wanted to create was Madeline in an environment where she's so close to being outside. Her sunroom is all glass, and there's a bunch of green outside and there's a glass ceiling. She's enveloped in the outside, but she can't actually get outside, so she's treated like she's in her own world. When [she and Ollie] meet, it's always through glass, through texting, window-to-window."
READ: How Production + Set Design Will Help You Develop Your Character
She encourages engaged actors.
"On 'The Lincoln Lawyer,' Matthew McConaughey had this specific idea of things he wanted to see in his home, props he wanted. In 'Everything, Everything,' Amandla [Stenberg] drew some of the artwork for [Madeline's] room. It's nice to have [actors] invested in the set, because it's their environment. It helps with the whole project."
She's open to suggestions.
"Usually it's not a problem [when actors want to collaborate], unless they have some crazy idea, like, 'Let's paint it bright purple!' Sometimes their thoughts are in opposition to what the director wants, but you just talk about it. Most of the time, they're really valid…. It's [also] always great when an actor loves their home or a set you've made for them."
If you want to be on set, learn everything.
"Really learn the craft and your skills. It's a really good idea to come up as a set designer and learn a little about camera work and art direction. It's always been helpful to know what everybody in my department does [so] you know what's involved when you're asking someone to get something done."
On translating 'Everything, Everything' from a book to film.
"[Yoon] has a huge fan base, and they're very particular. We take variations and we do our own take on the book, but you want to make sure that things that are important in the book are going to be in the movie as well. I think people already have an idea in their head. For 'Everything, Everything,' we did a little more modern version of the home and the sunroom, but we kept the same elements. We just did our own take on them."
Want to star in a feature film? Check out our film audition listings!