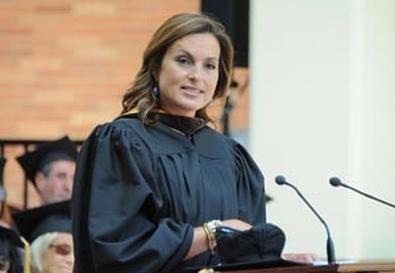 Matthew Maguire, theater program director at
Fordham University
, spoke about the moment in 2003 when Denzel Washington returned to his alma mater to address the department's students. As Maguire recalled, Washington summoned Bob Stone, one of his former teachers, up onto the stage and put his arm around him. "Here's the man who made me who I am today," Washington said.
Eight years later, Washington has given back in a big way to the school that helped shape his career. Fordham announced last month that the actor had made a $2 million donation to the school to create an endowed chair in theater. (Phylicia Rashad was recently named the first person to hold the chair, which will rotate among acting, directing, and design professionals.) He donated an additional $250,000 to establish an undergraduate scholarship for minority students. According to Maguire, the two gifts have already made a huge difference for the program.
"In the world of university politics, the big donors over time tend to be graduates of the business school and the law school," Maguire said. "So the arts can tend to languish. The programs that get the most support are the ones that produce the most gifts from the alumni."
Washington is just one of many actors giving back—both with their dollars and with their time—to the places where they studied the craft. Several times over the last decade, Washington has visited Fordham's students to offer career advice. "He's always been very generous," said Maguire. He also noted the contributions of another distinguished alum, Patricia Clarkson, who every year visits and works with the program's seniors.
"She comes in and she talks to them," Maguire said. "What I'm really happy about is what she says to them…that they need to be able to resist typing. She's the consummate chameleon. And she amplifies our training, which is that it's all about stretching."
The involvement of past students such as Washington and Clarkson lends prestige to the theater department, according to Maguire, not just within the university but also in the larger artistic community. He said Fordham now feels that it can compete even with the likes of Juilliard for top-tier students. It also gives graduates of the program a sense of group identity, he said: "That's the satisfaction of it, I think, knowing that you work in a community where people support one another. That's the real value of it."
Actors are also giving back elsewhere, such as at L.A.'s Stella Adler Academy of Acting and Theatre, where alumnus Mark Ruffalo sits on the board of directors. Michael Hackett expressed similar sentiments. Hackett is the chair of the Department of Theater at UCLA's School of Theater, Film and Television. The school is the recent recipient of a $100,000 gift from alumna Mariska Hargitay.
"On a kind of inspirational level, it demonstrates to the students, many of whom also are aspiring to professional careers, that people within the profession, especially someone so engaged and active, do value and support education," Hackett said. "I think that's great for our department and inspiring other students for how they're thinking about the educational process here and in the future, how they will support young people who want to also be in the theater."
Hackett adds that "support doesn't have to be money," noting that, like Washington and Clarkson, Hargitay has given a great deal of time to her old school. In fact, she committed to endowing a scholarship while addressing the school's seniors at graduation earlier this year, he said. He added that in this economic environment—with state colleges, especially in California, undergoing budget tightening—the scholarship could mean the difference between going to school and not going to school for its recipient.
In this climate, acting programs are especially thankful for actors who can give back—and it's a natural way for actors to express their own gratitude, according to Hackett. "What it means is that they have a feeling that they received something of value and they want to not only acknowledge that, but they also want to be helpful for future generations," he said. "So that's an exciting thing for us."