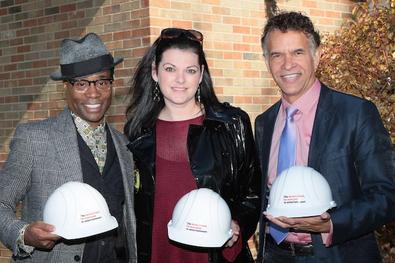 The Lillian Booth Actors Home in Englewood, N.J., is about to get a $25 million facelift, and construction teams broke ground yesterday, Oct. 26, to commemorate the step.
In attendance was Actors' Equity president Kate Shindle, Tony winner Brian Stokes Mitchell, Papermill Playhouse production artistic director Mark Hoebee, president of the Disney Theatrical Group Thomas Schumacher, and others.
Created by the Actors Fund, the assisted living center is home to dozens of performers and entertainment vets who will have access to an additional 25,000 square feet in space that translates to a new three-story building as well as a new two-story building to house additional beds, a medical suite, an arts studio, a dining room, a bistro, and a "Memory Care Garden." Improvements to the existing structures will include internal rebuilding, updating cooling and heating systems, and the removal of asbestos.
"With the rebuilding and expansion of our facility, and the increase from 124 to 169 beds, the Home will become financially self-sufficient, eliminating the need for subsidies from The Actors Fund within five years," said Actors Fund President Joe Benincasa, in a statement. "This will allow us to allocate future contributions towards a reserve, as well as enhance beautification and expand programming for our residents."
Last year, the Fund subsidized the care of 71 percent of residents eligible for Medicaid. "Yesterday's groundbreaking is an important milestone for this organization as we continue to build on our 133 year history of providing essential programs and services to everyone who works in performing arts and entertainment," said Fund Chairman Brian Stokes Mitchell, in a statement. "It's important that the needs of these residents—and of everyone who comes to us for assistance in times of need, crisis or transition—be addressed with compassion and excellence."
Founded in 1882, the Actors Fund has served as a support system and housing for aging performers and participants in the entertainment industry since 1902, caring for the likes of Joseph Sultzer and Charles Marks of the Niel Simon "Sunshine Boys" inspirational duo, Smith and Dale. Current residents include comedians, set designers, actors, Ziegfeld Follies dancers, and others.
For more information about the Actors Fund or the Home's groundbreaking, visit actorsfund.org.
Inspired by this post? Check out our New York City audition listings!