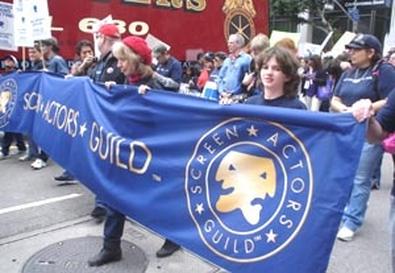 March 26 was dubbed "Solidarity Saturday" in Los Angeles, as thousands of area union workers marched the streets of downtown L.A. and rallied in Pershing Square to protest efforts to weaken public-employee unions. Among those marchers were members of the Screen Actors Guild.
MOVE Hollywood, a SAG committee whose mission includes promoting union solidarity, helped organize the members. Originally called Members on the Move, the committee was formed during the SAG commercials strike of 2000 to organize the picketing and rallies and provide other support. Later its mission broadened; MOVE now stands for "members organizing volunteer efforts."
"Besides our volunteer programs, a very big part of what we do is organize labor unions in support of our members and our sisters and brothers in other labor unions," said Ellen Crawford, a SAG member and the chair of MOVE Hollywood.
As bills that many consider to be anti-labor make their way through state legislatures around the country, union members have taken notice and taken to the streets. Though most of the legislation prompting protests in states such as Wisconsin, Ohio, and Indiana targets public-sector unions, many at the L.A. rally believe that the current political atmosphere represents a threat to all union workers, including performers.
"We're workers. Most people don't think of performers as workers," Crawford said. "A lot of people think all SAG members are like George Clooney, but most of us are middle-class workers. I make my living as an actor and I'm middle-class. I realize it's very different from being a miner or a factory worker or even some of our service unions like IATSE, but we share something in that we all need a safe workplace and we all need a living wage."
Crawford thought it significant that the rally occurred on the day after the 100th anniversary of New York's Triangle Shirtwaist Factory fire, in which 146 mostly female employees died—some jumping from the building's windows—due to unsafe workplace conditions. "That tragedy spurred on safety standards," said Crawford. "No matter what your profession is, you cannot let an entire century of worker protection be thrown out the window like the women of the Triangle Shirtwaist Factory fire. We cannot allow that to happen."
SAG Hollywood board member Patrick Fabian also attended the rally. He was concerned about efforts by some state governments to strip public employees of their collective bargaining rights.
"I'm here supporting workers' rights throughout all of America," Fabian said. "I've got three union cards—my Equity card, my SAG card, and my AFTRA card—and when anybody's threatening to take away the collective bargaining rights of the union, I think it's threatening to take away the middle class that makes this country great. I'm here to support all the unions and their right to exist and their right to bargain for their workers."
But it wasn't just solidarity with public employees that brought Fabian downtown on Saturday. He believes that unions provide him with protection as an artist. "I think your highest quality, most talented workers in the industry are union workers," he said. "You need protection in a business that is freelance and artistic. It's the only thing that can actually give you a living wage. We can't all be Tom Cruise; we can't all be the superstars. A middle-class existence is hard enough as an artist, and a union helps ensure that."