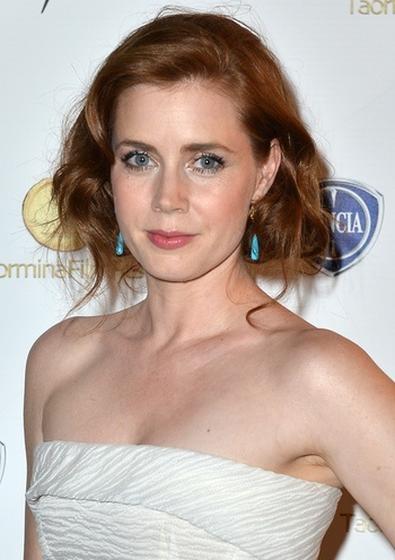 Musical theater goes deeper than show tunes and hamming it up for the audience—it's hard work, and only multitalented performers can hack it. No matter where you hope to end up in your acting career, never discount the importance of good old-fashioned, musical theater experience. Click below to learn about the surprising musical theater backgrounds of stars like Carey Mulligan, Sarah Jessica Parker, and Jon Hamm!
Amy Adams
Before Amy Adams won our hearts as Princess Giselle in "Enchanted," she cut her teeth performing in dinner theaters in Colorado and Minnesota. After taking time off to nurse an injury, Adams auditioned for her first film, "Drop Dead Gorgeous," making the transition from stage to screen. Adams made her New York stage debut as the Baker's Wife in "Into the Woods" in Central Park last summer.
Patrick Swayze
Patrick Swayze may have established himself as Johnny Castle in "Dirty Dancing," but he also played another famous bad boy from the wrong side of the tracks. Swayze performed in "Goodtime Charley" and "West Side Story" on Broadway before landing the role of Danny Zucko in "Grease."
Sarah Jessica Parker

Sarah Jessica Parker played an awkward and endearing teen on the sitcom "Square Pegs," only after an impressive childhood career on Broadway. Parker toured with "The Sound of Music" as a child before taking over the title role in "Annie." She's also appeared on Broadway in "How To Succeed In Business Without Really Trying" and "Once Upon a Mattress."
Christian Slater
Christian Slater is known for dominating the box office in the 90s (and his many brushes with the law), but his Broadway credits are surprisingly extensive. Before his breakthrough role in "The Legend of Billie Jean," Slater appeared in "The Music Man" opposite Dick Van Dyke, as well as "Copperfield" and "Merlin."
Jane Krakowski
It was a long-running joke on "30 Rock" that Jane Krakowski's character Jenna constantly breaks into song, but Krakowski's musical roots are serious. After starting off in in film and daytime television, Krakowski decided to pursue the stage, landing roles in major musical productions like" "Starlight Express," "Grand Hotel," "Nine," "Company," and "Once Upon a Mattress."
Carey Mulligan
Her performance in "An Education" earned her an Oscar nomination and she recently portrayed the iconic Daisy in "The Great Gatsby," but Carey Mulligan used to dabble in musicals. Mulligan was the head of the drama department at Woldingham School and performed in a number of productions, including "Sweet Charity."
John Goodman
A football injury crushed John Goodman's dreams of a career in sports, so naturally, he turned to theater. Goodman moved to New York City after college and appeared in the Tony Award winning Broadway musical "Big River," before being cast in film "True Stories" in 1986.
Jacki Weaver
Two-time Oscar nominee Jacki Weaver started out on the Sydney stage at the tender age of 15 in a production of "Cinderella." After appearing in a few Australian films, Weaver stuck primarily to theater before being cast in "Animal Kingdom" and then "Silver Linings Playbook."
Jon Hamm

These days it is difficult to separate Jon Hamm from his role as the iconic Don Draper on "Mad Men," but Hamm is no stranger to musical theater. Prior to his role as the philandering advertising executive, he performed in "Cabaret" and Sondheim's "Assassins" while attending the University of Missouri.
Russell Crowe
Russell Crowe's role as Javert in "Les Miserables" was not his first time belting out show tunes. Before appearing in big budget films, Crowe performed in several Australian musicals, including a touring production of "The Rocky Horror Picture Show."
Jamie-Lynn Sigler
Jamie-Lynn Sigler found stardom when she was cast in "The Sopranos" while in her teens. Before her years on the mob drama, she performed in regional musicals in New Jersey. Sigler's childhood interest in musical theater stuck with her, and she made her Broadway debut as Belle in "Beauty and the Beast" in 2002.
Emma Thompson

After trying her hand at stand-up comedy and failing, Emma Thompson found some success on the stage. In the early 80s, before she hit it big as a serious film actor and screenwriter, Thompson had a long run in the musical "Me and My Girl" in London.
Jason Alexander
Jason Alexander is best known for his role as George Constanza on "Seinfeld", but prior to becoming a sitcom star, Alexander was no stranger to Broadway. Alexander appeared in several Broadway musicals, winning a Tony for his role in "Jerome Robbins' Broadway."
Morgan Freeman
He's now one of the most famous talents in Hollywood, but Morgan Freeman was once a struggling actor, trying to find his niche. After leaving the Air Force, Freeman ended up in New York City, appearing in the original Broadway production of "Hello, Dolly!" as well as other Off-Broadway gigs.
Anna Kendrick
Long before she showed off her pipes in "Pitch Perfect," Anna Kendrick found stardom in the musical theater world. Kendrick was nominated for a Tony for her work in the musical "High Society" in 1998 at age 12, making her the third-youngest nominee in the award's history. Next up, she'll appear in two movie musicals: the film adaptation's of Jason Robert Brown's "The Last Five Years" and Stephen Sondheim's "Into the Woods."
Check out Backstage's theater audition listings!