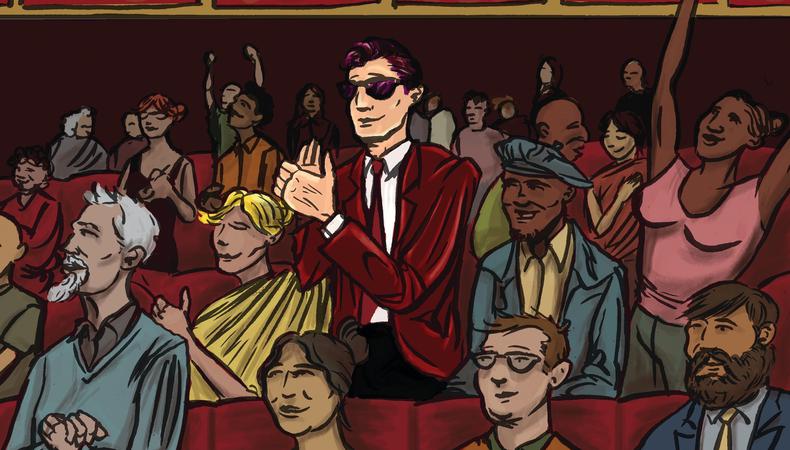 There's no doubt about it. If you're a regular reader of this column, you know I'm a cynical man. I've had my heart broken one too many times by unprofessional actors and selfish clients. But rejoice! My faith has been restored. I feel like I've been born again.
Last week, I spent a few days in Chicago visiting a friend I haven't seen in ages. The two of us ate our way through that wonderful city, heard some amazing music on Halsted, and even squeezed in a night at the theater.
The show we saw wasn't at the Goodman or anyplace fancy like that. It was a small company's production, and the space was off the beaten track. My friend explained the play was getting rave reviews, so I agreed to go. Naturally, being the pessimistic agent from Hollywood, I had low expectations. I'm pleased to announce my instincts were wrong.
As the play began, I found myself dreaming about Chicago dogs and those amazing Italian beef sandwiches they love to eat out there. But those thoughts were quickly replaced by genuine interest in the performance. The actors onstage were doing a terrific job, and I found myself getting caught up in the story. Two hours later, I jumped to my feet and cheered. This was an authentic theatrical experience, the kind you rarely see in L.A.
I wondered, Why is that? What's the difference between the Windy City and the City of Angels? Both towns have cool nicknames. They also have excellent acting schools. But the waiver shows in L.A. always bore me to tears.
Using my business card the way Moses used his staff, I parted the crowd and made my way backstage to where the actors were hanging out. We chatted for a while, and listen to this: None of them cared that I was an agent from Hollywood. They didn't hit me up for representation. They didn't give me their headshots. Instead, the cast just wanted to know what I thought of the show. They had specific questions and it was a thrill to interact with them on a creative level. It sure beats having to make small talk about the industry.
And that's when I started to understand the difference. All those actors cared about was the play. None of them were performing in hopes of attracting representation. They just wanted to flex their acting muscles and do a good job.
On the flip side, the actors here in L.A. often seem to use theater as a means to an end. Plays are considered failures if they don't attract industry attention. Yes, I know that's a general statement and there are certainly exceptions, but from my perspective, most of the waiver productions I attend feel like showcases, not genuine theater.
So how do we fix this? For starters, actors need to respect the tradition of performing for a live audience. Acting onstage is a privilege, not a right. Embrace that perspective and you will discover the beauty of what you do.
(I'd like to give a shoutout to some of the better L.A. waiver companies, like Sacred Fools, Theatre of Note, and Rogue Machine. You guys get a pass because you're so damn good!)
Like this advice? Check out more from Secret Agent Man!