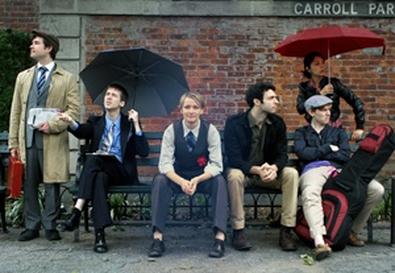 Each winter, Mary Cavett stands in a line of tall, slender women in red leotards and fur-trimmed jackets, and she kicks her long legs into the air. Since 2008, she has performed with the Rockettes in the Radio City Christmas Spectacular, one of New York's most revered holiday traditions.
However, this summer, Cavett is starring in a slightly different show: an outdoor production of Shakespeare's comedy, "Twelfth Night." Put on by Smith Street Stage, the production will take place in Brooklyn's Carroll Park. Cavett, who plays Viola, will be performing with no microphone, no lighting, and no set in front of a local, and very visible, audience.
"I think it brings balance into my life, going from a huge commercial production that's full of bells and whistles to something that's so human, so basic, so bare bones," says Cavett, who has studied at NYU's Tisch School of the Arts, Stella Adler Studio of Acting, and the Royal Academy in London. "This is a much more intimate experience."
Founded in 2010 by Beth Ann Leone and Jonathan Hopkins, Smith Street Stage has found a home in Carroll Park. This summer's production of "Twelfth Night," which will run from June 25 to July 8, is the company's third. Cavett played Lady Macbeth in "Macbeth" in 2011, and the company did "Romeo and Juliet" in 2010.
"Doing the shows in an outdoor space is very physically and vocally challenging," says Hopkins, who studied at NYU and the Royal Academy with Cavett and will star alongside her this summer as Malvolio. "It's Shakespeare boot camp."
For many of the actors, performing with Smith Street Stage has paid off. While Cavett has danced in front of 6,000 people at Radio City Musical Hall, three more Smith Street Stage alumni have go on to perform in the Tony Award-winning play "War Horse." Two actors, Ben Horner and Joby Earle, landed parts in the Broadway production at Lincoln Center, and a third, Jason Loughlin, is currently in the show's national tour.
"It was such a demanding role, it was just great conditioning for 'War Horse,'" says Horner, who played Macbeth in last summer's production at Carroll Park and is currently playing Veterinary Officer Martin in "War Horse." "'War Horse' is a very physical show, so I think doing something so vigorous right before it was great."
In addition to the vocal challenges of the park, the actors are faced with a rather animated audience. Children often run up to the stage, sometimes on to it, and strollers, skateboarders, and joggers are constantly moving around the park. And the weather is always a factor — a brief but nasty rainstorm came down on Horner as he delivered one of Macbeth's soliloquies last year. All of this is compounded by the fact that admission is free, so the audience has no motivation to sit through the entire show if it isn't captivated.
"I've said to them as they've been rehearsing, 'You have to work three times as hard,'" says Beth Jastroch, who is directing this year's show. "Every intention, every idea that you have, needs to be bigger and stronger, because once you get out in the park, you feel like you're in a vacuum. It's probably some of the hardest acting work there is."
About 200 people attended each performance of "Macbeth" last year, and passersby would often stop on their way home to watch. Because the actors put so much into the shows — many of them also help with production, fundraising, and other tasks — such a response is extremely gratifying.
"Everyone has many hats," says Horner. "It's exhausting, but it's so awesome. You have a lot of yourself in the finished piece. You feel a real ownership."
Horner says he misses the performances in Carroll Park and hopes to eventually return. While big Broadway shows like "War Horse" attract a larger audience, working with a small company gives the actors a rare opportunity to explore.
Earle, who was in the company's production of "Romeo and Juliet" before joining the original Broadway cast of "War Horse," says he'll return to Smith Street Stage in the future. He had planned to join the company this summer, but had to pull out when he landed a role in the Berkshire Theatre Group's production of "The Puppetmaster of Lodz." He serves as "Twelfth Night's" vocal coach.
"It's going back to basics —trying to flex those acting muscles that sometimes, just because of the way the business goes, you don't get to flex as much as you want," says Earle. "It's a wonderful experience."
"Twelfth Night" runs June 25-July 8 in Carroll Park. For more information, visit www.smithstreetstage.org.