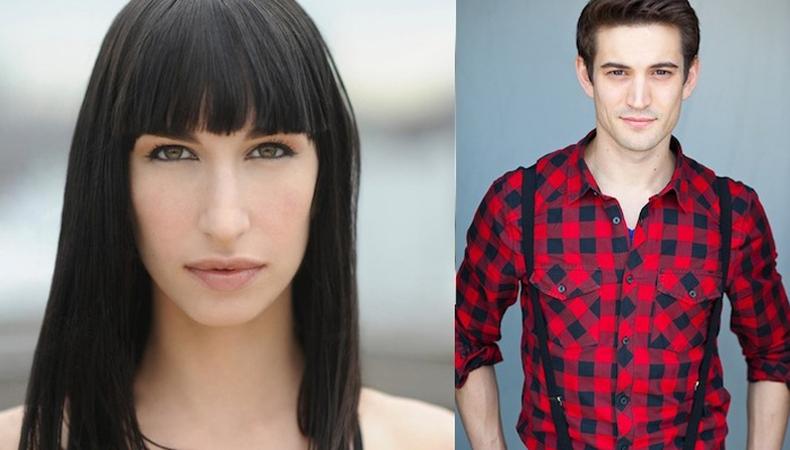 I was born into a tight-knit showbiz family, and spent my childhood listening to hilarious anecdotes about the business—from the sublime to the ridiculous. Therefore, nobody was shocked at my decision to pursue theater. It wasn't until I grew up that I met people whose families didn't get that need to perform, why they loved the theater so much, or even what stage right and left meant! They had found theater and chosen it all on their own. That fascinated me. I had to know more. Storytelling and community, after all, are the heart of what we do onstage. I've always wanted to bring my friends' stories to life and to encourage another kid whose parents don't understand the feeling that comes when you're part of something bigger.
I knew I liked Mo from the moment he favorited my tweet about always being early to appointments. Twitter connected us in a way that might have been otherwise impossible. When Mo reached out with the idea for the podcast, I was immediately interested. We made a lunch date—and ordered the same thing, so that's some foreshadowing. As soon as we started talking, I knew this was something with potential. The podcast combined everything I love: Broadway, storytelling, the Internet, technology, and figuring out how something works. We record The Ensemblist over Skype, edit in GarageBand, and use PodBean to host episodes. Tumblr hosts our website, which we love because we can connect with our audience more directly.
I hope to learn more what our listeners want to know about our business. We want to pick apart the Broadway experience for them, and answer questions they didn't even know they had! That's why our format is thematic; we want to know how different people feel about one experience, and turn it into a story that sheds a little bit more light on why theater means so much to us and our friends. - Nikka Graff Lanzarone
Two summers ago, I was performing in the ensemble of "The Addams Family" on Broadway. It was six months after joining the company, and I began thinking, "I'm living the dream! Now what?" Every morning, as I downloaded my favorite podcasts on iTunes, I'd ponder this existential question. Then I realized the answer was directly in front of me: Podcasts. Here was another form of storytelling that I loved, one that—like performing is rooted in a desire to bring unique stories to life. While Broadway is well-represented online, I couldn't find any podcasts about Broadway, especially about the experience I was having eight shows a week. But I knew that for every principal contract, there are other company members whose lives and careers are equally as interesting.
As artists, our passions don't fit into a tidy box. They are expansive, malleable organisms. In the best instances, the projects we work on are serendipitous meetings of those passions. Obviously, Nikka and I are passionate about musical theater. It's impossible to believe that anyone who schleps and sweats through chorus call after chorus call doesn't have a driving passion that ignites them. But rather than building a box around ourselves that we didn't really want to fit in, we began creating a new opportunity to explore our interests.
It's both of our first foray into podcasting, and our first time working together. The collaboration between Nikka and I has been remarkably serendipitous. We're both the kind of people that like to check things off lists and would rather finish a project today instead of tomorrow. This has allowed us to get the podcast off the ground with remarkable alacrity. Our communication, which happens almost entirely through iMessage, Skype conversations, and Google Drive, is filled with phrases like "You're the best" and "What can I do to help you today?" We're both extremely driven by our excitement to create a quality product that showcases our community in a positive and interesting way.
So far, the process of creating The Ensemblist has been filled with a beautiful freedom. Nikka and I are not concerned with the number of downloads—we just want to make a good podcast. When we brainstorm episode ideas, write interview questions, or edit guests' responses, there are two "ideal" audience members that guide us. One is a budding musical theater student in college, who is getting incredible training in performance and auditioning. The other is a passionate musical theater fan. Both understand the world of Broadway, but may not know the logistics that make a show run. These are the kinds of people we create The Ensemblist for, and who I hope will learn and be engaged by the stories we are bringing to li
The Ensemblist podcast features interviews with musical theater's unsung heroes about what it's really like to work on Broadway eight shows a week. Everything from split tracks and understudies to universal swings and pre-production. Co-creator and host Mo Brady made his Broadway debut as the pumpkin pants-clad Conquistador in "The Addams Family," and played Gabe, one of the performers in "Hit List" on the second season of NBC's "Smash." Co-creator and host Nikka Graff Lanzarone first burst onto the Broadway scene as Marisa in Lincoln Center Theater's production of "Women on the Verge of a Nervous Breakdown" and has also played Velma Kelly in the current revival of "Chicago on Broadway." Search for The Ensemblist on iTunes or visit theensemblist.com for all the details.