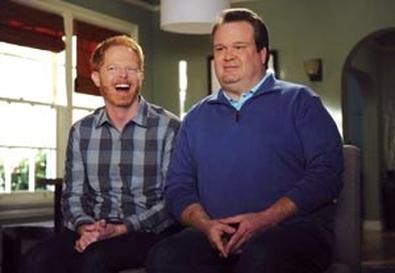 Emmy nominations
were announced on Thursday morning, and some actors spoke to
The Hollywood Reporter
or took to their Twitter feeds to express their joy. "The New Girl's" Zooey Deschanel tweeted "So excited for the #Emmys! @lenadunham – what are our nails going to wear?!!!" to the "Girls" nominee. Perhaps Jason Ritter, nominated for his guest turn on "Parenthood," summed it up best with a simple: "Whoa!"
Here are some other great reactions:
"I am honored to be recognized by the Academy among such a talented group of women. I am thrilled that Damian, 'Homeland,' our amazing writers and director and so many others got nominated. It is a great day to be on set where we can all celebrate together." - Claire Danes, "Homeland"
"You never take awards seriously until you're nominated. And then you take them very seriously. It's just nice to be part of the club." - Damien Lewis, "Homeland"
"I'm so happy! Especially for the show getting a nomination too. I must admit though, I was dead asleep when they were announced. I don't wake up for these things; I feel like that jinxes it. Today I'm going to celebrate by getting my teeth cleaned. Oh yes, I'm splurging!" - Julia Louis-Dreyfus, "Veep"
"I walked into hair and makeup this morning and Paul Rudd, who's the star of the movie, turns to me and goes, 'Hey man, congratulations on being nominated for an Emmy.' What the f--- is going on with my life? Two years ago I was auditioning for 'Zeke and Luther,' and now I'm walking to hair and makeup and Paul Rudd is congratulating me on my Emmy nomination. I don't know what's happening." - Max Greenfield, "The New Girl"
"I became an actor because I love acting, and it doesn't matter what the medium is. I was doing movies and when this opportunity came with such an amazing group of people, I felt like it was totally worth it to commit myself. Max Greenfield is a real exciting thing, because when he tested for our pilot, he had tested for like 10 pilots the year before and been second for everything. It's pretty exciting to see him succeeding and showing all of those people that they underestimated Max Greenfield." - Zooey Deschanel, "The New Girl"
"NOMINATED FOR AN EMMY!!!!!!!" - Mayim Bialik, "The Big Bang Theory," via Twitter
"Thrilled about all of 'Modern Family's' Emmy noms," the nominated actor wrote on Twitter. "Also super excited for my favorite new comedies: 'Veep' & 'Girls' & the brilliant Lena Dunham."—Jesse Tyler Ferguson, "Modern Family," via Twitter
"This nom wouldn't have been possible without the hard work of the team behind House of… F*ck this. Ship the thing to my house, already!" - Don Cheadle, "House of Lies," via Twitter.