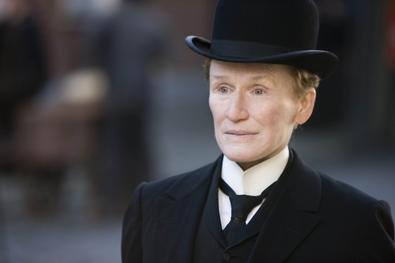 If you haven't seen "Dawn of the Planet of the Apes" yet, be prepared for some engrossingly convincing CGI effects that will have you thinking apes can really take over the world. While the actors, WETA, and director Matt Reeves did an amazing job teaming up to make the performance capture technology work to the best of its ability, creating many on-screen characters is still based in prosthetics and some great contouring, making actors appear as if they've slipped into someone (or something) else's skin. From humans with distinct features to fictional creatures, here's a list of actors who—thanks to amazing teams of makeup artists—you might not have recognized while in costume.
Gary Oldman as Mason Verger, "Hannibal"
Playing Hannibal Lecter's (Anthony Hopkins) only surviving victim left Gary Oldman a disfigured mess in the 2001 film. Originally the actor asked for no film credit to play the pig-breeding, murderous molester to maintain some mystery around Mason Verger.
Doug Jones as The Faun, "Pan's Labyrinth"
The Guillermo Del Toro nightmarish fantasy world brought its audiences enthralling creatures that include The Faun—the half-goat-half-man—character played by Doug Jones. He becomes the main character, Ophelia's, guide back into the underworld and back to the truth of who she really is in this mystical land. This film, originally titiled "El Laberinto Del Fauno," was released in 2006 and won three Oscars including awards for best makeup, cinematography, and art direction.
Skip to a minute in if you're not looking to wait for The Faun to appear.
Glenn Close, "Hook" and "Albert Nobbs"
We nearly missed the Oscar nominated actor when she made a bearded cameo as the Boo Box Pirate in "Hook," the 1991 film starring Robin Williams (who we could've put on this list for his portrayal of Mrs. Doubtfire, though a little too obvious) Julia Roberts, and Dustin Hoffman. But it was her starring role in the film about a woman posing as a man in the misogynistic 19th century Ireland that really blew us away and earned her an Oscar nomination.
Tim Roth as General Thade, "Planet of the Apes"
Tim Roth was one of the only apes on set who was specifically designed to remove any trace of the actor beneath the fur. The Oscar nominated actor, known for his knack of doing great accents and playing villains, was terrifying in this Tim Burton helmed rendition of the "Planet of the Apes" saga, which has just been expanded with the release of "Dawn of the Planet of the Apes."
Tim Curry as Darkness, "Legend"
If you didn't know it, you would never guess it was Tim Curry under all that makeup. But once you do know and are able to look past the big red face and huge horns, hints of Curry and his classic lip curl slip through the demon red-faced facade. The Emmy nominated actor's most famous role of Dr. Frank-N-Furter in "The Rocky Horror Picture Show" also had Curry in some great makeup!
Tom Cruise as Les Grossman, "Tropic Thunder"
Speaking of "Legend," while he wasn't in identity altering makeup for that 1985 film, Tom Cruise nearly went undetected as Les Grossman in "Tropic Thunder," the foul-mouthed, rude studio executive.
Fast forward to 1:15 for Grossman's "negotiation" with some kidnappers. We should warn you, there's a bit of profanity...
Maïwenn Le Besco as The Diva, "The Fifth Element"
This French actor played the universally (literally) admired blue alien opera singer Diva Plavalaguna. She was married to director Luc Besson at the time of filming.
Danny DeVito as Penguin, "Batman Returns"
Tim Burton is the master of great makeup and art direction, so it's no surprise another one of his films made this list. Danny DeVito fully captures the twisted vision of the half-man-half-penguin villain in this 1992 film that earned the makeup team an Oscar nomination. This Batman rendition stars Michael Keaton and Michelle Pfeiffer as Catwoman.
Mickey Rourke, Marv, "Sin City"
Directed by Robert Rodriguez, Frank Miller, and Quentin Tarantino, Mickey Rourke blends into black-and-white film noir with his exaggerated jaw and brow line made to look more like his comic book counterpart.
Listen to Marv tell you all about himself in his gravelly voice:
Sometimes makeup might even be able to get you a job! Find out how John Leguizamo landed himself a gig with a face full of prosthetics here.