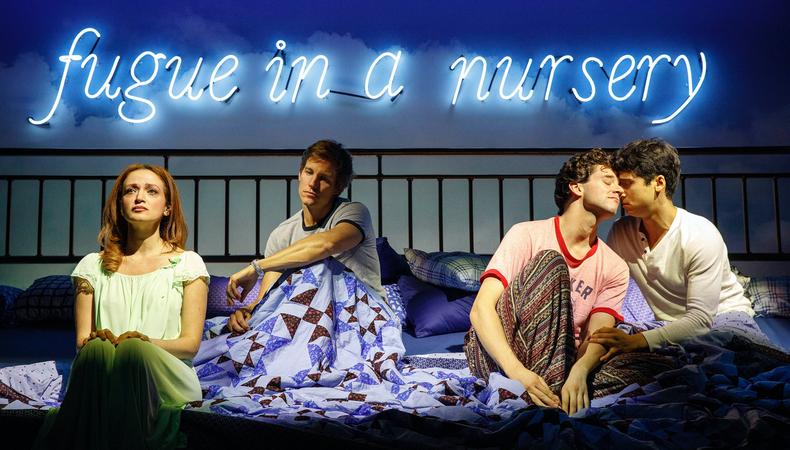 Ward Horton took his final bow Dec. 9 in Harvey Fierstein's beloved "Torch Song" as the tortured but gentle Ed. As a longtime New York–area actor of the stage and screen, you'd never know Horton started just 15 years ago after quitting his job in finance and dedicating himself to his dream. He came by Backstage HQ for our latest Backstage Live to chat about throwing himself headfirst into the industry and revisiting "Torch Song" with co-star Michael Urie and director Moisés Kaufman.
Ed offered a challenge: 'There's a lot of layers to this guy.'
"[Ed is] a closeted homosexual who back in the '70s had a strong fear of coming out, fear of his security in his profession [and] the way he was looked at by the outside world, [so] he could never submit himself to being an out and proud gay man. Back then, there were a lot more Eds out there than there are today. So the whole story, [our concern was] does it still hold up in today's world? And I think with where we live right now and especially in the last year, it really does hold up—that whole idea of being open and embracing to everyone. The play itself is just about love."
On shifting gears professionally.
"I grew up doing community theater and went to college and [did] theater for my first year, then made the decision that I didn't want to do it anymore. I didn't really think it was a practical profession, and I declared a business major, and after college, I went into finance and worked at an asset management firm for a couple of years. And then 9/11 happened, and I had that moment of, 'I don't think I'm doing what I want to do with my life.' I wasn't happy. [My wife] gave me that encouragement to go after [acting] at that point. So I spent a year doing regional theater in Raleigh, North Carolina, while I was banking during the day, and then moved to New York. I knew nothing and hit the pavement and put my head down and worked hard. It's been a slow process, but every year has been better than the year before."
On what not to forget on set.
"Remember that you're there to do a job. I think one of the mistakes that I certainly made, and that I think a lot of actors do, is they get on set and they've worked so hard to get there, and let's say it's a [job that lasts a couple of days], co-star, guest star, and they've done all this work. They want somebody to [tell them], 'You did a great job.' You don't get that because everybody's there to do a job. Nobody's doing that for them, really. And so you can't expect [that]. Sometimes you [will], but if you don't get it, you can't let that affect you.... If it's your first time on set, really get to know what everybody's doing and really just learn as much as you can. Every experience builds on the next one."
Speaking with Backstage marks a 'full-circle moment.'
"When I first moved to New York, I spent a lot of time on Backstage, going down to the bodega and getting my newspaper and scouring through and sending off headshots and résumés. It was such a process, but it allowed me to do student films, and it allowed me to do Off-Off-Broadway and to get that experience."
Audition technique and training is necessary for your entire career.
"For many years, I would consider myself to be a professional auditioner. I've been doing this a long time now, and you have to be able to separate the two. What you show on the camera in a setting where it's just you and a chair talking to [the] reader is a very different situation [than working on set]. You have to create that environment on your own. A lot of work goes into that, a lot of technique goes into that. I study with a man named Bob Krakower, and I've been studying with him for a long time for on-camera. To this day. You're always working on your craft and you're always trying to fine-tune things, and auditioning is a technique. So I would say if you are out there and trying to build your résumé, I would continue to be in class, continue to study, continue to surround yourself with other actors who are all doing the same thing. Create a community for yourself."
Want to work Off-Broadway? Check out Backstage's New York City audition listings!