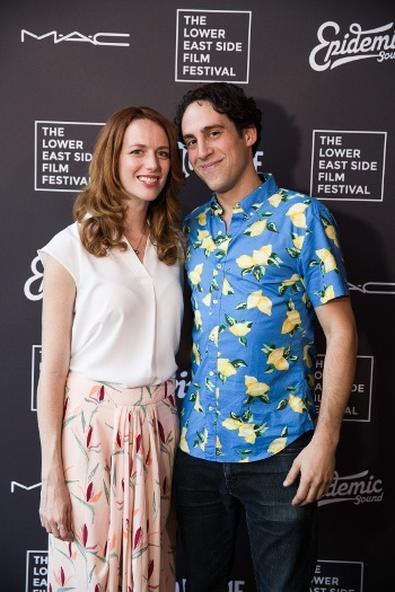 David Bly and Leah Rudick both got their start as actors before delving into directing and screenwriting, respectively. Now, with their film "Sweet Parents" having made its debut at the Lower East Side Film Festival in New York City, Bly and Rudick offer some perspective on what it's like being a multifaceted content creator.
Tell us about why you chose to create your own content.
Leah Rudick: Some of it was out of necessity. We both came to New York as actors, and I think you realize very quickly that if you want to be consistently working [you have to make your own content]. I feel like early on in my career, I thought that I wanted to just go in and do the part and fulfill someone else's vision. As I've grown and become more confident, that's changed. I feel like both of us have been able to sit back in the creator role and feel excited about that.
What can you tell us about your casting process?
David Bly: A lot of the characters were written, but when we met an actor we loved, they were either perfect for the role or they adapted to it.
LR: [When casting the role of Guylaine], we were living in L.A. and we were looking for someone in New York, so we asked for video submissions through Backstage. We got tons of great submissions, and when we saw Barbara Weetman's, we were just like, "Oh, 100 percent. This is the person." It was perfect.
DB: I remember when I first moved to New York, I picked up an issue when I was in grad school, like, "I got Backstage!" and all the actors who were in class would huddle around and circle things. It seems like one of the most industry professional [publications].
You talk a bit about how "Sweet Parents" has some roots in your own lives. Do you mind elaborating?
DB: Once we started dating, we were able to bank on our actual relationship and chemistry, not just in the performing, but also in the writing. We've had so many of the arguments that are in the film in some form or another, so we essentially just put that frustration and anger and vitriol toward the city into the script.
READ: 4 Things to Keep in Mind When Creating Your Own Content
What's it like wearing multiple hats for this project?
LR: As a team, we all, I think, wore different hats at different times. It was kind of like this indie spirit, this grassroots [movement of] everyone collaborating. It felt like a real community.
DB: The people we brought on were aware of the parameters and how we were going to be pulled in different directions, and were the exact type of people who could handle the technical side, but were also living this story in their own lives, so they knew when we had the shot. We trusted everyone to collectively feel like, We've got it.
Are you also looking for actors to cast in your next project? Browse the Backstage talent database!