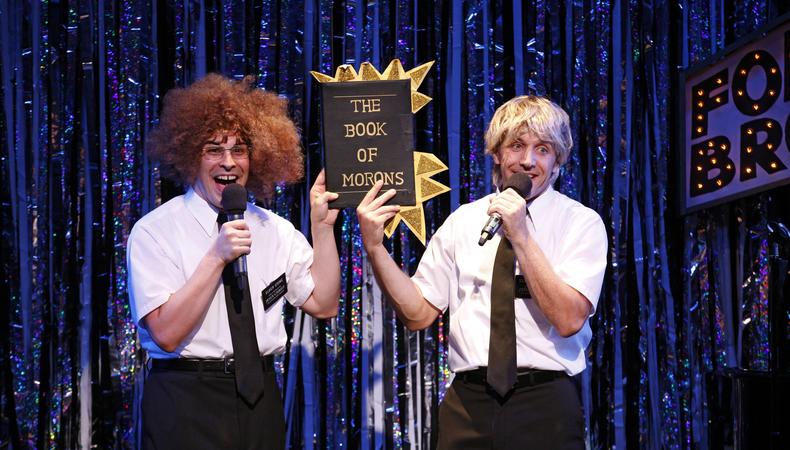 Three years after it closed in New York, "Forbidden Broadway," one of Off-Broadway's longest-running shows, is making a comeback. The musical revue, famous for parodying past and present Broadway productions, began previews at the 47th Street Theatre on July 24 and will open Thursday, Sept. 6 for a limited run.
With a four-person cast and non-stop satire, "Forbidden Broadway" affords its actors a rare opportunity to exercise creative freedom and imitate some of the most famous Broadway stars.
"This is something that you only get to do in this show," says Marcus Stevens, one of the four "Forbidden Broadway" cast members. "There's no other show where they're going to be like, 'How's your Matthew Broderick impersonation?' So it's kind of a treat for an actor."
In addition to targeting Broderick, who is starring on Broadway in "Nice Work If You Can Get It," the current incarnation of "Forbidden Broadway" includes parodies of "Spider-Man: Turn Off the Dark," "Newsies," and "The Book of Mormon." Since Gerard Alessandrini first wrote the show in 1982, he has updated "Forbidden Broadway" numerous times to incorporate new Broadway productions. This year's show, officially titled, "Forbidden Broadway: Alive and Kicking," is no different.
"The thing that has kept me coming back over the years is that it is one of the most creative shows that I've gotten to be involved in," says David Caldwell, who has been the show's music director since 2004. "It's constantly changing. I imagine if I was playing in the pit at 'The Phantom of the Opera,' I'd be making more money, but I'd be playing the same show every night."
Caldwell also has more leeway to work with the actors and adapt the music to their voices, he says. Even after "Forbidden Broadway" began previews at the end of July, the cast was trying out new material and making changes to the script. Alessandrini and his co-director, Phillip George, are open to new ideas and encourage the actors to showcase their individual strengths. One of the cast members, Jenny Lee Stern, recently performed in the Chicago and Toronto productions of "Jersey Boys" and says that "Forbidden Broadway" is "a completely different experience."
"We have the opportunity to improvise and throw ideas out there," Stern says. "You're encouraged to bring yourself to each number. That was definitely refreshing."
But "Forbidden Broadway" presents a challenge for the actors, as they each portray multiple characters throughout the evening. Cast member Scott Richard Foster estimates that he plays 12 different roles in the show. Besides having to change character — and species, in the case of "The Lion King" — the actors go through numerous costume changes in a short amount of time.
"We've been saying that there are two shows," says Foster. "There's the one onstage for the audience, and there's the one backstage, where everyone's changing and singing background vocals into the microphones."
The actors are also under some pressure, since they're impersonating Broadway's biggest stars. In this year's "Forbidden Broadway," the cast is taking on award winners like Sutton Foster, Audra McDonald, Norm Lewis, and Idina Menzel, among others. Even though few find the parodies offensive, the task is daunting.
"They're the reason I'm doing what I'm doing," says cast member Natalie Charlé Ellis. "They're these stars, these idols, that we look up to. And we want to do them justice, so it was a little bit intimidating at first."
Impersonation is an art in and of itself, and not one that all the cast members had experience with when they auditioned for "Forbidden Broadway." To prepare for the show, they studied certain actors' voices and mannerisms, either by going to see them perform on Broadway or watching clips on YouTube. Although Alessandrini chooses songs from popular musicals and rewrites the lyrics to parody them, it's up to the actors to mimic voices and ultimately connect with the audience.
"Sometimes, doing the exact impersonation is not necessarily the perfect thing," Foster says. "You've got to exaggerate what they do to make it funny. That's where you get the laughs."
And the actors aren't parodying the small stuff. "Forbidden Broadway" usually includes the biggest and most well-known numbers from popular shows, which means that the revue, unlike a book musical, is packed with show-stopper after show-stopper. This may be thrilling for the audience, but for the actors, such non-stop energy is taxing.
"It's exhausting, but completely worth it," says Stern. "It's demanding, doing highlights of all these different shows. You're getting Evita's high note, Sutton Foster's high note, Audra McDonald's high note."
"It's like every song is an eleven o'clock number," Ellis adds. "There are no small moments."
Even if audience members haven't seen any of the Broadway productions parodied in "Forbidden Broadway," the cast says they'll still enjoy the revue. Since television shows like "Glee" and "Smash" have popularized certain Broadway numbers, more people will recognize the songs. And even if they don't, the cast says that anyone can relate to the humor in "Forbidden Broadway."
"We sort of fill you in as we go, and it's crazy costumes and songs that you've heard, so I think that it's really for everybody," says Stevens. "If you're a theater nerd, you'll come and have a great time, and if you're somebody who isn't familiar with theater and just wants a funny show, you'll still love it."
"Forbidden Broadway" opens Sep. 6 at the 47th Street Theatre, 304 W. 47th St., NYC. For tickets and more information, visit ForbiddenBroadway.com.